This article focuses on the need-based scholarships, merit-based scholarships, fellowships to study in India & abroad for MBBS/ Medical students in India. There are a number of scholarships given by Indian Government, NGOs, Private Bodies and several educational institutions to provide the scholarship to the MBBS students and to foster the talents of young doctors across the country.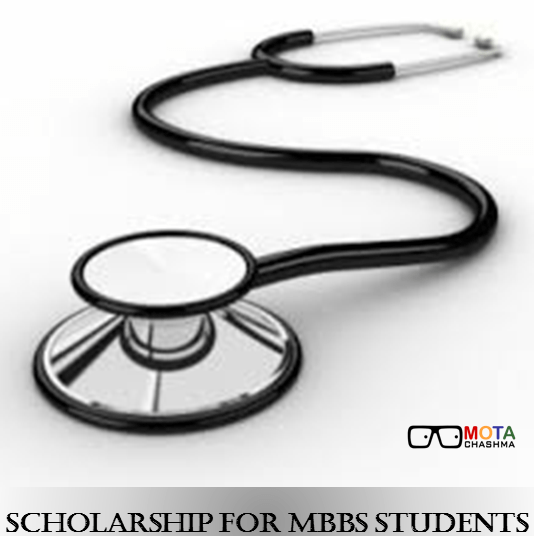 The links given below for each scholarship/ opportunity holds the complete details regarding the eligibility, deadline, award, selection process etc.
Register Here for Free SMS Alerts regarding BSc Nursing Admissions
NEED-BASED SCHOLARSHIPS for Medical Students
1. IOCL Scholarship (Discontinued)
The scholarship is offered to the 1st year MBBS students by Indian Oil. It is a merit cum means scholarship for Medical students whose annual family income is less than Rs. 1 lac. Preference will be given to the students whose family income is less than Rs. 60,000.
300 scholarships would be given to the MBBS students. The selected students will be given Rs. 3000 per month for 4 years. IOCL also offer scholarships to Class 10/ ITI, B.Tech. & MBA students under this scholarship scheme.
2. MOMA Scholarships - Merit cum means based scholarship for MBBS students
Ministry of Minority Affairs, Govt. of India offers this scholarship to the MBBS students. Scholarships are given to the students belonging to national Minority Community that is Muslims, Sikhs, Christians, Buddhists, Zoroastrians, Parsis & Jains. The scholarship is also known by the name merit cum means scholarship and more than 20,000 scholarships are given every year.
The scholarship is offered to the students who are enrolled in Medical colleges in India and whose annual family income does not exceed Rs. 2.5 Lacs. Students are paid Rs.10,000 per year (Rs. 5000 for day scholars) + Course Fee. Full course fees would be compensated for the students studying in selected Medical Institutions.
Courses Supported by the MOMA scholarship are (1) MBBS (2) Bachelor of Ayurvedic Medicine & Surgery (BAMS) (3) Bachelor of Unani Medicine & Surgery (BUMS) (4) Bachelor of Homeopathic Medicine & Surgery) (5) Post Graduate courses (6) Bachelor of Physical Therapy (BPT) (7) Master of Physical Therapy (MPT) (8) Bachelor of Occupational Therapy (BOT) (9) Master of Occupational Therapy (MOT) (10) B.Sc. Nursing (11) M.Sc. Nursing (12) B.D.S. (13) M.D.S.
3. Central Sector Scholarship Scheme for College & University Students
MHRD Offers 82000 scholarships (41,000 each for boys and girls). The students who have taken admission in the first year of UG courses in Indian universities are eligible for the scholarship.
The selected Medical students are paid Rs.1000 per month for 3 years and Rs. 2,000 per month in the 4th year provided that the annual income of the family does not exceed Rs. 6 Lacs.
4. North South Foundation Scholarship
The scholarship for engineering students is given by North South Foundation. The Scholarship is given to students pursuing professional courses like Engineering, Medical etc. The scholarship would be given for the entire course subject to the performance of the students.
The selected Medical students would be given a scholarship in the range of Rs. 5,000-15,000 per year given that the annual income of the family does not exceed Rs. 65,000
5. ONGC Scholarship for SC/ST Students
This scholarship is provided by ONGC for SC/ST students who are pursuing professional courses like Engineering or MBBS. Out of 500 scholarships, 247 will be provided to the students pursuing Engineering and the remaining are offered to MBBS Students. The selected students will be given Rs. 4,000 per month for 4 years and the scholarship is subject to renewal every year.
To avail this scholarship the annual family income of the students should not exceed Rs. 4.5 Lacs per annum
The scholarship is provided by LIC and is applicable for students who are pursuing graduation in any stream from a Govt./ Private college. The selected students are provided Rs. 10,000 annually to pursue higher education provided the family income does not exceed Rs. 1 Lac.
The scholarship is provided for the entire duration of the course.
7. NTPC Scholarship (Only for SC/ST & PH Candidates)
The scholarship programme is for SC, ST & PH students who are studying at Govt. Medical Colleges in India. and have completed their first year at the respective college. The scholarship amount is Rs. 4000 per month.
8. Swiss Government Excellence Research Scholarship

The scholarship is provided by Swiss Government and is applicable for students young Medical Doctors and highly qualified post-graduate researchers from all academic fields. The selected students are provided 1920 Swiss Francs monthly along with Tuition Fee, Medical Insurance, Airfare, Housing Allowance, Transport card and other benefits.
Fellowships for Medical Students
Commonwealth Medical Fellowships: Commonwealth Medical Fellowships for Enhancing Clinical Skills are offered for

mid-career medical and dental staff

from developing Commonwealth countries under Commonwealth Scholarship and Fellowship Plan. The fellowships cover fees, fares, and personal maintenance.
i-Fellowship: The program launched by AIIMS and IIT Delhi, in association with Stanford University, USA, Queensland

University of Technology

, Australia and partners from Japan and techno-legal activities management by Biotech Consortium India Limited, New Delhi. Candidates will have to identify needs of the healthcare system in India and on the research basis, they will have to develop an affordable solution.
Nestle Nutrition Fellowship: It is offered by Nestlé Nutrition Institute and enables young health professionals from developing countries to access postgraduate training through leading institutions. The fellow's round-trip travel to the host Institution, lodging expenses and a monthly stipend in addition to any host institution fees and some study related expenses up to 40 000 CHF are covered.
AAUW International Fellowship: This fellowship is for Masters in USA like MD or DDS. It is awarded for full-time study or

research

in the United States to women who are not U.S. citizens or permanent residents.International Fellowship funds are available for Educational expenses, Living expenses, Dependent child care and Travel to professional meetings, conferences, or seminars till it does not exceed 10 percent of the fellowship
Competition for Medical Students
ICMR Essay Competition 2018: ICMR (The Indian Council of Medical Research) has invited entries from medical students for ICMR Essay Competition 2018. The medical students enrolled in the undergraduate or postgraduate courses are eligible to participate in the ICMR competition. The top 3 winners of ICMR 2018 Essay Competition will be awarded the cash prizes up to 1 lakh.
Mota Chashma will bring forth the further updated information in the relevance of this article to provide more opportunities to a budding generation of Indian scholars. For more scholarships and fellowships.