To Study in USA is a dream for many students as it is a home to many prestigious Universities in the World. The United States of America has been one of the most prominent choices for the Indian students who wish to go for Higher Education in a country outside India. If you want to study in USA, read on, this article brings to you information about;
Reason for the USA being an Educational Hub
Education System in USA
Study in USA for International Students
Top 30 Universities in the USA
Cost of Studying in USA
Scholarships to Study In USA for Indian Students
The USA has always been the Educational Hub for Foreign students. According to Project Atlas*, in the year, 2013-2014 total 886,052 International Students were enrolled in various educational programs in Different areas of USA. China and India are the top contributors in this student population of USA.
*Project Atlas: Project Atlas is a one of its kind global community of national agencies, country representatives and academic mobility researchers from around the globe. It analyze the worldwide migration trends of millions of international students and provides a global picture of mobility of international student for major sending and host nations.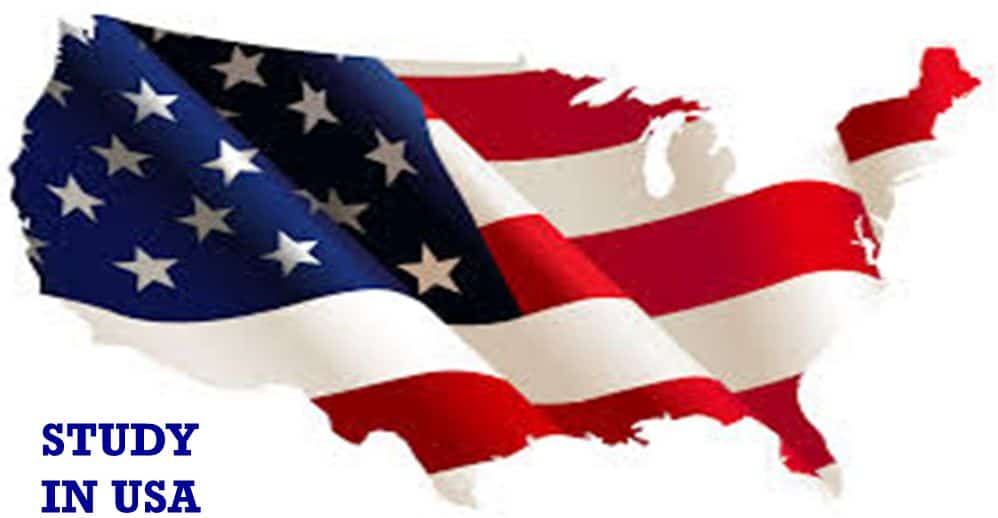 Reason for the USA being an Educational Hub
Commitment to Excellence: The Institutes of USA admit best students from various countries of the world and impart excellent education to them by their expertly trained faculty. Thus maintaining the standard of education year after year and that is the reason of wide acceptance of the US Degrees.
Excellent Research Scope: Those students who are interested in research work can earn along with their studies by enrolling into MS / Ph.D. Reputed Multinational Companies and Federal Government provides funding for the research work and the research grant helps the students in getting the stipend and waiver of Tuitions.
Academic Flexibility: The US education system allows the students to study their preferred subjects without the burden of unnecessary subjects. Some courses are offered multiple times during an academic session so that students can learn at their own pace. (Now India has also adopted this system of learning)
Financial Support: International students are offered student grants, stipends, and loans to cover their daily as well as tuition expenses. Education may be provided free if the student proves their excellence in Academics. Students who qualify for any specific kind of job may also work under On-Campus work programs. Getting loans and grants from banks is also easy after providing proof of admission.
Job Opportunities: Students can work legally in the area of their major for a period of 12 months after completing their degree. During the period of Optional Practical Training (OPT), students can get H1-B visa from their employers which enable them to work in USA without returning to their home country.
Education System in USA

Before starting their College or Higher education, the students in USA need to attend Primary School and Secondary School for a period of 12 years. The details of the education system are as follow:
Primary School: Students start primary or elementary school at the age of 6 and after attending it for 5-6 years they go onto Secondary School.
Secondary School: Secondary school includes 2 programs i.e. Junior High School and High School. Students are awarded a diploma or certificate after graduating from High School.
Higher Education: The higher education system of USA has 3 Levels, which are:
Undergraduate:

It generally takes 4 years to complete the under-graduate degree, it can be done either in University or College or at a community college.

Master's Degree:

These programs take 1-2 year to complete and on completion the students are awarded Master's degree in their selected major subject.

Doctorate Degree:

It may take 3 to 4 years to complete Doctorate degree for native citizens of USA while for foreign students it may take up to 3 to 6 years to complete the doctorate program.
The language of Instruction: The United States of America being an English speaking nation has adopted the English language as their primary language of instructions for the academics.
Study in USA for International Students

As now you are a bit familiar with the education system of USA and its unique qualities. Now let us have a look at what the system offers to the International Students. The eligibility of required differs for different courses. The selected course and the level of education to be undertaken determines the eligibility criteria required by the student.
Fields of Studies offered in USA for International Students: The Students can pursue their higher studies in any of the following fields:
English Language Programs
Business / Management
Engineering
Mathematics
Social Sciences
Physical / Life Sciences
Health Professions
Education
The Arts
Technical / Vocational
Computer Sciences
Information Technology
Law / Legal Studies
Hospitality/ Culinary
Reliability of the Institution: Homeland Security has made a list of certified institutions. The list gives information about the institution, type of visa offered for study in that institution, city, State and ID of the Campus. Click Here for the List of Institutions.
Top 30 Universities in the USA

The USA being the International Hub of Education has some of the top rated Universities on its land. The Below mentioned list has the names of the Top 30 Universities ranked by Times Higher Education World University Ranking and QS World University Ranking:
Name of the University

Times Higher Education
World University Ranking

QS World
University Ranking

California Institute of Technology (Caltech)

1

8

Harvard University

2

4

Stanford University

4

7

Massachusetts Institute of Technology (MIT)

6

1

Princeton University

7

9

University of California, Berkeley

8

27

Yale University

9

10

University of Chicago

11

11

University of California, Los Angeles (UCLA)

12

37

Columbia University

14

14

Johns Hopkins University

15

15

University of Pennsylvania

16

13

University of Michigan

17

23

Duke University

18

25

Cornell University

19

19

Northwestern University

21

34

Carnegie Mellon University

24

65

University of Washington

26

65

Georgia Institute of Technology (Georgia Tech)

27

107

University of Texas at Austin

28

79

University of Illinois at Urbana-Champaign

29

63

University of Wisconsin-Madison

29

41

University of California, Santa Barbara

37

132

New York University (NYU)

38

41

University of California, San Diego

41

59

Washington University in St Louis

42

99

University of Minnesota

46

119

University of North Carolina at Chapel Hill

46

62

Brown University

54

52

University of California, Davis

55

95
Cost of Studying in USA

International Students are required to deposit their fee well before their arrival in USA. The cost of study in USA depends on various factors such as the type of institute selected for the studies, the type of accommodation available and various other overhead expenses. The estimated cost of study, in general, is given below:
Tuition Fee for Public Institutes:

Undergraduate: 10000 to 15000 USD
Post-Graduate: 12000 to 20000 USD

Tuition Fee for Private Institutes:

Undergraduate: 10000 to 20000 USD
Post-graduation: 15000 to 25000 USD
Living Expenses: 8000 to 15000 USD
Accommodation: 6000 to 12000 USD
Health Insurance: 500 to 1000 USD
Scholarships for Indian Students to Study In USA
To support students in their higher education, there are a number of scholarships available. These scholarships are offered by Government as well as Private Organizations to help students coop up with their studies and other expenditures.
The scholarships mentioned below are divided into 2 groups; Scholarships offered by Indian Bodies and Scholarships offered by USA or Foreign Bodies. Any other specification or restriction related to the scholarship programs are mentioned along with the specifications of the Scholarship.
The details of the scholarship are as follow:
Scholarships offered by Indian Government/ USIEF/ The World Bank and other Indian Organizations: These are some of the scholarships/ fellowships offered by Government of India or other reputed organizations of the nation. There are several other scholarship/fellowship programs available.
Scholarships offered by Foreign Bodies: These are some of the scholarship and fellowship program available at the US Government website. There are several other scholarship and fellowship programs available at the Institution/ University level. For information related to those programs, contact the respective Institution/ University.
| | | | |
| --- | --- | --- | --- |
| Name of the Scholarship | Offering Body | Scholarship Benefit | Restriction |
| | The Rotary Foundation | Fully Paid Fellowship | Only for Duke University & the University of North Carolina at Chapel Hill, North Carolina, USA. |
| AAUW International Fellowship | American Association of University Women | USD 18000 to USD 30000 | Only for Women candidates |
| The Global Undergraduate Exchange Program | American Councils | Provides full scholarship for outstanding students | Only for non-degree seeking students. |
| Gold Global Excellence Scholarship | University of Minnesota | Merit and Financial need-based scholarship | Only for University of Minnesota |
| Mount Marry Scholarship | Mount Marry University | USD 10,000 to USD 14,500 | Only for Mount Marry University |
| The Margaret McNamara Memorial Fund US/Canada Grants | The Margaret McNamara Memorial Fund | The grants are financial need based | The grants are financial need based |
| Guru Gobind Singh Fellowship | University of Santa Cruz | USD 30,000 | Only for specific area of India and Pakistan |
| Generous Scholarships | Brandeis University | Financial need based scholarship, covers up to 45% of tuition fee. | Only for Master's Program in Computational Linguistics |