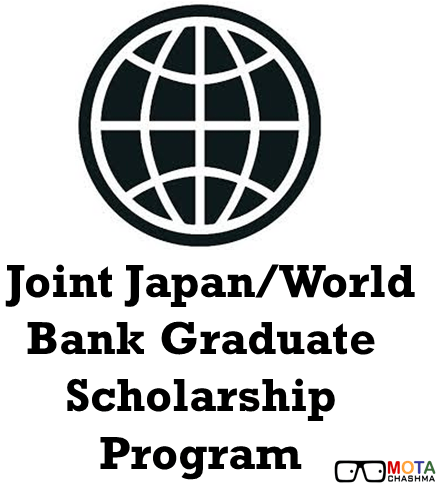 Joint Japan World Bank Graduate (JJ/WBG) Scholarships Program 2018
About World Bank Graduate Scholarship
Joint Japan World Bank Graduate (JJ/WBG) Scholarships Program offers an opportunity to individuals who are in the mid-phase of their career to enhance their skills and utilize those for the development of their own Nation. The world bank scholarship is given for pursuing master's program from JJ/WBGSP preferred universities or Partner Programs. The Applications process for Joint Japan World Bank Graduate (JJ/WBG) Scholarships Program has begun on 22 February 2018 and will be open by 12 April 2018.
Started in 1987, JJ/WBG Scholarships Program is a joint program of Government of Japan and The World Bank. It is funded by Japanese Government, and over 5800 scholarships of value over 200 million US Dollars have been given. JJWBGSP offers scholarships for over 200 Preferred Programs spanning a wide array of development topics and for 14 Partner Programs at universities in U.S., Africa and Japan in key areas of development, including economic policy management, tax policy, and infrastructure management. The students who are shortlisted by the university will be able to apply for the World Bank Scholarship.
For scholarships to one of the preferred master's programs, the student needs to apply to the university and meet their application deadline to get accepted into their program and in parallel also apply directly to JJ/WBGSP for the scholarship. There are in all 42 universities all across the world.
The world bank scholarship is administered by The World Bank, it supports residents of developing nations to achieve world-class education and utilize their enhanced skills and knowledge to serve their society, region and country's development.
JJ/WBG Scholarship Program 2018 Dates
| | |
| --- | --- |
| Events | Dates |
| JJ/WBG Scholarship Application Begin | 22 February 2018 |
| Last Date for Application Submission | 12 April 2018 |
Subscribe for Regular Updates of World Bank Graduate Scholarship
World Bank Graduate Scholarship Eligibility Criteria
Gender
Both
Region
Developing Countries
Class/ Age
Master's Degree Aspirants
Details

Candidate must be a citizen of a World Bank member developing country.

Completed Bachelor's degree or equivalent three years prior to the application deadline.

Unconditionally accepted in for Masters Programmes in JJ/WBGSP preferred universities or Partner Programs.
Must have 3 years of development-related experience after their Bachelor's Degree.
There are two modes to apply for the Scholarship:

For Partner Master's Programs: The candidates need to apply at one of JJ/WBGSP partnered university programs. A short list of eligible candidates will be sent to the JJ/WBGSP Secretariat accepted by the partner programme.

Partner Universities are given towards the end of this page

For Preferred Master's Program: The candidates need to apply individually for admission in university to get acceptance in a mastered programme preferred by JJ/WBG and to JJ/WBGSP for the scholarship.

Must be in good health to ensure the productivity during the Master's Degree programme.

Not Eligible for scholarship:

Dual citizens of any developed nation.
Close family members of the staff of The World Bank Group and its associated organisations.
World Bank Graduate Scholarship Reward
All the programmes preferred and run by partners are of 2 years or less and the duration of the program is covered by Scholarship.
The cost of Travelling: Applicants will receive economy class airfare for travel between his home country and the host university before the start of the study programme and immediately after the completion of the scholarship period, along with 500 USD as a travel allowance for each trip.
Tuition fee: The tuition fee for the graduate program will be covered by the scholarship.
Medical Insurance: The cost of medical insurance obtained by the university is also covered under the scholarship.
Monthly Allowance: A variable monthly subsistence allowance to cover living expenses and books will be offered the scholarship.
Not Covered under the Scholarship:
VISA application(s) costs
Scholar's Family expenses.
Extra-curricular courses or training.
Additional travel expenses and Language training.
Expenses of research, educational material, field trip, and workshop etc.
Language training not provided by the graduate program.
Educational equipment such as computers
Note: World Bank Scholarship may be a supplement and does not duplicate. JJ/WBGSP stipend may be reduced or withdrawn at any point of time in case any additional source of support becomes evident.
World Bank Graduate Scholarship Application form and Process
A Single online application per candidate must be submitted only using the online portal of the official website. The application for World Bank Scholarship must be submitted on or before 12 April 2018. Candidates can click on the following link to fill the online application form.
Click here to Apply Online
An application will be considered complete if has duly filled application form along with Letter of Recommendation from two people well aware of the professional work experience of the applicant.
Recommendation Process: For successful submission of the application, the applicant must submit contact details of 2 recommenders by completing the Reference Request Form

One of the 2 must be a current or former supervisor of the candidate.
Recommendations from lecturers based on candidate's student status will not be considered.

The successful submission of the recommendations is the responsibility of the candidate.
Candidate will be updated via email as the recommendation process is completed by either or both recommenders.
After the completion of the recommendation process, the candidate will be notified regarding the same by email.
World Bank Graduate Scholarship Selection Process
After submitting the application online, all the eligible applications will be given independent scores by 2 qualified assessors, on the following criteria:
Commitment to Home Country (30% weightage)
Professional Experience (30% weightage)
Professional Recommendations (30% weightage)
Educational Background (10% weightage)
The average score of both the assessors will be considered by JJ/WBGSP Secretariat along with taking other factors into consideration while selecting finalists:
Geographical Distribution: A reasonable global distribution is maintained while selecting the beneficiaries.
Gender Distribution: A reasonable gender distribution is maintained while selecting the benefactors.
Financial and other circumstances: While judging the employment experience, financial limitations, unexpected circumstances and hardships are given due consideration.
Supporting Documents: The finalist candidates have to submit

An unconditional acceptance letter into the preferred master's program.
Scanned copy of the finalist's Passport.
A certificate of good health from a medical doctor which should be 3 months or less old on the start date of the program.
Partner Universities for the Master's Program
Public Policy/Administration:
| | | |
| --- | --- | --- |
| University | Course | No. of scholarship |
| Harvard University- Harvard Kennedy school | Master in Public Administration in International Development | 15 scholars |
| University of Tokyo | Master of Public Policy, International Program | |
| University of Tsukuba | | |
Economic Policy Management:
University of Tsukuba
Columbia University
Makerere University
University of Ghana
University of Zambia
Université de Kinshasa
Université de Yaoundé II
Université De Cocody
Public Finance/Tax Policy:
GRIPS
Yokohama National University
Keio University
Infrastructure: Yokohama National University
World Bank Graduate Scholarship Contact Details
Headquarters
1818 H Street,
NW Washington,
DC 20433, USA
Phone: (202) 473-1000
Email: scholarshipapplicants@worldbank.org
Website: https://www.worldbank.org