This articles gives a list of competitions for Architecture students and about the huge prizes to be won. The competitions will give students a hands on experience to work on the Architecture Projects.
Architecture is the process and the product of planning, designing, and constructing buildings and other physical structures meant for various activities ranging from offices to work, houses to live or stadiums to play. As the population of the world is growing, new as well as complex problems appears in front of the masses and Architecture can play a significant role in coming up with a solution to some of these problems.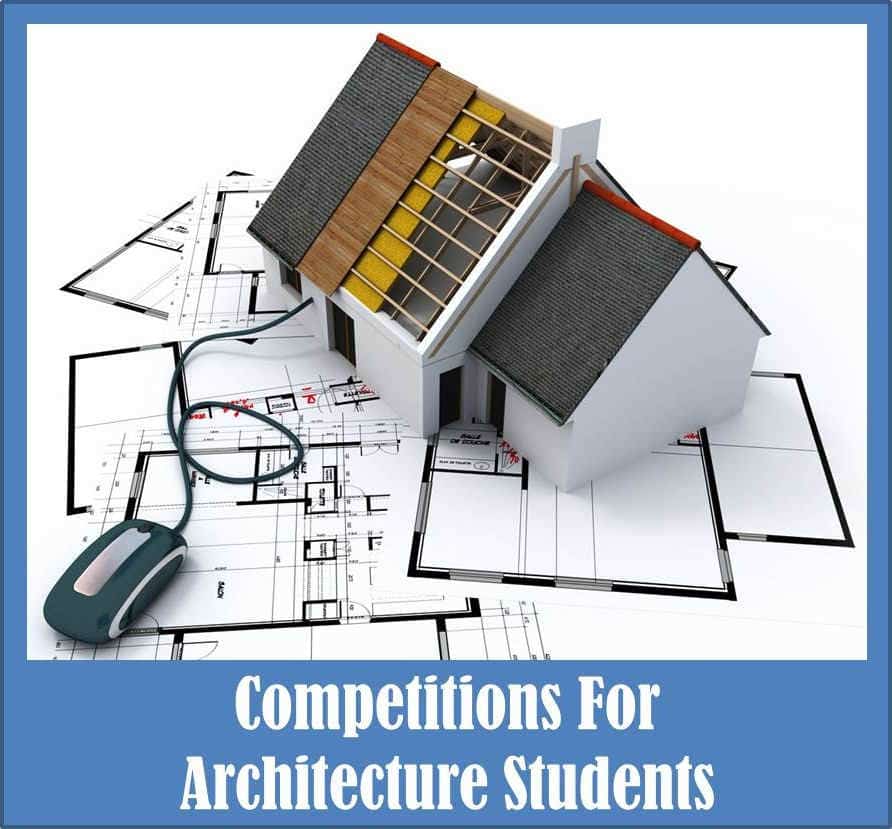 Unlike other streams, Architecture students have a lot of competitions in which they can participate and give solutions to real life problems faced by mankind. These opportunities can be utilized and can be used to hone their Professional Skills.
The competitions provide versatile approach to participants so that they can develop ideas suitable for all type of projects. Some competitions are just about coming up with a design for a specific site others are related to a particular age group where whole of the project is to be designed so as to make them a part of the society. Some projects may be related to creating design to providing housing solutions to Asia's biggest slum Dharavi using shipping containers as basic building blocks or creating an energy efficient library.
The Architecture students come up with the solution of daily life problems by infusing modern day technology with their innovative designs, which makes the structures more ecofriendly, energy efficient and suitable as per the needs or requirements of the inhabitants.
To encourage architects to get familiar with the present scenario and requirements of the modern times, competitions are organised to throw challenges in front of the young architects to come up with the solution of particular problems. It helps both the organizers as well as the students as the organizers get numerous solutions of their problem and the Architecture students/Architects can have a closer look at the working of the Industry. So now the question arises:
Why Participate in Architecture competitions?
Prize: The First thing that comes into our mind when we hear about any competition is the prize which would be offered to the winners. So by participating in Architecture competitions, the students can win huge prize money.
Expert Opinion: The Student competitions are organized and judged under the same conditions as of Professional competitions. The projects are judged by jury having experts from different field experts, who can provide feedback related to various aspects of the design.
Visibility & Building the portfolio: By participating in Architecture Competitions, you not only win prizes but your work, ideas and innovation is displayed across various platforms. Your work gets published and adds a star in your portfolio.
Ideas: You can compare your own work with that of other participants and get an idea of the architecture trends in other counties and how those can be incorporated in the local scenario.
Opportunities: You get chances to interact with professional architects, which opens the doors to various opportunities they can bring to you. Major Architecture studios are always on the look-out for new talent, so there are chances that you can catch the eyes of few of them.
In this article we have listed some of the Architecture & Design competitions available for Architecture students to sharpen their skills by participating in the competitions and get sparkling additions in their Profile. Some of the competitions available are as follow:
UIA HYP Student Architectural Design Competition

Brief Description: The participants were supposed to come up with designs for 4 sites located in China which as suitable as per the location and present solutions to the location specific problems.
Organizer: Union International des Architects (UIA)
Prize: The winners will be awarded with cash prize of RMB 100,000 (Approx. Rs.10,00,000) along with Certificate.

Autodesk 3D Student Design Challenge

Brief Description: The competition was divided in 2 categories i.e. BIM Design & Mechanical design. BIM Design category was for Architecture & Civil Engineering students and they were given two options to work on. One was to Design a Multi-story Residential/ Commercial Building or design an energy efficient Library.
Organizer: Autodesk Inc.
Prize: The winners will get prizes worth lakhs.

Urban SOS: All System Go Challenge

Brief Description: By the means of this compete students have to work in multi-disciplinary teams and the teams had to identify an urban population facing the possibility of disruption to its food, energy, or water systems, and offer strategies that strengthen these systems' ability to withstand future shocks or stresses, while also making them more efficient, equitable, and accessible to diverse populations.
Organizer: AECOM & Rockefeller Foundation
Prize: USD 15,000 (Approx. INR 9,50,000) will be distributed amongst the winning teams along with AECOM's donation and staff support worth USD 25,000 (Approx. Rs.15,00,000). All the semi-finalists teams will get honorarium to cover their travel related expenses.

ICCC International Student Design Competition

Brief Description: The participants in the competition are supposed to work on the theme "Integrated Communities: A Society for All Ages" and analyse a particular neighborhood and come up with a project which present solution to the various problems faced by the elderly people.
Organizer: UN-HABITAT & International Council for Caring Communities' (ICCC)
Prize: USD 10,000 (approx. 641,000 INR) will be awarded to the winner of the First Prize.

17th Shelter Design Competition for Architecture Students

Brief Description: Thetheme of the 17th Shelter Design Competition is Freeing Architecture, the participants are given complete freedom to overcome stereotype related to Architecture and come up with innovative designs to enlarge the perspectives of architecture as flexibly and as broadly as possible.
Organizer: The Shelter Student Architectural Design Competition Office
Prize: The team emerging as the winner of the competition will get cash prize worth 2,000,000¥ (Approx. 10,00,000 INR) and Certificate of Merit will be offered to the candidates.

LFI Students' Design Competition 2015

Brief Description: The theme of the Design Competition is "Water – precious in design". By the means of this competition participants are expected to come up with designs where water forms an integral part of the design and adds beauty to the design.
Organizer: Landscape Foundation of India
Prize: The winner of the competition will get cash prize worth Rs. 50,000.

Steel City: Container Skyscrapers Architecture Design Competition 2015

Brief Description: The participants had to come up with a residential skyscraper or series of skyscrapers to provide housing solutions to Asia's biggest slum Dharavi in Mumbai using used-shipping containers as building modules.
Organizer: SuperSkyScrapers
Prize: Cash prize worth 2500 USD along with publication of entries in SuperSkyScrapers - Volume 3 Book, SuperSkyScrapers website and social media platforms, blogs etc.

Landscape Architecture Design Competition 2015 for students

Brief Description: The competition was based on the theme "THE FUTURE MOUNTAIN AND VOLCANOSCAPE – Creativity to Prosperity". The participants were supposed to come up with planning ideas and innovative design proposals which are capable of reforming the landscape area of mountains and volcanoes.
Organizer: International Federation of Landscape Architects Asia Pacific Region
Prize: Cash prize worth USD 2500.

The EeStairs Standard Design Competition

Brief Description: The students were challenged to design a creative, functional and affordable staircases and/or balustrades and staircase or balustrade truly special and presented in a beautiful way. The design should be technically feasible and distinctive.
Organizer: EeStairs Nederland B.V. ("EeStairs")
Prize: The winner of the competition will be rewarded with £2,000 (Approx. 1,90,000 INR)