CBSE 12th Result 2017 for each subject has been declared on 28 May 2017 (Sunday) by the Central Board of Secondary Education (CBSE). The candidates who appeared in CBSE class 12 examination which started from 9 March 2017 and ended on 29 April 2017 can check their result on the official website of CBSE. The candidates appearing in the class 12 exam this year can check their CBSE 12th Result 2017 on this page also. This year total 10,98,420 students appearing in Class 12 examination at the various centres in all over India. Candidates can now check their CBSE Class 12 result on the link given below.
Events

Dates

CBSE Class 12 Exam Date

9 March to 29 April 2017

CBSE 12th Result Date - Declared

28 May 2017 (Sunday)


Register Here for Free SMS Alert on CBSE Result 2017
CBSE 12th Result 2017 - Check Class Result 2017

The candidates who appeared in class 12 examinations can check their result on the official website as well as on this page now. The candidates are suggested to visit here for regular updates related to CBSE class 12 examinations.
Steps to check your CBSE result
Enter your Roll No.
Enter School Number
Enter Centres Number
Click here to check CBSE 12th Result 2017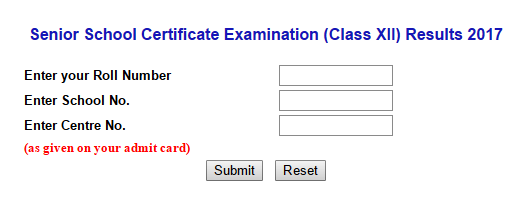 The candidates who are appearing in the CBSE Class 12 examinations which are being conducted at various centre in the country. To check CBSE Class 12 Result 2017, the students are required to follow the guideline given below:
How to download the CBSE 12th Result 2017?


First, the students have to visit the official website of CBSE at www.cbse.nic.in and after that click the button for class 12 result 2017 check.
Now the candidates have to provide the basic details such as roll number, school number and centre. After filling the detail, the students are now required to click the submit button.
Now CBSE Class 12 Result 2017 will appear on the screen, and the candidates are advised to take a print copy of CBSE Class 12 Result.
Apart from al the methods of viewing the CBSE Class 12 Results, CBSE has also released the result officially on the 3 Android Apps with the inputs of IT Sector on education. Candidates can download and view their CBSE result in the given below three apps.
पǐरणाम अवलोकन - App for viewing results declared by CBSE launched under Unified Mobile Application for New Age Governance (UMANG) scheme of Govt. of India.
PKI based QR codes - have been introduced for document authentication of class X/XII pass certificates and mark sheets. This robust technology will ensure 'no tempering of documents'.
CBSE Validator App - App for the authentication of the class 12 Marksheets.
CBSE Class 12 Re-Evaluation /Rechecking

The candidates can not apply for the Revaluation of marks for the 2017 Exam as per the notice of CBSE. This year candidates can not apply for the revaluation of the marks, however, the process of showing up of the marks and the photocopies of the candidate's answer key remains the same as earlier.
Scholarship for Class 12 Passed Students


A lot of scholarships are given to 1st Year students in college and students should go through them and see for which scholarship they are eligible.
CBSE Result 2017 Press Release
The press release states that the result will be declared on 28 May 2017 on Sunday Morning.
The Result highlights would be emailed to all students
No student should visit CBSE office personally to collect the result.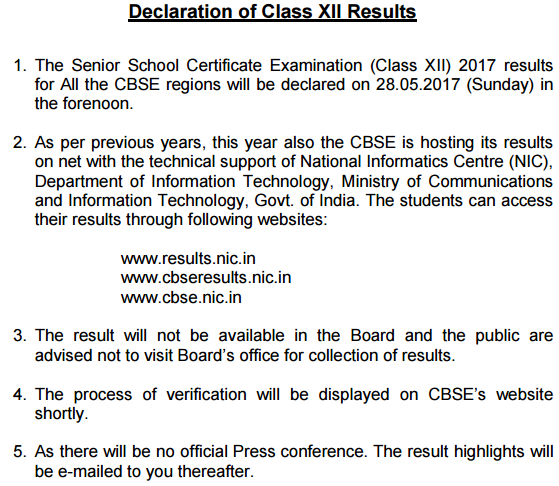 CBSE Result 2017 Delay


CBSE together with other states had a meeting on 24 April in which it was decided that the Boards in all states along with CBSE will follow a Marks moderation policy. Under this, the boards would not give very high marks to the students to prevent the high admission cut-offs for admission in college.
Kerala and Tamil Nadu Boards did not adhere to this decision. A PIL was also filed in the court which questioned the CBSE decision of following Marks Moderation Policy in Delhi High Court.
Delhi High Court stated the decision of CBSE as unfair and irresponsible. The result that has been tabulated is accordance with the old policy, and so there will be a delay in CBSE Class 12 Result 2017.The students should wait patiently for the result. (Read more: CBSE Result Delayed, Know more about CBSE Marks Moderation Policy).
CBSE Result 2017 Statistics

Last year total 1065179 students had appeared in the CBSE Class 12 examinations, and this year (2017) there are 1076761 students registered and total 10,20,762 students appeared in the Class 12 Board Exams held from 9 March 2017 to 29 April 2017 and total 837229 (82.02) students have passed. A total number of schools have also increased as compared to last year with 10,676 have registered for the Class 12 Exams.
| | | |
| --- | --- | --- |
| Statistics | 2016 | 2017 |
| Registered Candidates | 10,65,179 | 10,76,761 |
| Appeared Candiidates | 9,92,656 | 10,20,762 |
| Passed Candidates | 8,24,355 | 8,37,229 |
| Percentage | 83.05 % | 82.02 % |
CBSE Class 12 Toppers of 2017

This year, 87.50% girls' students are passed whereas the total percentage of passed students in the male is 78. This year total 63247 have got 90% and above marks. Name of the topper of this year with the total marks obtained by them in the table below:


| | | |
| --- | --- | --- |
| Name of the Toppers | Total Marks | Position |
| Raksha Gopal | 498 | 1st |
| Bhoomi Sawant | 497 | 2nd |
| Aditya Jain | 496 | 3rd |
| Mannat Lathura | 496 | 3rd |
Quick Links related to CBSE Result 2017
The students' views are invited regarding CBSE Marks Moderation Policy and No Revaluation of Marks this year. Write your views in the comments section below.