We bring to you complete information on How to Join Merchant Navy Courses after 12th in India. This article is especially useful for those who are looking forward to pursue Merchant Navy Courses and making their career in Merchant Navy after Class 12. This article covers various aspects of life as a seafarer/mariner such as,
Why Join Merchant Navy
How to Join Merchant Navy
Govt Institutes Under IMU
Career Path & Salary Structure
Future Prospects After Merchant Navy.
About Merchant Navy: Merchant Navy is a fleet of ships which are basically transport agents from place to place or country to country. They are non-combatant ships and their major purpose is to carry heavy goods in bulk from one country to another. Merchant Navy ships are mostly container ships but also sometimes act as passenger ships.
Goods like wood, oil, gas in bulk has to be moved from one region to another and their Transportation on such a huge scale becomes possible only via sea route. This is where merchant navy comes into the picture.
Since a ship sails from one country to another, the voyage obviously lasts for a long time, maybe weeks but mostly months. Hence, a seafarer is required to be on board and away from home for months on end.
In India, Indian Maritime University is the only central university which offers Merchant navy courses in the maritime field. It was formed under the Indian Maritime University Act 2008, on 14 November 2008. IMU has its headquarters in Chennai and has campuses in Chennai, Kolkata, Mumbai, Visakhapatnam, Cochin and Kandla Port.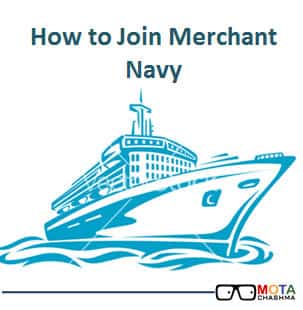 Why Join Merchant Navy Courses - The Career Aspects
Learning, and at the same time, getting paid.
Travelling the world at the expense of others (employers).
Leave time is considered in weeks and months, not mere days.
Every new day is challenging as well as rewarding.
Quick addition in responsibility with a salary at par.
A chance for personal development opportunities at every stage throughout the career.
How to get into Merchant Navy Courses

There are three modes through which an aspirant can join Merchant Navy:
Mode 1- Entrance Exam or Direct Admission on Merit Basis
Mode 2- Sponsorship
Mode 3 - Lateral Entry
Entrance Exam for Merchant Navy or Direct Admission on Merit Basis

Through IMU CET - After Class 12 (Complete Details about IMUCET)
By applying for IMU CET Entrance Exam conducted by Indian Maritime University. For this, you have to pass Class 12 with Physics, Chemistry and Maths as the subjects with minimum 60% marks and minimum 50% marks in English in Class 10 or Class 12.

After clearing IMU CET, you become eligible for various under graduate level courses like B.Sc Nautical Science, Marine Engineering etc. offered in the colleges affiliated under IMU.
Through Other Entrance Exams- Many private colleges also offer Marine Courses and for the admission they conduct their own entrance exam. Other Entrance Exams are TMISAT, JEE Advanced, WBJEE, CUSAT CAT
List of all Entrance Exams & Colleges for Marine Courses
Direct Admission on the basis of Class 12 Marks
Following completion of any of these courses, one can apply to shipping companies for various jobs in Merchant Navy.
Sponsorship Test for Merchant Navy
Students can also join Merchant Navy after completing a minimal maritime course.
The best path would be to apply for sponsorship in various shipping institutes which offer Maritime courses. It means you can get admitted to a maritime course in a company which has an institute and at the same time operates as a shipping company.
How to get sponsorship for Merchant Navy Sponsorship? - Sponsorship to go on a ship is mostly offered by the company in which you have completed your course, but sometimes you might have to apply to other companies for sponsorship as well.
Lateral Entry (LE) in B.E Marine Engineering
Lateral Entry can be made into 2nd year courses in institutes approved by the Directorate General of Shipping.
For LE into marine engineering courses, one has to complete first year engineering in Mechanical or Electrical Engineering with minimum 60% marks under any AICTE approved institution. OR
Diploma in Mechanical / Marine / Electrical from a recognised university with minimum 60% marks.
4 years Diploma in Ship Building Engineering from a recognised university with minimum 60% marks.
3 years Diploma Course, in addition to the three years regular Diploma Course in Mechanical/ Electrical /Electrical & Electronics Engineering, from a recognised university with minimum 60% marks in the following categories:

Electrical Engineering Stream
Electrical and Electronics Engineering Stream
Mechanical Engineering Stream
Institutes in India offering Merchant Navy Courses

Earlier, there were seven government maritime Training and Research Institutes which used to conduct their own entrance tests but are now merged with IMU, These include:
Lal Bahadur Shastri College of Advanced Maritime Studies and Research, Mumbai
T.S. Chanakya, Mumbai
National Maritime Academy, Chennai
Indian Institute of Port Management, Kolkata
Indian Maritime University - Visakhapatnam Campus
(National Ship Design and Research Center)
List of Colleges affiliated to IMU
Career in Merchant Navy, Salary in Merchant Navy

Life as a mariner is not easy, although the remuneration is high.
Slno

Qualification

Rank

Requisites

Average Salary

1

Class 10

G P Rating

4+2 Months Pre- Sea Course

Approx Rs 25,000 to Rs 60,000 Per month Tax Free*

2

Class 12 And Pre-Sea Nautical Diploma from IGNOU

Trainee Cadet

1- year Pre-sea course

Approx Rs 25,000 to Rs 85,000 per month Tax Free*

3

Class 12 And Pre-Sea Nautical Diploma from IGNOU

Deck Cadet

18 months at sea as a deck cadet

Approx Rs 25,000 to Rs 85,000 per month
Tax Free*

4

2nd Mate (FG) certificate of competency

3rdOfficer / 2ndOfficer

18 months at sea as a 3rdOfficer or 2ndOfficer

Approx Rs 1,50,000 to Rs 3,00,000 per month
Tax Free*

5

1st Mate (FG) certificate of competency

Chief Officer

18 months at sea as Chief Officer

Approx Rs 4,00,000/-to Rs 6,00,000 p.m.
Tax Free*

6

Master (FG) certificate of competency

Captain

---

Approx Rs 8,65,000 to Rs 20,00,000 per month
Tax Free*
*The salary is tax-free only if the sailor spends 183 days in international waters in a year. Else, the salary is taxable under laws of Govt. of India.
Future Prospects after Merchant Navy

Upon completion of term/ or upon voluntary retirement from the merchant navy, one can look for the following prospects as a form of career.
Can utilize technical and managerial skills for on-shore jobs in shipping and port operations, maritime law and insurance, ship broking, among others.
Set up a chartering firm.
Work as pilot for ships entering ports.
Captain Superintendent/Lecturer in Merchant Navy institutes.
Handle port operations in leading shipping firms.
Enter into various sectors like IT, consultancy firms like Price Water Housecoopers & DCL, Power, Steel, Hotel, etc.
Many have also joined the Indian Administrative Services.