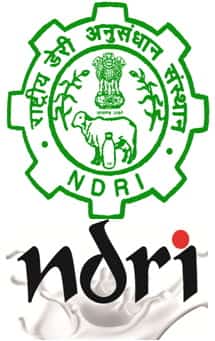 NDRI B.Tech in Dairy Technology Admissions 2018
About NDRI B.Tech Admission
NDRI B.Tech in Dairy Technology Admission 2018 will be done on the basis of entrance test. National Dairy Research Institute (NDRI) offers a B.Tech course in dairy technology which provides an intensive training in processing and quality control of milk and dairy products and engineering aspects of dairy processing equipment. NDRI main campus is located at Karnal in Haryana with two regional stations at Bangalore and Kalyani (West Bengal). B.Tech DairyTechnology is a four years course. Interested candidates can fill the application form for NDRI B.Tech in Dairy Technology Admission by the last week of March 2018.
There is one-year In-plant Training at Model Training Plant located in the Institute.
Other Courses Offered at NDRI are Diploma in Dairy Technology, Diploma in Animal Husbandry & Dairying, Master's Programme, Doctor of Philosophy
NDRI B.Tech in Dairy Technology Admission 2018 Dates
Events

2017 Dates

2018 Date
(yet to be announced)

Last date for Submission of the Application form

April last week

-

ICAR Exam Date

10 June 2017

-

Declaration of NDRI Merit list

June 14

-

NDRI Counselling

July 13 - August
-
Subscribe for Regular Updates of NDRI B.Tech Admission
NDRI B.Tech Admission Eligibility criteria
Age of the Candidates
Minimum age limit for B.Tech. shall be 17 years on or before July 31, 2018, and upper age limit is 23 years. No relaxation is admissible regarding the minimum age limit.
Educational Qualification
The candidate must have passed 10+2 Senior Secondary Examination of the Central Board of Secondary Education or any other examination of an Indian University/Board after a period of 12 years of study.
The 10+2 examination should have papers in Physics, Chemistry, and Mathematics as a core subject. Candidate must have passed the qualifying examinations as enumerated above securing not less than 50% of the total marks for General, OBC and UPS categories and 40% of the total marks for SC/ST and Physically handicapped categories.
The candidate who is appearing for 10+2 examination in the year 2018 can also apply subject to his/her producing 10+2 passing certificate on the date of counselling.
Admission of Foreign Candidates
Foreign students seeking admission at this Institute shall have to submit their applications through their respective Embassies at New Delhi or the respective Indian Missions in their countries to the Govt. of India, Department of Agricultural Research and Education, Krishi Bhavan, New Delhi-110001
NDRI B.Tech Admission Application form and Admit Card
NDRI exam Application form can only be filled offline only.Candidates can download the application form and fill in all the details given in it.
Candidates must complete the application form in block letters and attach the following attested copies of the documents along with the application form:
Certificate for date of birth
Certificates of all examinations passed starting from Matriculation
Mark lists indicating the percentage of marks, total marks and division/OGPA etc.obtained. of all examinations passed.
A certificate from the Principal/school indicating the marks/ division obtained in the examination passed.
In the case of SC/ST and OBC candidate, a certificate from a first class Magistrate of a District/ Competent Authority indicating that the candidate belongs to a particular category.
Three Passport size photograph duly attested must be affixed in the space provided in the application process.
Submission of the Application Form
The completed form may be submitted by the candidates through registered/speed post to the following address. Candidates are advised to retain a photocopy of the application form and bank draft for their personal record
Academic Coordinator,
University Office,
National Dairy Research Institute,
Karnal-132001
NDRI Admit Card 2018
NDRI Admit Card 2018 will be available on the official website of NDRI on Last week of March 2018.The Admit Card will contain the Roll Number and Centre of examination. The admit card will not be sent by post.
Therefore, all candidates are advised to visit the NDRI website and note down the roll no. on their admit cards and bring it with them to appear in the examination.
NDRI B.Tech Admission Fees
The fee to be paid by the candidate's from registration till the admission to the NDRI Btech Course is given below. Applicants can check the NDRI Application Fee which is to be paid by the General as well as SC/ST/Physically Handicapped Candidates along with the admission course fee is given below. Payment of the NDRI Application Form is to be made in form of a demand draft drawn in favor of "ICAR Unit, NDRI, Karnal" payable at Karnal.
NDRI Application Fee
| | |
| --- | --- |
| Category | Application Fee |
| General | Rs. 1200 |
| ST/SC/Physically Handicapped | Rs. 600 |
NDRI B.Tech Fee Structure
| | |
| --- | --- |
| Fee | Amount |
| Tuition fee | Rs 4000 |
| Caution fee | Rs 10,000 |
| Registration fee | Rs 50 |
| Students Hostel fee | Rs 2000 |
| Married Hostel Fee | Rs 6000 |
| Annual Payments | Rs 1150 |
| Other Charges | Rs 1600 |
| Total | Rs 24800 |
NDRI B.Tech Admission Result and Counselling
NDRI merit list of the successful candidates will be displayed in the NDRI website in the third week of June 2018.
Admission shall be made on the basis of merit through All India Entrance Examination conducted by the National Dairy Research Institute, Karnal.
All original certificates and mark sheets are to be produced at the time of registration/ counselling. Candidates who do not produce all the original certificates and mark sheets will not be admitted.
Get Details on NDRI Result and Counselling 2018
NDRI Counselling Schedule 2018
Counselling for the course will be held in NDRI Karnal Campus only.
Event

Date
(Previous Year Dates)

First counselling

July 13

Last date of submission of form-B

At the time of counselling

Date of registration for 2018-19 session

August 1

Display of vacant seats on NDRI Website

August 5

Second counselling for wait-listed candidates

August 12

Third counselling for vacant seats

August 20

Closing of admissions

August 20
NDRI B.Tech Admission Exam pattern
Type of questions: Multiple type questions
Total questions: 180 marks
Duration: 2 hrs 30 minutes
Qualifying marks: 90 (81 for SC/ST & PH category) Marks
NDRI Entrance Exam Syllabus
NDRI B.Tech Admission Important details
The NDRI Institute of Dairy Research Institute intake and the reservation of Seats is discussed below. The intake in NDRI will be considered in 2 modes i.e. via ICAR, NDRI Exam. Applicants can also check the NDRI BTech Entrance Test Centres given below.
NDRI B.Tech Dairy Technology Seats
| | |
| --- | --- |
| Exam | Seats |
| To be Filled by ICAR | 6 |
| To be filled by NDRI Exam | 34 |
| Total Number of Seats | 40 |

Reservation of B.Tech Seats at NDRI
Category
Reservation
Seats
UR
-
17
SC
15%
5
ST
7.5%
3
OBC
27%
9
Total Seats


34
2% Seats would be reserved for the candidates of the remote and Under-Privileged States/ Union Territories (UT/ UPS) namely Andaman and Nicobar Islands, Arunachal Pradesh, Dadra and Nagar Haveli, Daman & Diu, Goa, Lakshadweep, Meghalaya, Mizoram, Nagaland, Sikkim and Tripura, where educational facilities in Agriculture and Allied Science subjects do not exist.
NDRI Test Centres 2018
The NDRI Exam will be conducted in all three NDRI campuses
NDRI Karnal
Southern Regional Station, NDRI, Adugodi, Bangalore (Karnataka)
Eastern Regional Station, NDRI, Kalyani (West Bengal)
NDRI B.Tech Admission Contact
National Dairy Research Institute,
Karnal-132001,
Haryana
Telephone: 0184-2259007, 2259008, 2259010, 2259017
Fax: 0184-2250042
Email: registrar.ndri@gmail.com
More about NDRI B.Tech Admission