Jewellery Design Course can be chosen as a career only if someone has the keen creative skills in designing and a pre artistic skill set. Earlier no one opted jewellery designing as a career because it was basically a skill which was passed from one generation to other by the renowned jewellers of the time but Now, the scenario has changed its been classified into the list if the courses one can opt and get graduate as well. Young and innovative newcomers want to make a career in jewellery designing as it is a never-ending profession in human society. Jewellery Designing requires higher artistic skills and creativity blend together forging masterpieces. So, here we are providing all the details related to different Jewellery Design Course and how can one make a sound career in it.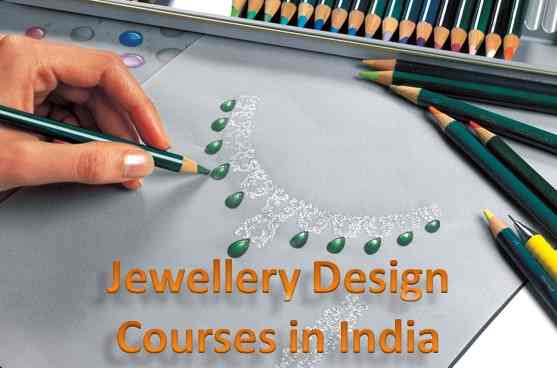 Jewellery Design Course Details

Jewellery has now become a status symbol and it also represents someone's personality. To adopt jewellery designing as a career objective a person should be highly creative. And for enhancing the creative skills, there are different courses in this field. These courses will give you knowledge of different type of metals, stones, design themes, presentations, jewellery costing and jewellery making. The courses that we have in this field are long term, short-term as well as distance learning programs in jewellery designing.
Diploma Course in Jewellery Designing:

For joining a diploma course, first of all the candidates need to complete his/her graduation in any field from a renowned college or university. After getting the graduation degree they can join a diploma course in jewellery designing. Many universities provide certificate programs and diploma courses in jewellery designing like "Indian Institute of Jewellery, Mumbai" offers Diploma in Jewellery Design Management (DJDM) and Post Graduate Diploma in Jewellery Management (PGDJM).
Graduation Courses in Jewellery Designing:

Many universities offer UG programmes in jewellery designing, for this, the candidate need to have 10+2 passing certificate with 50 % aggregate marks. For example, Pearl Academy of Fashion offers BA (Hons) in Jewellery Design, ARCH Academy of Design offers jewellery Design, Craft & Product Design, Graphic Design and Design Management.

Post Graduation Courses in Jewellery Designing

: Many of the colleges that offer UG level courses in design also offer Post graduation programs. it is preferred to do Master's course in designing after completing the graduate degree program. It polishes your knowledge and skills and also gives an understanding of the industry demands.  The postgraduate course can develop the skills to create unique and beautiful items of jewellery as a fine artist, but it can also prepare a student for research and teaching-based roles

Distance learning programmes in Jewellery Designing:

There are many online courses in jewellery designing. They are basically online diploma courses and have a very short duration of months or a year. On completing these courses, candidates get certified and can use those skills to pursue a career in jewellery designing.
GD Goenka School of Fashion & Design Admission
Pearl Academy of Fashion (PAF) Entrance Exam 2018
AAFT Noida- B.Design Admission
AIEED 2018 - All India Entrance Examination for Design
Jewellery Designing Course - Eligibility Criteria

Candidates willing to make a career in jewellery should keep in mind that they should have the zeal and zest to make a career in designing and also fulfil some criteria, which are.
For the candidates going to pursue a graduate degree, they should have their 10+2 passing certificate from senior school certificate examination or equivalent with minimum 50% marks.
Any Public School/Board/University Examination in India or in Foreign countries recognized by the Association of Indian Universities as equivalent to 10+2 system.
International Baccalaureate Diploma after 10 Years of Schooling having minimum 50 % marks in the qualifying exam.
For joining a diploma course, first of all, the candidates need to complete his/her graduation in any field from a renowned college or university.
Jewellery Designing Course Syllabus

The different subjects that are taught in jewellery designing courses are given below semester wise. These subjects fulfil the need for knowledge to become a successful jewellery designer.
| | | |
| --- | --- | --- |
| First-semester | Second-semester | Third semester |
| Fundamentals of Design I | Fundamentals of Design II | Markets and consumer behaviour |
| Visualisation and Drawing Techniques | Colour Techniques | Metallurgy |
| Jewellery illustration I | Financial Management and Accounting | Introduction to Gemology |
| Basics of organisational management | History of Art and Culture | Theme based designing |
| Communication Skills | Indian & International Jewellery Markets | Ornament designing I |
| Socio-cultural History of Jewellery | Jewellery Illustration II | Design development |
| Advertisement & Brand management of Jewellery | Basics of computer applications | Environment science |
| - | Project (Documentation of Art and Culture of a specific region) | -  |
| | | |
| --- | --- | --- |
| Fourth semester | Fifth semester | Sixth semester |
| Technical Drawing | Retail Marketing & Sales promotion | Diamond grading and sorting |
| Design illustration | Metal Decoration | CAD |
| CAD | Cost Assessment Technique | Gemology |
| Socio-Economic foundation of Jewellery | Beading Art | Accessory design |
| Ornament Designing II | Traditional Indian Designing | Portfolio Development |
| Layout Methodology | Jewellery Design Presentation | Project |
| Project (Textile Crafts of India) | Technical Drawing |  - |
Jewellery Designing Labs

The practical work is basically taught in labs. So, the labs that come of this course are; fabrication lab, gemology lab, 3D printing lab and CAD lab. In fabrication lab students learn about various jewellery fabrication techniques and utilize these skills for creating unique designs.The purpose of Gemology lab is to sensitize and academically train students to be Gemologists who are qualified to identify and evaluate precious & semi-precious gems. The faculty's computer lab provides an opportunity to students to create their designs/ convert their concepts digitally.
Career prospects in Jewellery Design

Nowadays there is a boom in the jewellery industry, and it has brought a number of job opportunities. After the successful completion of this course, there are many vacancies in this field. After having the degree and knowledge, you can start your own freelance designing business and set up your own retail and trading unit. The career opportunities in this course are categorised in this way:
Career opportunities in Public Sector

After completing the course candidates can work in various government departments such as Mines, Museums, Antique Houses, and so on. Candidates can get these jobs by writing various government tests conducted by UPSC, SSC, State PSC, etc. There are many benefits in this field like in addition to the monthly salary, they can also earn various allowances provided by the government. After securing the job candidates can write different departmental test and hence get promotions to higher posts and thereby a hike in salary.
Career opportunities in Private Sector

Apart from the public sector, there are also huge opportunities for the candidates in private sector. Private sector also holds many opportunities like;  Gem Retailing, Research and Development Organization, Educational Institutions, Garments and Design Firms, Material Purchase Logistics Jobs, Marketing Industry, Manufacturing Industry, Hospitality Jobs, Gem Wholesaling, Mines, Writing and Publishing Houses, Cultural & Art Jobs, Model Making Jobs, Jewellery Houses, Precious Stones Consultancies, Laboratories, Jewellery Designing Companies, Antique Houses, Auction Houses, Museums.
Jewellery Design Placements

After getting a degree in jewellery designing, candidates are mostly worried about the placements. Top universities always get linked up with companies to provide placements to the students completing their degree from that enrolled college. The companies that come for placements in these colleges are Tanishq, Swarovski, Nakshatra, D' Damas, Gili etc. Candidates can also apply for freelancing and working in different showrooms or opening their own which is initially a high rate of investment.
Quick Links,