This article lists the Fashion Designing Courses & Fashion Designing Colleges in India and the reasons behind the growth of the Fashion Industry. There are many design colleges which offer fashion designing courses along with other design courses. This article will give details about all Design Colleges & the fashion designing courses offered by them.
Growing Fashion Designing Industry: Indian Fashion Industry is undergoing a rapid growth and there is a shift in trends and fashion every six months . All this has become a prominent part of the Indian Fashion Industry. One of the major contributing factors is the Economic growth in the country which is giving a major push to the fashion industry. The increasing purchasing power of the middle-class families has led to a sudden boom. People are shifting towards branded clothing and have increased their budget of spending on clothing. International Brands are targeting the Indian market by selling their products at economical prices thereby improving the growth of brand awareness.
Marriages & Special Functions have created a good demand for Fashion Designers and the designer clothes. An attire by Sabyasachi is a dream for many and similarly, a lot of designers have come in recent times and they are not only selling offline but also online on many of the reputed websites. All these factors have created a demand for Fashion Designing Courses resulting increase in the number of fashion designing institutes in India.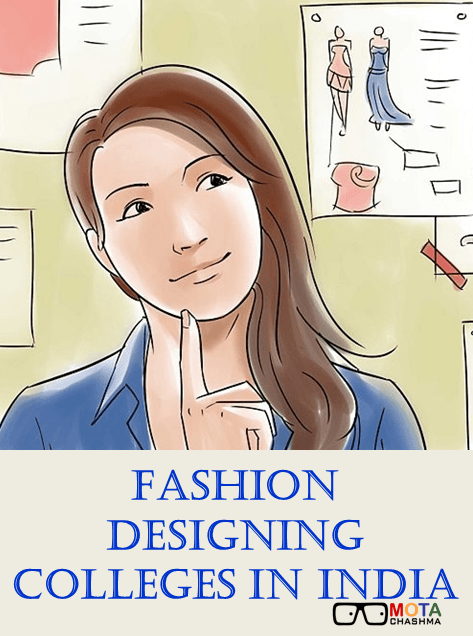 Fashion Designing Colleges
These colleges fashion designing courses as well as other design courses
| | | |
| --- | --- | --- |
| Name of the College | Fashion Designing | Other Design Courses |
| National Institute of Fashion Technology (NIFT) | Yes | Yes |
| NID | No | Yes |
| JD Institute of Fashion Technology | Yes | Yes |
| Pearl Academy of Fashion (PAF) | Yes | Yes |
| Apeejay Institute Of Design | Yes | No |
| Footwear Design & Development Institute Noida (FDDI) | No | Yes |
| IDC, IIT Bombay | Yes | No |
| MAEER's MIT Institute of Design, Pune | Yes | Yes |
| AIFD | No | Yes |
| Symbiosis Institute of Design, Pune | Yes | Yes |
| School of Fashion Technology, Pune | Yes | Yes |
| International Institute of Fashion Design, Chandigarh | Yes | Yes |
Fashion Designing Courses at Undergraduate Level

The Undergraduate degree offered by these institutes is known as B.Design and under that degree, these institutes offer many specializations and fashion designing is one of them.
NID

NIFT

Pearl

Product Design
Furniture Design
Ceramic & Glass Design
Graphic Design
Animation Film Design
Film & Video Communication
Exhibition (Spatial) Design
Textile Design

Fashion Design
Fashion Communication
Accessory Design
Knitwear Design
Leather Design
Textile Design
Apparel Production

Fashion Design
Fashion Styling & Image Design
Communication Design
Fashion Media Communication
Interior Architecture and Design
Jewellery Design
Fashion and Lifestyle Business Management- (3 yrs)
Luxury Brand Management (3 yrs)
Online Business (3 yrs)

The growing influence of budding designers studying in India or abroad have made the students choose Fashion Designing as their career A lot of students in India wishes to become a Fashion Designer or Interior designer and thus there is a huge demand Fashion Designing Colleges in India. In India, Fashion Designing is a 4 years course which leads to a B.Des. Degree and is considered a professional technical course.
Fashion Industry is dominated by the Private Institutions instead of the Government Institutions as private institutions are more in number.
Eligibility for Fashion Designing Courses

The candidates who have passed Class 12 examination or any other corresponding examination from any background are eligible to apply for the admission into Top Fashion Designing Colleges in India. For most of the fashion designing colleges, the candidates are chosen on the basis of Entrance Exams conducted by the individual colleges /Universities. No Common Entrance exam is conducted for admission to B.Design. programs.
It is very important for every student to decide the best Design college, so here is a list of Top Fashion Design colleges in India. The order of the Design College in the given list doesn't imply its rank or credentials.
Fee Structure for a 4 Years Fashion Designing Course

The Average Fee Structure for a 4 Years Course differs from Institute to Institute and whether the institute is private or Government.
For Example, the fees charged by NID Ahmedabad for B.Design Course for 4 years is somewhere around Rs. 8,43,200 while that of Symbiosis institute of Design is approx. Rs. 11,72,000
Name of the Institute

Government/
Private

QualifyingExam

Campus

National Institute of Design (NID)

Government

Ahmedabad Campus B.Design

National Institute of Fashion and Technology (NIFT) - 15 campus

Government

Bengaluru
Bhopal
Chennai
Gandhinagar
Hyderabad
Kannur
Kolkata
Mumbai
New Delhi

Apeejay Institute of Design

Private

Aptitude Test

JD Institute of FashionTechnology

Private

It has 26 campuses spread across India

Pearl Academy of Fashion (PAF)

Private

Delhi
Noida
Mumbai
Jaipur

Footwear Design & Development Institute Noida (FDDI)

Government

NOIDA,
Fursatganj (UP)
Guna
Chennai
Kolkata
Rohtak
Chhindwara, M.P.

Symbiosis Institute of Design, Pune

Private

IDC, IIT Bombay

Private

MAEER's MIT Institute of Design, Pune

Autonomous Institution

AIFD

Private

School of Fashion Technology, Pune

Private

Online Test