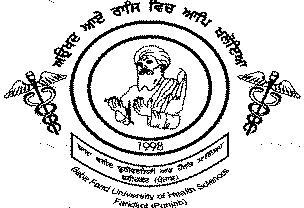 Punjab MBBS Admission 2017
About Punjab MBBS Admission
Punjab MBBS Admission 2017 is conducted by BBFUHS on behalf of the DMER (Department of Medical Education and Research). The authority to conduct the MBBS Counselling is to be conducted by the state authority and this year the admission will be based on the counselling conducted by Baba Farid Unversity of Health and Sciences. Earlier the entrance test was conducted namely (PMET) by Baba Farid University of Health Sciences (BFUHS) for admission in Govt./Private Medical & Dental Colleges affiliated to MBBS/BDS course for the academic session 2017-18 but now as per the notification of Union Grant Commission the NEET is a common exam which is mandatory for admission into government and private medical colleges in India for MBBS / BDS course.
The State Government will be conducting a combined counselling for all Medical and Dental colleges, including Deemed Universities. Therefore, MBBS admission for the 2017-18 batch will be done through the Combined counselling conducted by Baba Farid University of Health Sciences (BFUHS). The detailed schedule is yet to be announced by the Department of Medical Education and Research, Punjab and BFUHS.
MBBS Colleges in Punjab approved by MCI
Adesh Institute of Medical Sciences & Research, Bhatinda
Chintpurni Medical College, Pathankot, Gurdaspur
Christian Medical College, Ludhiana
Dayanand Medical College & Hospital, Ludhiana
Gian Sagar Medical College & Hospital, Patiala
Government Medical College, Amritsar
Government Medical College, Patiala
Guru Govind Singh Medical College, Faridkot
Punjab Institute of Medical Sciences, Jalandhar
Sri Guru Ram Das Institute of Medical Sciences and Research, Sri Amritsar
Punjab MBBS / BDS Colleges 2017
Punjab MBBS Admission 2017 dates


| | |
| --- | --- |
| Categories | Dates |
| Punjab MBBS Admission begin | 3rd week of June |
| Last date for the submission of the Punjab MBBS Registration | Last week of June 2017 |
| Punjab MBBS Counselling Begins | 1st week of July 2017 |
Subscribe for Regular Updates of Punjab MBBS Admission
Punjab MBBS Admission Eligibility criteria
Age
Candidate must have attained an age of 17 years on or before the day of admission in the respective college OR December 31, 2017
Domicile: Eligibility to appear
The candidate should be a bonafide resident of Punjab to appear in PMET 2016 except 15% All India Quota, NRI Seats and wards of Defence Personnel posted in Punjab.
Academic qualification
Candidates must have passed Class 12 Higher/Senior Secondary or its equivalent examination with Physics, Chemistry, Biology/Bio-technology and English.

Candidates appearing in a qualifying examination in 2017 can also apply but they will be required to pass the qualifying examination by the date of counselling.
Minimum Qualifying Marks
Punjab MBBS Admission Application form and Admit Card
Candidates are required to fill the Common Application Form for all the Undergraduate courses available Online. There is no offline application form for Punjab PMET.The entire process of making an application for admission in various courses during the academic session 2016-17 has been made ONLINE. Here are few steps to be followed to fill PMET application form:
Click Here for Punjab MBBS Registration
(Link will be activated in 3rd week of June 2017)
STEP 1: Register using the NEET 2017 score to the link given above and enter all the necessary details.
STEP 2: Fill the Application Form using the correct information to be eligible for the Punjab MBBS Counselling.
STEP 3: Download the Bank Challan and deposit the fee or by using the online mode of the payment of the application fee.
STEP 4: Upload candidate's Photograph, signature, and Left-hand thumb impression (not more than 25 kb)
STEP 5: Lock your Application and get the printout of the application form.
STEP 6: Take Printout of the Application form. The candidate need not send it to the University.
Punjab MBBS Admission Fees
Fee Structure for MBBS course for admission to Government Medical Institutes as per the last year is given below. The semester wise fee which is to be paid by the candidates till the completion of the MBBS Degree is as follows.
Punjab MBBS Fee Structure for Government Colleges
Year

Fee

Punjab MBBS Government College Fee First Year

Rs. 80,000

Second Year Fee

Rs. 90,000

Third Year

Rs. 1,00,000

Fourth Year

Rs. 1,10,000

Fifth Year

Rs. 1,20,000

Total MBBS/ BDS Course
Fee

Rs. 1,70,000
Punjab MBBS Fee Structure for Private Colleges


| | | |
| --- | --- | --- |
| Course | For Govt. Quota Seats | Management Quota Seats |
| MBBS 1st Year | Rs. 2,20,000 | Rs. 6,60,000 |
| MBBS 2nd Year | Rs. 2,42,000 | Rs. 7,26,000 |
| MBBS 3rd Year | Rs.2,66,200 | Rs. 7,98,600 |
| MBBS 4th Year | Rs.2,92,820 | Rs. 8,78,460 |
| MBBS 5th year | Rs 3,22,102 | Rs. 9,66,306 |
NRI Fee for admission to Private Institutes
15% NRI Quota MBBS - US $1,10,000
15% NRI Quota BDS - US $44,000
Punjab MBBS Admission Exam pattern
Punjab MBBS Admission Important details
Given below are the total number of seats available in the Punjab for the admission to MBBS Course. The college wise distribution of the seats is provided below. There is total of 1375 MBBS Seats available in the state of Punjab in its 10 of the colleges offering MBBS Course.
Total Number of MBBS Colleges in Punjab: 10
Total Number of Government Colleges: 3
Total MBBS Seats in Punjab: 1375
Total Private Seats in Punjab: 875
Total Government MBBS Seats in Punjab: 500
MBBS Seats in Punjab 2017 - Punjab MBBS Admission
Private MBBS Seats in Punjab

College

Seats

Adesh Institute of Medical Sciences & Research, Bhatinda

150 Seats

Chintpurni Medical College, Pathankot, Gurdaspur

150 Seats

Christian Medical College, Ludhiana

75 Seats

Dayanand Medical College & Hospital, Ludhiana

100 Seats
Gian Sagar Medical College & Hospital, Patiala
100 Seats
Punjab Institute of Medical Sciences, Jalandhar
150 Seats
Sri Guru Ram Das Institute of Medical Sciences and Research,
Sri Amritsar
150 Seats

Government MBBS Seats in Punjab

Government Medical College, Amritsar

200 Seats

Government Medical College, Patiala

200 Seats

Guru Govind Singh Medical College, Faridkot

100 Seats
Punjab MBBS Admission Contact
Baba Farid University of Health Sciences
Faridkot 151 203
E mail: www.bfuhs.ac.in
Tel Nos: 01639-256232, 256236
Fax No.: 01639-256234
More about Punjab MBBS Admission