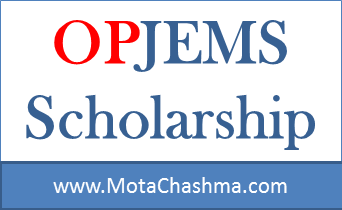 OPJEMS Scholarship 2018 - Registration Started
About OPJEMS Scholarship
OPJEMS Scholarship registration form is available online. Eligible candidates can apply online for OPJEMS Scholarship 2018 through this page. OPJEMS Scholarship is an initiative by Jindal group and companies to provide financial help to meritorious students to become leaders in entrepreneurial excellence and innovation. OPJEMS Scholarship is aimed at promoting academic and leadership excellence and thus has gained huge acceptance and popularity across the nation among deserving candidates. Read more on OPJEMS 2018 Scholarship on this page.
Under the OPJEMS scholarship scheme every year, 100 students from 40 premier engineering and management institutions like IITs, NITs, IIMs, and others are awarded OPJEMS Scholarship. In the last 5 years, more than 500 students have been awarded this coveted scholarship.
Latest Update: The application process for OPJEMS Scholarship 2018 has been started. The link to apply online is available on this page.
OPJEMS Scholarship 2018 Dates
Candidates can check OPJEMS Scholarship 2018 dates below:
| | |
| --- | --- |
| Events | Dates |
| OPJEMS Application Form 2018 | 31 August 2018 |
| Online Test Date at Campus | 5 & 6 September 2018 |
| OPJEMS Result (Shortlisted Students for Interview) | 14 September 2018 |
| Personal Interview of shortlisted candidates | 10, 11 & 12 October 2018 |
| OPJEMS Scholarship Result Announcement | 23 October 2018 |
Subscribe for Regular Updates of OPJEMS Scholarship
OPJEMS Scholarship Eligibility Criteria
Gender
Any
Region
All India
Class/ Age
Engineering / Management students
Details

24 Engineering and 16 Management Institute's students selected by the conducting body will eligible to apply in OPJEMS 2018.
Eligibility Criteria for Engineering Students:

First 3 toppers of 2nd, 3rd and 4th year based on the academic performance in the previous year of the following streams are eligible:

Civil Engineering
Electrical Engineering
Mechanical Engineering
Metallurgical Engineering

For Management Students:

First 10 toppers of the 2nd year based on the academic performance in the first year of regular PGDBM/MBA course are eligible.

Other Important information

It is a merit, not a need-based scholarship but merit-based.
Students in receipt of any other scholarship are also eligible to apply for OPJEMS.
OPJEMS Scholarship Reward
OPJEMS Scholarship Application form and Process
OPJEMS Scholarship registrations have been started online. The last date to register for OPJEMS scholarship is 31 August 2018. Applicants have to register and apply online for O.P. Jindal Engineering and Management Scholarships. Students can follow the OPJEMS registration form link given below to apply for OPJEMS Scholarship 2018. Applicant must be a nominee elected by the college only.
Click here to Apply Online for OPJEMS 2018

OPJEMS Registration Form 2018 - Steps to Apply
Below are the steps to follow to fill the OPJEMS registration form online.
Step 1: Follow the link to register online
Step 2: Fill the OPJEMS registration form including personal details, academic details, address, bank details, contact details etc.
Step 3: Upload a recent passport sized photograph
OPJEMS Scholarship Participating Colleges

The list of participating colleges under OPJEMS Scholarship is given below:
| | |
| --- | --- |
| Engineering Institutes | Management Institutes |
| IIT - Delhi, Kanpur, Roorkee, Mumbai, Guwahati, Kharagpur, Chennai, IIT BHU Varanasi, | IIMs of Lucknow, Ahmedabad, Indore, Bengaluru, Kolkata, Kozhikode, Ranchi, Raipur, Rohtak |
| NIT - Kurukshetra, Durgapur, Jamshedpur, Raipur, Suratkal, Trichy, Warangal, Rourkela, Nagpur(VNIT), Surat (SVNIT ), MNIT Allahabad, MNIT Jaipur | |
| BITS Pilani | MDI Gurgaon |
| ISM Dhanbad | Jindal Global Business School |
| OPJIT Raigarh | XLRI Jamshedpur |
| Delhi Technological University (DTU) | SPJIMR Mumbai |
| | JBIMS Mumbai |
| | |
OPJEMS Scholarship Selection Process
The selection process of OPJEMS is based on Online Test which is followed by the interview round. The online test will be held on 5 and 6 September 2018. Candidates can check details about online test below.
OPJEMS Selection Procedure Details

Selection Process

Type

Date of Test

Venue

Reward

Stage 1

PART A - General Behavioural Test to determine leadership competencies.

PART B - 1 Hour General Awareness Test about OP Jindal Group.

5 & 6 September 2018





Student's Respective Campus

Selected candidates will qualify for Stage 2 i.e. Personal Interview and will be notified on the official website on 14 September 2018

Stage 2

Personal Interview

10, 11 & 12 October 2018

Delhi, Mumbai, Kolkata and Bengaluru

Selected students will avail the OPJEMS Scholarship
OPJEMS Venue And Schedule Of Personal Interview
O.P. Jindal Group of Companies will release the lists of Venue And Schedule for Personal Interview of the selected candidates. Last year, the personal interview of the selected candidates was conducted in 4 cities that were Bangalore, Delhi, Kolkata and Mumbai.
Click here for the list of interview schedule and venue details
(Link will be available soon)
Venue details for Interview round will be updated on the official website. The shortlisted students from Stage 1 will be interviewed by a panel.
In case a student is unable to take the test due to medical/any other valid exigency, she/he would be provided with another test date subject to prior permission from the OPJEMS Committee.
In case any student faces difficulty in undertaking the test due to the server or IT challenges, Online Technical Support shall be provided then. The invigilator shall give her/him the option of completing the test in a paper-pencil format.
The test will be taken only at designated at the Test Centre.
In the case of a tie at Stage 2, the OPJEMS Committee will scrutinize the performance at Stage 1 and decide on the final candidates who will proceed to Stage 2.
OPJEMS Scholarship 2018 Result
The list of the shortlisted candidates for personal interview will be released on 14 September 2018. The shortlisted candidates have to appear for the personal interview which will be held on 10, 11 & 12 October. Candidate will be able to check OPJEMS Scholarship Result 2018 below. The final result will be declared on 23 October 2018.
Check OPJEMS Scholarship Result 2018
(Link will be updated soon)
OPJEMS Scholarship Contact Details
OPJEMS Helpdesk
Mobile No: +91 9971676289
E-mail: opjems.scholarship@jindalsaw.com