AICTE extends the application deadline for Distance Education in Engineering Test, candidates are given an extension of seven days.The last date for online registration has been extended from 15 January to 22 January 2018 on AICTE Portal. This is done with respect to the test conducted by the AICTE for the students who were enrolled in the four Deemed-to-be-Universities during the academic session 2001 - 2005 for the Distance Education in Engineering Program. Approximately, 30,000 engineers will appear for the exam to ensure that their degrees remain "valid" after the Supreme Court recently ordered the suspension of degrees awarded through distance mode by the four deemed universities. The four Universities are;
JRN Rajasthan Vidyapeeth.
Institute of Advanced Studies in Education in Rajasthan.
Allahabad Agricultural Institute.
Vinayaka Mission's Research Foundation in Tamil Nadu.
Suspended Engineering Degrees Row Latest Update: Last date for online application is again extended from 22 January to 5 February 2018.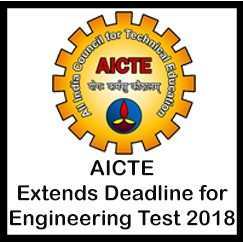 Top Engineering Colleges in India
Scholarships for Engineering Students in India
Suspended Engineering Degrees Row: AICTE Extends Application Deadline


This is important information for all the students who got their Engineering Degree from distance learning program from the above mentioned 4 universities. The government decided to suspend such degrees. But the court has given relief to the candidates who took admission between 2001 and 2005 to revive their degree by undergoing a test conducted by AICTE. If they get successful in that test, then their degrees will be revived. But for the students who took admission after 2005, there will be no such test as they were aware of the fact that their degree would not be valid. So, the interested candidates who want to appear for this examination can apply online from the website of AICTE.
Suspended Engineering Degrees Row - Engineering Degree through Distance Learning Declared Invalid by Supreme Court
Click Here for more Educational News