Engineering Degree through Distance Learning declared invalid by Supreme Court on Friday, 3 Nov 2017. The court has adjudicated the petition on the validity of correspondence course for four universities. The apex court has directed the centre to establish an oversight mechanism to regulate deemed universities. The honourable supreme court suspended such degrees granted by four 'deemed to be universities' between 2001 and 2005, thus making it clear that deemed universities cannot offer engineering degrees through distance learning. These universities are;
JRN Rajasthan Vidyapeeth
Institute of Advanced Studies in Education in Rajasthan
Allahabad Agricultural Institute
Vinayaka Mission's Research Foundation in Tamil Nadu
Engineering Degree through Distance Mode invalid - What the news mean for Students
The jobs and careers of thousands of students are at risk as the Supreme Court declared that the engineering degree secured since 2001 through correspondence would be counted invalid. This determination of Supreme Court has stressed all those who have their degree through distance learning. It is to be noted that the organisations such as UGC and AICTE never approved distance learning engineering programme. Hence, they never offered such course. The approval granted by the Distance Education Council (DEC) was illegal.
However, to their relief, the bench also said that "AICTE shall devise the modalities to conduct an appropriate test. Students (from 2001-05 batches) be given not more than two chances to clear the test and if they do not successfully clear the test within the stipulated time, their degrees shall stand cancelled."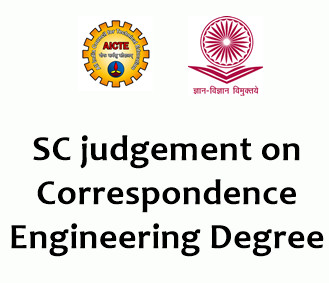 Engineering Degree through Distance Mode declared Invalid -
Highlights of the News

"We restrain all deemed to be universities to carry on any courses in distance education mode from the academic session 2018-19 unless it is permissible to conduct such courses in distance education mode and specific permissions are granted by the concerned statutory/regulatory authorities," the bench said.
The court has adjudicated the validity of offering correspondence engineering courses because of absence of AICTE approval
The apex court directed the Centre to create an oversight mechanism to regulate deemed universities, saying that UGC failed to curb the commercialization of education
The apex court restrained all deemed universities from offering correspondence courses without the approval of the AICTE
Amidst of all, the court opened a small window for students who took admission between 2001 and 2005 to revive their degree by undergoing a fresh examination by AICTE
However, the court had no condolence for the students of the post - 2005 batches as they were aware that the courses lacked sanction.
Read About

More Educational News Here
In case of any query regarding the news, you can write to us in the comment section below.