The Government of Punjab has decided to separate itself from AIPMT, All India Pre-Medical Tests (AIPMT) and conduct its own Punjab PMT (Pre-Medical Test) instead, informed Hindustan Times citing state medical education secretary Husan Lal.
The state has decided to carry out its MBBS and BDS entrance exams because about 80% seats for BDS courses in the dental colleges of Punjab have not been filled. This was the result of candidates failing to secure the minimum 50% marks (40% in case of SCs) required to pass AIPMT.
He added that numerous medical seats in the Scheduled Caste and NRI category remained vacant in this year's AIPMT.
Punjab had been organizing its own PMT till 2013 but the exam was discontinued in 2014 as the AIPMT Result was considered for admissions. Besides Chandigarh, Punjab was one of the 12 states to agree to AIPMT results for admissions in its state.
Lal stated that from this year on, Punjab will conduct its own PMT for dental and medical colleges.
About 1,318 candidates in the general category and 150 candidates in the SC and other categories cracked AIPMT 2014. The number of seats under the MBBS course was 1,100 while that in the BDS course were 850 approximately.
PMT trainer Dr Arvind Goyal stated that Punjab PMT has no negative marking as opposed to one-fourth minus marking in AIPMT, thus leading to the poor performance of Punjab students in AIPMT.
Other States that have opted out of AIPMT 2015 are Chhattisgarh, Jharkhand & Nagaland and the states/UT that have joined AIPMT 2015 are Andaman & Nicobar Islands, Arunachal Pradesh, Meghalaya & Rajasthan.
AIPMT is conducted by Central Board of Secondary Education (CBSE), New Delhi. The medical entrance exam is managed and organized on an all-India basis.
Punjab PMT 2015 Notification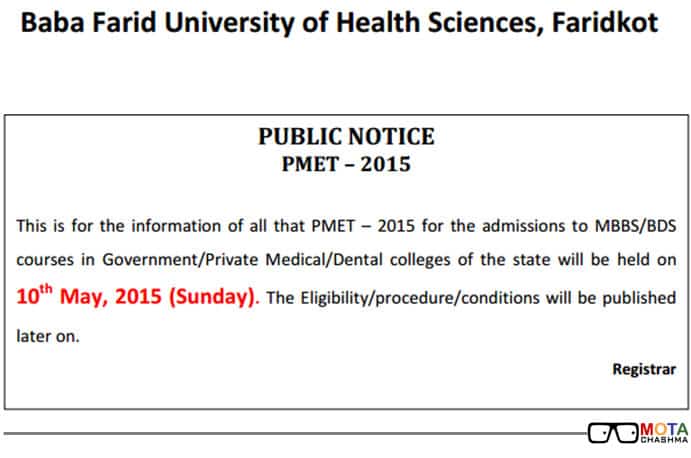 Punjab PMT 2015 Exam Date Changed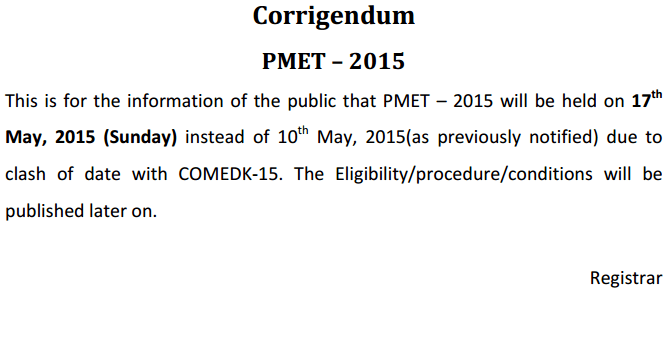 Related Pages