Lucknow Boy secured the Top SAT Score for India. A class 11 student from Lucknow, Shubh Agrawal, is making Lucknow feel proud of him as he scored 1590 out of 1600 in SAT (Scholastic Aptitude Test) for admission into undergraduate programs of universities or colleges in the USA. His overall score of 1590 is highest percentile rank (99+) in India.
Shubh Agrawal is a student of City Montessori School, Gomti Nagar branch in Lucknow and becomes a first student in Lucknow who achieved this feat for the first time in the History. His score is also probably the highest SAT score in India. 16-year-old Shubh has scored 790 out of 800 in the evidence-based reading and writing in English section and 800 out of 800 in the maths section and 790 out of 800 in the evidence-based reading. This score is possibly 2nd highest score this year.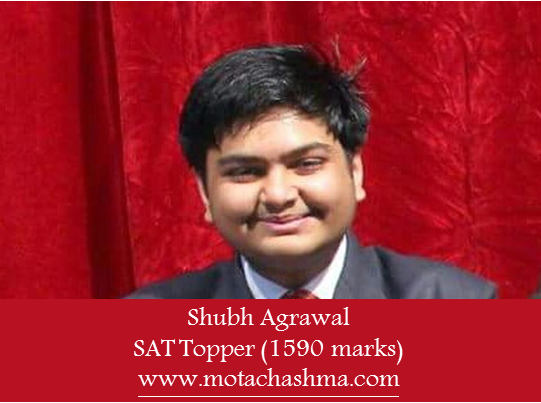 Shubh Agrawal wants to become a research physicist in astrophysics and space technology development, so he plans to pursue sciences degree in physics from the best University in America which provide ample research facilities. Shubh is also planning to write AP tests which are going to be held in May this year to strengthen his application and maximise his scholarship. "I can look forward to not only successfully applying to the most elite colleges in the US, including Stanford, CalTech, Harvard, Massachusetts Institute of Technology (MIT) and others but will also get a substantial scholarship," he said.
About SAT 2017

SAT (Scholastic Aptitude Test), conducted by Educational Testing Service (ETS), is a standardised test used as a criterion for eligibility for admission in top universities/colleges of the USA and some other countries. This year SAT was held on 21 January in 175 countries across the world, and around 2 million eligible students appeared in the entrance test.
While assessing the strength of the student, 75% of the reputed colleges and universities in the USA give SAT score a lot of importance. SAT comprised four sections, English reading & English writing and two sections from Mathematics and each section carry 400 marks equally. USA UnivQuest research team has estimated that till now, a score of 1590 or higher has been achieved by less than 1500 students across the world.
Click here to know more about SAT 2017
In case, any query related to this news, write to us in the comment section below