The ISC or Class 12 exams will begin from February 9, 2015 with Physics Paper 2 practical exams and end on April 1, 2015 with the theory paper of Environmental Science Paper 1.
The students get an additional 15 minutes apart from the exam duration to skim through the question paper. The timetables are now available to all the schools.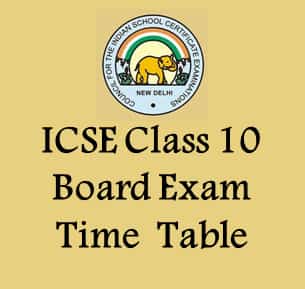 In March 2014 total 868 schools with 68,723 students (in India & abroad) participated in ISC Class 12 board exams. The pass percentage for ISC was 95.27% i.e. 95.27% of the total students who appeared for the Class 12 ISC Board exams passed in the exam.
Day & Date

Subject/Paper

Time

Duration

Monday, February 9

Physics Paper 2 (Practical)

9:00 A.M

20 minutes for each candidate

20 minutes for each candidate

1 hr.

Tuesday, February 10

Indian Music Hindustani Paper 2 (Practical)
Indian Music - Carnatic Paper 2 (Practical)
Home Science Paper 2 (Practical) – Planning Session

9:00 A.M

3 hrs

Wednesday, February 11

Chemistry Paper 2 (Practical)

9:00 A.M

3 hrs

Thursday, February 12

Home Science Paper 2 (Practical) – Examination Session

9:00 A.M

3 hrs

Friday, February 13

Biology Paper 2 (Practical)

9:00 A.M

3 hrs

Saturday, February 14

Art Paper 1

Biotechnology Paper 2 (Practical)

9:00 A.M

3 hrs

Monday, February 16

Computer Science Paper 2 (Practical)
Planning Session
Examination Session

9:00 A.M

3 hrs

Wednesday, February 18

Sociology

2.00 P.M

3 hrs

Friday, February 20

Home Science Paper 1 (Theory)

2.00 P.M

3 hrs

Saturday, February 21

Art Paper 2

9:00 A.M

3 hrs

Monday, February 23

Computer Science Paper 1 (Theory)

2.00 P.M

3 hrs

Tuesday, February 24

Fashion Designing Paper 2 (Practical)

9:00 A.M

3 hrs

Wednesday, February 25

Physical Education Paper 1 (Theory)

2.00 P.M

3 hrs

Friday, February 27

English Paper 1

2.00 P.M

3 hrs

Saturday, February 28

Art Paper 3

9:00 A.M.

3 hrs

Monday, March 02

English Paper 2

2.00 P.M

3 hrs

Wednesday, March 04

Psychology

2.00 P.M.

3 hrs

Saturday, March 07

Elective English

2.00 P.M

3 hrs

Tuesday, March 10

Physics Paper 1 (Theory)

2.00 P.M

3 hrs

Wednesday, March 11

Indian Music - Hindustani Paper 1 (Theory)
Indian Music - Carnatic Paper 1 (Theory)
Fashion Designing Paper 1 (Theory)

2.00 P.M

3 hrs

Thursday, March 12

Commerce

Electricity & Electronics

2.00 P.M

3 hrs

Friday, March 13

Political Science

2.00 P.M

3 hrs

Saturday, March 14

Art Paper 4

9:00 A.M

3 hrs

Monday, March 16

Mathematics

2.00 P.M

3 hrs

Wednesday, March 18

Business Studies

2.00 P.M

3 hrs

Thursday, March 19

Art Paper 5

9.00 P.M

3 hrs

Friday, March 20

Chemistry Paper 1 (Theory)

2.00 P.M

3 hrs

Monday, March 23

Economics

2.00 P.M

3 hrs

Wednesday, March 25

Biology Paper 1 (Theory)

2.00 P.M

3 hrs

Thursday, March 26

Accounts

2.00 P.M

3 hrs

Friday, March 27

Geography

Biotechnology Paper 1 (Theory)

2.00 P.M

3 hrs

Monday, March 30

History

2.00 P.M

3 hrs

Tuesday, March 31

Indian/Foreign Languages

Classical Languages

2.00 P.M

3 hrs

Wednesday, April 1

Environmental Science Paper 1(Theory)

2.00 P.M

3 hrs