The Council for the Indian School Certificate Examinations (CISCE) has declared that the final exams for classes 10 for 2014-15 will start from February 2015.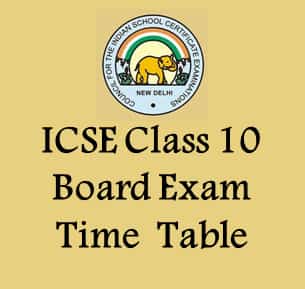 The ICSE Class 10 exams will begin from February 27, 2015 with English as the first subject and will end on March 30, 2015 with Economics (Group II Elective) as the last subject.
CISCE has again decided to reschedule the exams with English as the first subject. Last year, the schedule was changed and Mathematics was set as the first subject.
The students get an additional 15 minutes apart from the exam duration to skim through the question paper. The timetables are now available to all the schools.
ICSE 2015 Exam Time Table for Class 10
Day & Date

Subject

Time

Duration

Friday, February 27

English Language-English Paper I

11. A.M.

2 hrs

Saturday, February 28

Art Paper I (Still Life)

9 A.M.

3hrs

Monday, March 2

Literature in English-English Paper II

11. A.M.

2hrs

Wednesday, March 4

History & Civics-H.C.G.-Paper I

11. A.M.

2hrs

Saturday, March 7

Art Paper II (Nature Drawing/Painting)

9 A.M

3hrs

Monday, March 9

Mathematics

11. A.M

2 1/2hrs

Wednesday, March 11

Geography-H.C.G.-Paper II

11. A.M

2hrs

Friday, March 13

Second Languages:

Ao-Naga, Assamese, Bengali, Dzongkha,
Garo, Gujarati, Kannada, Khasi, Lepcha,
Mizo, Malayalam, Manipuri, Marathi,
Nepali, Odia, Punjabi, Sanskrit, Tamil,
Tangkhul, Telugu, Urdu

Modern Foreign Languages:

Arabic, Bahasa Indonesia, Bahasa Malaysia, Chinese, French, German, Kiswahili,
Korean, Modern Armenian, Spanish,
Thai, Tibetan

11. A.M

3hrs

Saturday, March 14

Art Paper III (Original Composition)

9 A.M

3hrs

Monday, March 16

Physics- Science Paper I

11. A.M

2hrs

Tuesday, March 17

Commercial Studies (Group II Elective)

Sanskrit, French, Portuguese (Group II Elective)

11. A.M

Wednesday, March 18

Chemistry-Science Paper II

11. A.M

2hrs

Friday, March 20

Group III Elective (Carnatic Music, Commercial Applications, Computer Applications, Cookery, Drama, Economic Applications, Environmental Applications, Fashion Designing, French, German, Hindustani Music, Home Science, Indian Dance, Physical Education, Spanish, Western Music, Yoga

Technical Drawing Applications

11. A.M

2hrs

3hrs

Saturday, March 21

Art Paper IV (Applied Art)

9 A.M

3hrs

Monday, March 23

Biology-Science Paper III

11. A.M

2hrs

Wednesday, March 25

Environmental Science (Group II Elective)

11. A.M

2hrs

Thursday, March 26

Hindi

11. A.M

3hrs

Monday, March 30

Economics (Group II Elective)

11. A.M

2hrs
Click here to see Class 12 Exam Time Table