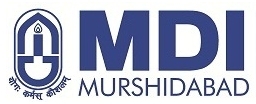 MDI Murshidabad PGPM Admission 2018
About MDI Murshidabad
MDI Murshidabad PGPM Admission 2018 will be conducted by the Management Development Institute (MDI) with two of its campuses in Gurgaon and Murshidabad. Applicants can get the admissions to both the campuses on the basis of CAT 2017 Scores. PGPM - Post Graduate Programme in Management is a 2-year full-time management program for the Graduates who have completed or pursuing the final year of their graduation of minimum three years. Application form for MDI Murshidabad PGPM Admission 2018, application forms are submitted online only until the last date i.e. 31 January 2018.
Students can choose from the given below specialisations of the PGPM programme; applicants can opt for a maximum of two specialisations among the four specialisations:
Finance
Human Resouce Management
Marketing Management
Supply Chain Management
MDI Murshidabad PGPM 2018 Dates


Events

Dates

Opening of Application

8 September 2017

CAT Test date

26 November 2017

Last date to submit application for
Foreign/NRI/PIO applicants

2 January 2018

Last Date to Submit Application
for Indian applicants

31 January 2018

MDI Murshidabad PGPM Last Date

Last week of March 2018

MDI Murshidabad Final Selection List

30 April 2018
Subscribe for Regular Updates of MDI Murshidabad
MDI Murshidabad Eligibility criteria
Age: There is no age restriction to apply for this program.
Academic Qualification


Applicants must have scored a minimum of 50% marks or equivalent CGPA in their class 10 and class 12.
Applicants must have completed their graduation of minimum 3 years from any discipline from the University/College recognised by the Ministry of HRD or equivalent.

Undergraduates: Candidates appearing for the final year exam are also eligible to apply for the MDI Murshidabad PGPM Admissions 2018, however, those candidates have to submit their proof of completion of degree until 1 October 2018.
Qualifying Exam: Applicants applying for the MDI Murshidabad and MDI Gurgaon PGPM admissions must have a valid Scorecard of CAT Exam 2017 or GMAT.
MDI Murshidabad Application form and Admit Card
MDI Application Form is now available online only, candidates can go through the official website of MDI, Murshidabad to apply or they can apply online here by following the link given below. Applicants are advised to go through the eligibility criteria for the admission to the 2018-20 session before applying.
MDI Murshidabad Application Form


Applicants must note that there will be a common Online Application Form for both the colleges i.e. MDI Gurgaon and MDI Murshidabad. Instruction for filling the MDI Murshidabad Application Form 2018 is given below. By filling up the common application form applicants will be eligible to get admissions to the given below courses. However, choices of the courses will be made available to the shortlisted candidates only in the month of January/February 2018.
MDI Gurgaon Courses
MDI Murshidabad Courses
Click Here to Apply Online for MDI Murshidabad
Submission of Application Form


The candidates should check the details filled in the application form before submission. Once the candidate checked the details of the application form, he/she need to pay the application fee by Debit Card/Credit Card/ Net Banking. The candidates are suggested to keep at least two copy of the Application form for future reference.
MDI Murshidabad Fees
The Application fee amount with the centre details is given below. The candidates aspiring to apply for more than one centre can apply for MDI, Murshidabad as well as MDI, Gurgaon centre.
MDI Murshidabad Application Fee
Center

Indian Applicants

NRI/PIO Applicants

MDI, Murshidabad

Rs.1,180

Rs 8,956 (Incl. of 18% GST)

MDI, Gurgaon

Rs 2,596

Both

Rs 3,186

MDI Murshidabad Annual Fee Structure


MDI Murshidabad Annual Fee including Tuition Fee, Boarding charges, Lodging charges and other charges are given below with details of amount deposition in first as well as the second year. The candidates do also have an option of paying the fee in instalment.
Particulars

1st Year

2nd Year

Tuition fee

Rs.3,45,500

Rs.4,10,000

Study material

Rs 25,000

Rs 28,000

Student welfare activity

Rs 10,000

Rs 10,000

Library fees

Rs 10,000

Rs 10,000

Alumni fees

Rs 5,000

-

Boarding Charges

Rs 60,000

Rs 60,000

Lodging Charges

Rs 53,000

Rs 52,000

Mediclaim Insurance Premium(2yrs.)

Rs 1,500

-

Security deposit

Rs 20,000

-

Tuition fee and other charges for
NRI/Foreign Students
(excluding boarding and lodging expenses which are payable in INR and mentioned in the table above)

US $ 37,550

US $ 37,550

Total

Rs 5,30,000

Rs 5,70,000

The candidates can also pay the Fee in instalments. The candidates are suggested to see the details of payment method in instalments given below
Payment method in Instalments
| | |
| --- | --- |
| Installments | Amount |
| April – 2018 | Rs 1,80,000 |
| Oct - 2018 | Rs 1,75,000 |
| Jan - 2019 | Rs 1,75,000 |
| June-2019 | Rs 1,90,000 |
| Oct-2019 | Rs 1,90,000 |
| Jan -2020 | Rs 1,90,000 |
MDI Murshidabad Result and Counselling
The admission of the candidates will be done on the basis of CAT scores and details in application form. The shortlisted candidates will be invited for further selection process at the centres, viz. Kolkata, Gurgaon and Bangalore/Nagpur/Chennai
MDI, Murshidabad PGPM 2018 Selection Process

The selection of the candidates for MDI, Murshidabad PGPM Program will be based on the following criteria
STAGE-1 CAT Score
STAGE -2 Group Discussion
STAGE-3 Personal Interview
All the candidates that are shortlisted on the basis of their CAT Exam Score and will have to attend the Group Discussion session which is the stage 2 of the MDI Murshidabad PGPM Admissions 2018. After the group discussion, candidates have to go through the Personal Interview which will be conducted from 1st week of April 2018, on the designated test centres given below.
Final Selection List: Final selection list of the successful candidates on the basis of their performances in GD and PI the same will be declared by April 30, 2018.
| | | |
| --- | --- | --- |
| Kolkata | Nagpur | Bangalore |
| Gurgaon | Chennai | - |
MDI Murshidabad Exam pattern
There will be no specialised application form for the MDI Murshidabad but applications will be made on the basis of the CAT 2017 and GMAT Exam. Applicants can follow the link below to get the detailed prospectus of the CAT and GMAT Exam patterns.
MDI Murshidabad Important details
MDI, Murshidabad also offers other programs like Executive PGPM, Fellow Program in Management (FPM) and Executive Fellow Program in Management (EFPM).
MDI Murshidabad Placement Details


The Highest CTC offered to the candidates last year: Rs.11,60,000 per annum.
The MDI has recorded 90% placements last year. The placements process usually conducted in the month of February and 100% students of the 2nd Batch of PGPM (2015-17) placed successfully for Summer Internship.
MDI Murshidabad Placement Stats

The list of the last year placement companies are given below:

• ICICI Bank
• Business World
• Eperium
• IPSOS
• Fierce Hound
• Hansa Cequity
• Niagro
• Bristlecone
• KEN Research
• Multani Pharma
• EXIDE
• Just Bye Live
Click Here for MDI Murshidabad Information Brochure 2018
MDI Murshidabad Contact
Sakim-Katnai,
Kulori,
P.O. – Uttar Ramna,
P.S. – Raghunathganj,
Dist. – Murshidabad,
West Bengal, PIN – 742235
Reception: 09674727164, 09674757164, 0348-3201565
Admission: Contact No. 08348021165, E-mail: admissions@mdim.ac.in
Placement: Contact No. 08348011897, E-mail: placement@mdim.ac.in
More about MDI Murshidabad