About AMU MBBS/ BDS
AMU MBBS and BDS admission into AMU Medical College are done by NEET scores. Until 2015, AMU MBBS/ BDS admission was done on the basis of Medical Entrance Exam which was conducted by AMU in 2 stages. However, now the candidates seeking admission in MBBS/BDS course need to fill the AMU Application form on or before the due date. Get details on AMU MBBS/BDS admission on this page.
AMU MBBS and BDS Seats
It is a 41/2 years course and has 150 seats - 140 + 5 (Physically challenged) + 5 (NRI)
AMU BDS - It is a five years course inclusive of 1 year of compulsory rotating internship and has 40 seats - 34 +1 (Physically challenged) + 4 (NRI)
Special Category reservation is not applicable for MBBS & BDS Course. There is also no reservation for SC, ST, OBC candidates. There are only seats earmarked for physically challenged candidates.
More details related to eligibility criteria, application process, the annual fee structure is available on this page.
AMU MBBS, BDS 2018 Admission Dates
Events
Dates 2017
Dates 2018
(Will be updated soon)
Availability of MBBS/ BDS Application
3 May
-
NEET Exam
7 May
-
NEET Result
8 June
-
Last date to apply online for AMU MBBS
25 June
-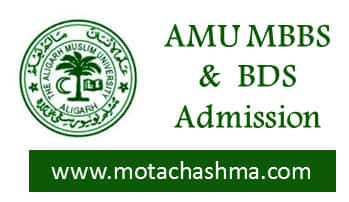 Subscribe for Regular Updates of AMU MBBS/ BDS
AMU MBBS/ BDS Eligibility criteria
Academic Qualification: The candidate should have passed class 12 exam with Physics, Chemistry, Biology and English and should have attained a minimum of 50% aggregate marks in Physics, Chemistry and Biology.
Age limit: The candidate should be less than 17 years as on December 31 of the year of admission.
Medical Fitness Test- The candidates who are selected for admission will have to go through medical fitness examination before completing the admission.
Certification of Disability: The qualified locomotor disabled candidates seeking admission in Faculty of Medicine, A.M.U. will get themselves certified at one of the under-mentioned Disability Assessment Boards at the four Metro Cities.
Vardhaman Mahavir Medical College & Safdarjung Hospital, Ansari Nagar (Ring Road), New Delhi 110029.
Indian Institute of Physical Medicine and Rehabilitation, Haji Ali Park, 1 K. Khadye Marg, Mahalaxmi, Mumbai 400034.
Institute of Post Graduate Medical Education & Research, 244, Acharya J.C. Bose Marg, Kolkata – 20.
Madras Medical College, Park Town, Chennai – 600003.
AMU MBBS/ BDS Application form and Admit Card
The candidates will get admission in Aligarh Muslim University (AMU) on the basis of NEET scores. However, the candidates also need to fill the AMU application form for admission into AMU. There is a common application form for AMU MBBS and BDS course and no extra application fee has to be paid.
While filling up the application form, the candidate has to mention that they are applying to which courses and the preference for the courses.Candidates applying for M.B.B.S./B.D.S. should indicate/select option (MBBS only/BDS only /MBBS & BDS both) in the online application/registration form.
AMU MBBS/BDS Application Fee: Rs. 500
Steps to fill MBBS/ BDS Application
Step 1: Personal Details
Step 2: Upload Photograph, Signature, & Thumb Impression in JPG/JPEG (Each file should be less than 40KB). (You should review all your updates)
Step 3: Special Categories - Select NO, if you do not belong to any category.
Step 4: This step has 2 component Application & Payment

Filling specific Application details for respective course
Payment of Processing charges online.
AMU MBBS/ BDS Application Important Points
Left Thumb Impression has to be uploaded in case of Girls and Right Thumb Impression for Boys.
Both components of Step 4 must be completed in one go otherwise the application will stand incomplete and applicants will have to re-apply the Step 4.
Please make sure that correct amount of Processing charges is displayed on the generated PDF. If not then follow Refresh Payment by visiting the Dashboard/Home menu and generate the PDF again with the correct amount.
Candidate should reserve 10 hard copies of the uploaded photo with him/her as they will be needed at different occasions along with application form as well as at the time of admission.
Click Here to Apply for MBBS/ BDS at AMU
AMU MBBS and BDS Fee Structure (Annual)
Course
Resident
Non- Resident
MBBS
Boys: Rs. 22895
Girls: Rs. 22145
Boys: Rs. 21245
Girls: Rs. 20495
BDS
Boys: Rs. 19895
Girls: Rs. 19145
Boys: Rs. 18245
Girls: Rs. 17495
AMU MBBS/ BDS Result and Counselling
The candidates are advised to register ONLINE afresh for final "Mop Up Round" on the prescribed proforma tentatively by the end of August 2018. The candidates can apply for the Mop Up Round Counselling by following the link given below.
Click Here for "Mop Round Counselling Registration"
The Aligarh Muslim University will conduct the Mop Up Round Counselling for the vacant seats given in the table below. The candidates should report on the said date to the Office of Dean, Faculty of Medicine.
AMU MBBS and BDS Vacant Seats Position
| | | |
| --- | --- | --- |
| Category | JN Medical College MBBS | Dr ZA Dental College BDS |
| General | 20 | 07 |
| NRI | 01 | 01 |
| PwD/ PH | - | 01 |
AMU MBBS/ BDS Contact
Admission Section,
Office of the Controller
of Examinations,
AMU, Aligarh -202002
Phone:0571-2700935, 2706152
EPABX: 0571 270 0920, 2700921,2700922 Ext 1161
E-mail: amu.admission@gmail.com,
helpdesk@amucontrollerexams.com