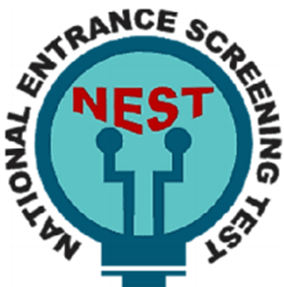 NEST 2018 for admission in NISER Bhubaneswar and CEBS Mumbai
About NEST 2018
NEST 2018 (National Entrance Screening Test) is a compulsory test for students seeking admission to NISER Bhubaneswar-National Institute of Science Education and Research and UM-DAE CEBS Mumbai - The University of Mumbai - Department of Atomic Energy Centre for Excellence in Basic Sciences. Both NISER Bhubaneswar and CEBS are autonomous institutions established by Department of Atomic Energy (DAE), Government of India, in 2007. NEST 2018 is for Admission into Integrated M.Sc in Biology, Physics, Chemistry, and Mathematics. It is a yearly college entrance examination in India, conducted for admission in the participating institutes.
Scholarship: All students admitted to NISER and CEBS are eligible for INSPIRE Scholarship of Rs. 60,000 per year and additional Rs. 20000 per year for Summer Internship.
Top Performers of NISER and CEBS can directly apply for selection interviews of Bhabha Atomic Research Centre (BARC) Training School.
The Online application for NEST 2018 has started on 1 January 2018 and the last date to apply is 5 March 2018. The exam will be conducted on 2 June 2018. The candidates are advised to keep visiting this page for updates on NEST 2018.
Latest Update: NEST Admit Card 2018 will be available to download from 25 April 2018. Candidates can download the same from the link given here. NEST 2018 will be conducted on 2 June 2018 (Saturday) in two different sessions. Check the details on this page.
NEST 2018 Dates
Dates
Dates
NEST 2018 Application Begins
1 January 2018
NEST 2018 Application Ends
5 March 2018
NEST 2018 Payment Gateway is open
12 to 14 March 2018
Download NEST 2018 Admit Card
25 April 2018
NEST 2018 Exam Date

2 June 2018 (Saturday)

Session 1: (9.00 AM to 12.00 Noon)
Session 2: (2:00 PM to 5:00 PM)

NEST 2018 Result
18 June 2018
Total Number of Seats under NEST 2018-19
| | |
| --- | --- |
| NISER Bhubaneswar | 200 Seats +2(JK) |
| CEBS Mumbai | 45 Seats + 2(JK) |

2 Seats in each institution is reserved for the candidates belonging to the state of J&K.
Quick links related to NEST 2018
Subscribe for Regular Updates of NEST 2018
NEST 2018 Eligibility criteria
In order to apply for NEST 2018, candidates must qualify all three eligibility criteria listed below:
Academic Qualification:
Class 12 qualifying examination should be passed in either 2016 or 2017. Candidates appearing in 2018 are also eligible.
The candidates should be from science stream (having any combination of
Biology/ Chemistry/ Mathematics/ Physics) at class XII.
Age:
Candidates in General and OBC category should be born on or after 1 August 1998. For SC/ ST/ Physically Disabled (PD) candidates - The age limit is relaxed by five years.
Minimum Qualifying Marks:
General and OBC Category: At least 60% marks in aggregate (or equivalent grade) in Class 12 (or equivalent) examination from any recognised Board in India. For SC/ ST/ Physically Disabled (PD) candidates, the minimum requirement is 55%.
NEST 2018 Application form and Admit Card
The candidates can apply for NEST 2018 Exam by following the official link to the application form given below. The NEST 2018 Application Form is to be filled in online mode only. There is no offline application form for NEST 2018. The payment of the application form is also to be made in online mode only, and there is no requirement of sending any document via post to any address regarding application form.
NEST 2018 Payment Gateway is Open for Registered Candidates

NEST has opened the payment gateway for all the registered candidates whose payment is incomplete. Such candidates can make the payment from 12 to 14 March 2018. The candidates can make the payment by login to their account with User ID and Password and make the payment through the payment gateway. It is also to be noticed that there is no new applicant registration is allowed.
Application Form Submission
There is no need to send any document if the payment has been made online. After completing the application form applicants will have to pay the application fee for the same. It is advised to the candidates to keep to keep the printout copy of the confirmation page and the fee payment confirmation page intact till the admission.
NEST 2018 Admit Card
NEST 2018 Admit Card will be available on the official website on 25 April 2018 for the entrance exam to be held on 2 June 2018 in two sessions. Candidates must carry their NEST Admit Card 2018 on the day of their examination without which the applicants will not be eligible for the entrance test. Follow the link given below to get the admit card.
NEST 2018 Fees
The applicants will have to pay the fee for the NEST 2018 Application form via online modes only. The following are the modes for the application fee payment. Payment of NEST 2018 application Fee via demand draft has been disabled for 2018 admissions.

Online Payment Modes

Credit Card
Debit Card
Net Banking
Online payment is possible through TechProcess / SBIe-Pay payments gateways. The charges for Cards/NetBanking of different banks.
NEST 2018 Application Fee
| | | |
| --- | --- | --- |
| Category | Male | Female |
| General | Rs. 1000 | Rs. 500 |
| OBC | Rs. 1000 | Rs. 500 |
| SC and ST | Rs. 500 | Rs. 500 |
| A Person with Physical Disability | Rs. 500 | Rs. 500 |
NEST 2018 Result and Counselling
A Merit List of the candidates will be prepared and posted on NEST 2018 website on 18 June 2018, on the basis of performance in the NEST. The best three subject-scores along with the score in the general section will be counted for evaluation and merit list preparation. The successful candidates will be called for counselling and admission will be strictly according to the Merit List until all the seats are filled.
NEST 2018 Exam pattern
Questions will be designed to test analytic abilities and comprehension of scientific passages. Some of the questions in this section may require knowledge of class 10 Mathematics. It will be an Objective MCQ Question Type Exam and will consist of 5 sections.
Type of Exam: Computer Based Test (Online Exam)
Duration

: 3 hours

Language: The test will be in English Language only.
Total Sections in Exam: 5 Sections
NEST 2018 Question Paper Pattern
| | |
| --- | --- |
| Section | Marks |
| Section 1: General Section (Compulsory) | 30 Marks |
| Section 2: Biology | 50 Marks |
| Section 3: Chemistry | 50 Marks |
| Section 4: Mathematics | 50 Marks |
| Section 5- Physics | 50 Marks |
Candidates are permitted to attempt as many subject-sections as they wish. However, only the best three subject scores along with the score in the general section will be counted for evaluation and merit list preparation. So a candidate must answer questions from at least three of these four sections.
It will consist of subject-specific questions from Biology, Chemistry, Mathematics, and Physics.
There will be negative marking in Section 2-5 for incorrect answers.
The syllabus for NEST 2018 primarily follows the NCERT/ CBSE science syllabus of class 11 & 12.No specific syllabus for General Section.
NEST Study Resources
NEST 2018 Important details
The number of seats available at the two institutes for admission in the year 2018 would be as follows. There are total 202 seats for NISER and 47 seats in CEBS. A student with certain category rank will take a general seat if he/she secures a suitable general ranking.
NEST 2018 - Seat Distribution
| | | |
| --- | --- | --- |
| Category | NISER | CEBS |
| J&K Candidates | 2 | 2 |
| General | 101 | 23 |
| OBC | 54 | 12 |
| SC | 30 | 7 |
| ST | 15 | 3 |
| Physically Disabled | 6 | 1 |
| Total | 202 Seats | 47 Seats |
NEST 2018 Test Centres
NEST 2018 Exam will be held in "Online Mode" in 109 major towns/cities in India. Each candidate must select 5 test centres while filling the application form. >> List of NEST 2018 Test Centre with Codes.
BARC Training School
Top performers at NISER and CEBS, securing overall grades above a certain threshold
at the end of the final semester will be eligible to appear directly for the interview for admission to BARC Training School.
NEST 2018 Contact
The Chief Coordinator, NEST 2018,
UM-DAE CEBS, Annabhau Sathe Bhavan, University of Mumbai
Vidyanagari Campus, Kalina, Mumbai- 400 098
Email: nest@nestexam.in