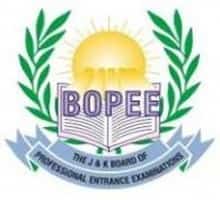 JKBOPEE 2018 - Jammu and Kashmir Common Entrance Test (JKCET)
Last Date to Apply
Extended Date - 21 March 2018
About JKCET
JKCET 2018 - Jammu and Kashmir Board of Professional Entrance Examination (JKBOPEE) has announced the Jammu and Kashmir Common Entrance Test (JKCET) merit list on 15 May 2018. JKCET 2018 merit list is available online and for the convenience of candidates, a link to check the same is provided in this page. JKBOPEE conducted JK Common Entrance Test on 22 April 2018 for admission to the engineering programmes of various institutes of the state. Candidates whose names are mentioned on the JKCET merit list are eligible to participate in the counselling rounds. Know more about JKCET 2018 result, counselling, selection procedure and more from this page.
The admission in MBBS, BDS, BAMS, BPT, BUMS course would be based on NEET UG Score, and JKBOPEE would do counselling for allotment of seats. The candidates need to know that from now onwards; the JKCET would only be conducted for the admission in engineering programmes. This page provides the complete information on the JKCET. Get details on NEET UG.
JKCET 2018 Dates
| | |
| --- | --- |
| Event | Dates |
| JKCET Advertisement | 1 February 2018 |
| JKCET Last date to apply | Extended Date - 21 March 2018 |
| Download JKCET Admit Card | 1st week of April 2018 |
| JK CET Exam Date | 22 April 2018 (Sunday) |
Subscribe for Regular Updates of JKCET
JKCET Eligibility criteria
Age: Candidates must be at least 17 years on or before 31 December 2018.
Domicile: The candidates must be a permanent resident of the State of Jammu and Kashmir.
Academic Qualification:
Candidate must have passed Class 12 or an equivalent examination from a recognised statutory Board with:


English, Physics, Chemistry and Mathematics as their subjects for admission to Bachelor of Engineering Courses.
The candidates applying under TFW (Tuition Fee Waiver) or P&B (Poor & Backward) category are open merit candidates. They must fulfil the eligibility conditions meant for open merit candidates.
Candidates appearing or who have appeared in Class 12 Examination of any recognised Board but whose result has not been declared yet are also eligible to appear in the JKCET provided they produce original Mark Sheet of Class 12 examination at the time of counselling.
Minimum Qualifying Marks: They must have also secured not less than 50% marks in case of open merit candidate and not less than 40% marks in case of Reserved Category candidates in Class 12 Board Examination.
JKCET Application form and Admit Card
JKCET application process has begun from 1 February 2018. The candidates interested in seeking the admission to various undergraduate professional courses in medical and engineering colleges can apply online only. There is no offline application process for JKCET. There is a common application form for admission to all the courses in JKBOPEE. The last date to fill the application form is 21 March 2018. The candidates can find all the details including the guidelines which should be followed while filling the form.
Submission of Application Form
Open Merit:

Candidates of open merit category need not submit any Confirmation Page in the BOPEE office.

Reserved Category:

Candidates claiming benefit of any reserved category (including Sports, TFW and P& B) are required to submit Confirmation Page of their online Application Form (by hand or by post) along with the attested photocopy of the reserved category certificate at the below mentioned address
J&K Board of Professional Entrance Examinations,
(BOPEE) Srinagar/ Jammu
JKCET Admit Card

JKCET Admit Card will be available on the official website only for those eligible candidates who have submitted their duly filled application forms before the due date. The candidates will be informed through a separate notification regarding the date for downloading of admit cards.
Admit Card is an important document to be carried at the exam centre. The candidates in case fail to download the admit card must report the office of BOPEE Srinagar/ Jammu immediately.
JKCET Fees
The candidates who have filled the application form need to pay the application fee which is Rs.800. The JKBOPEE Participating Colleges and annual fee structure for the same are given in the table below. The candidates can check the fee structure for the different colleges below -
JKBOPEE Participating Colleges & Annual Fee Structure


College

Free Government Seats

Private Seats

GCET Jammu

For candidates of J&K Board of School Education

For candidates other than J&K Board of School Education

Rs.2,410

Rs 2,690

-
MIET Jammu

Nil

Rs. 48,000

SSM College of Engineering, Srinagar
MBS College of Engineering & Technology, Jammu
Yogananda College of Engineering & Technology (YCET)
Bhargava College of Engineering & Technology, Supwal Samba

Nil

Rs 37,800
JKCET Result and Counselling
The selection of the candidates will be done on the basis of Inter-se merit list in the JKCET 2018. The merit list for each course shall be prepared on the basis of inter-se merit of the candidates in the JKCET 2018 in the descending order for Open Merit Category and for each Reserved Category separately.
Candidates are required to secure the below-mentioned marks for admission to MBBS course as per the J&K Reservation Rules:
50% marks in entrance test for open merit and Poor & Backwards candidates.
40% marks in entrance test in respect of reserved category candidates.
JKBOPEE Answer Keys

The answer keys will be made available on the official website in the evening on the conclusion of the last entrance examination for students to make a representation if any.
The students can make a representation if any, of any question in the question paper in the prescribed format within a period of three working days up to 4 pm after the conclusion of the Entrance Test on day two.
The representations should be supported by the documentary proof, based on standard textbooks. The material downloaded from the Internet will not be accepted as it is uploaded without any editorial review.
JKCET Counselling 2018

Selected candidates will be required to attend counselling with the following documents:
Permanent Resident Certificate
Date of Birth Certificate
Internship Certificate (If Completed), State registration Certificate
Reserved Category Certificate
Poor and Backward Certificate
A set of Attested copies of all the documents
Admit card issued by BOPEE
Tuition Fee wavier Certificate
Candidates are required to pay counselling fees of Rs.1000 in form of "Non-Refundable" Demand draft in favour of FA/CAO, BOPEE.
Candidates can also pay the fees through swap machine available at BOPEE office, Srinagar/Jammu
Get Details on JKCET Counselling

Jammu and Kashmir Engineering Colleges and Seats
| | | |
| --- | --- | --- |
| Colleges | Location | Total seats |
| Government College of Engineering & Technology | Jammu | 160 |
| Model Institute of Engineering & technology | Kot Bahlwal, Jammu | 420 |
| MBS college of engineering & technology | Jammu | 360 |
| SSM college of engineering | Srinagar | 600 |
| Yogananda college of engineering & technology | Jammu | 300 |
JKCET Exam pattern
CET 2018 Question Paper will consist of Physics and Chemistry questions.
Duration of Exam: 3 hours (Single Shift)
Marking Scheme: The questions shall be multiple choice objective type with one mark each.
Negative Marking: There will be 0.25 negative marks for each wrong answer.
| | |
| --- | --- |
| Subject | Total Question |
| Physics | 60 |
| Chemistry | 60 |
| Maths | 60 |
| Total | 180 |
Reporting Time for the Entrance Examination

Actions

Timing

Reporting time in examination hall

10:00 AM

Inspection of genuine candidate by invigilator

10:05 AM

OMR Sheets distribution and reading
of Instructions by candidates

10:15 AM

Question booklet distribution to candidates

10:25 AM

Candidates will break the seal of
question paper and start attempting
answers at

10:30 AM
Paper Ends

12:30 PM
JKCET Important details
The candidates have to bring their Admit Card at the Test Centre along with Valid additional Photo Identity Proof that can be Identity Card of the school, Adhar Card, PAN Card, Election Card, Driving License, Passport etc.
The candidates should not bring any electronic gadget in the Test Centre.
There is no provision for re-evaluation in any case.Re-totaling of marks will be allowed on written request by depositing rupees 1000 at POS at BOPEE office, Jammu/Srinagar. The application will be received within 3 days after the declaration of result.
JKBOPEE Reservation


Categories

Category Code

Reservation in
percentage

Open Merit (OM)

06
50

Reserved Categories

Scheduled Caste (SC)

07
08

Scheduled Tribes

Scheduled Tribe, Gujjar & Bakerwal (STGB)
Scheduled Tribe, Leh District (STL)
Scheduled Tribe, Kargil District (STK)
Other Scheduled Tribes (STO)

08

09

10

11

06

02

02

01

Socially and Educationally Backward Classes

Weak and Under Privileged Classes, Social Castes (OSC)
Residents of Backward Area (RBA)
Residents of Area Adjoining Actual Line of Control (ALC)


12


13


14


02


20


03

Children of Defense Personnel (CDP) (State Subjects only)
15
03
Candidates possessing outstanding proficiency in Sports (SP)
16
02
Children of State Police Personnel and Paramilitary Forces (JKPM)
17
01
Poor and Backwards Families (P&B)
18
Notified against colleges/courses, wherever applicable
Tuition fee Waiver Scheme (TFW)
19
5% of over and above of sanctioned intake capacity

MBBS and BDS Admissions under Sports Category


The admission in MBBS and BDS is also invited under sports category. The admission of the candidates applying through Sports Category are informed of approaching the Secretary, J&K State Sports Council, Jammu along with their original sports-related certificates/ documents for the purpose of evaluation of their Sports Points from the time to be notified by the J&K State Sports Council.
However, merely asking the candidates for submission of documents to the Sports Council will not confer any right to the candidates for selection to the said course. As because the admission shall be made strictly in accordance with the rules/ regulations of NEET and MCI etc.
JKCET Contact
Jammu
Jammu and Kashmir Board of Professional Examinations
4th Floor, South Block,
Bahu Plaza,
Jammu - 180012
Srinagar
Jammu and Kashmir Board of Professional Examinations
Baghat-i-Barzulla,
Opposite J&K Bank,
Srinagar – 190005
Jammu (From November to April)
Contact No's (Jammu): +91 191 - 2470102,
+91 191 – 2473637
Srinagar ( From May to October)
Contact No's (Srinagar): +91 194 - 2433590,
+91 194 2433760,
+91 194 2437647
E-mail: jakbopee@gmail.com