Pre Matric Scholarship is provided by each and every state government and UT to the students from Class 1 to 10. It is also provided by the Central Government and distributed through State Governments. Pre Matric Scholarship is provided to ST, SC, OBC and Minority students of a state who are meritorious students but cannot afford their education. In some states like Uttar Pradesh, Pre matric scholarship is also offered to General Category students who are below the poverty line. 30% of scholarship are earmarked for girl students
Even after 51 years of independence and in spite of various measures taken to improve the level of education in the country, literacy levels among backward classes, particularly among women, continues to be extremely low. The number of steps have already been taken by the Government and considerable progress has been achieved in improving the level of literacy and education during the last 51 years, but there is still a long way to go.
Pre-Matric Scholarship Application form can be filled using National Scholarship Portal. Click on the link below: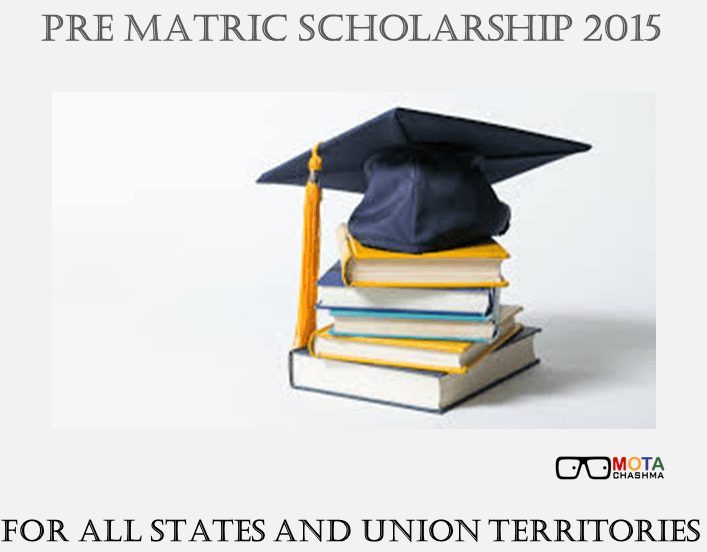 Pre Matric Scholarship to Minority Students
The objective of the scheme is to provide financial assistance to students of minority community so as to provide them better opportunities for higher education, increase their rate of attainment in higher education and enhance their employability. To be eligible for the scheme the Annual Parental/Guardians Income Ceiling is Rs. 1 lakh and student must be from the notified minority community in India that is Muslims, Sikhs, Christians, Buddhists and Zoroastrians (Parsis).
The pre matric scholarship covers the tuition fees, admission fee & maintenance fee.The rates of the maintenance allowance per month for hostellers of Class 1 to 5 are Nil whereas for Class 6 to 10 it is Rs. 600 per month. For non-hostellers of Class 1 to 10 the maintenance allowance is Rs. 100 per month.
In 2014-15, 74.97 Lakhs minority students were benefitted from the Pre matric MOMA Scholarship offered by the ministry to the students.
Pre Matric Moma scholarship Application form
Post Matric Scholarship Application form for all States in India
State wise Pre Matric Scholarship in India 2015
| | |
| --- | --- |
| State wise Pre Matric Scholarship | Where and How to apply |
| Andhra Pradesh Pre matric Scholarship | Candidates have to apply via National Scholarship portal |
| Arunachal Pradesh Pre Matric Scholarsip | - |
| Assam Pre Matric Scholarship | - |
| Bihar Pre Matric Scholarship for Minorities | |
| Chattisgarh Pre Matric Scholarship for SC/ST/BC | - |
| Goa Pre Matric Scholarship for SC/OBC | Apply here |
| Gujarat Pre Matric Scholarship for S.E.B.C, E.B.C and Minority | |
| Haryana Pre Matric Scholarship | |
| Himachal Pradesh Pre Matric Scholarship for SC/ST/OBC | |
| Jammu and Kashmir Pre Matric Scholarship for Minorities | Candidates have to apply via National Scholarship portal |
| Jharkhand Pre Matric Scholarship | Applications are not available |
| Karnataka Pre Matric Scholarship | |
| Kerela Pre Matric Scholarship | Download the Application Form |
| Madhya Pradesh Pre Matric Scholarship | |
| Maharashtra Pre Matric Scholarship | |
| Manipur Pre Matric Scholarship | Will be available soon |
| Meghalaya Pre Matric Scholarship | |
| Nagaland Pre matric Scholarship | |
| Odisha Pre Matric Scholarship | Will be available soon |
| Punjab Pre Matric Scholarship | |
| Rajasthan Pre Matric Scholarship | |
| Sikkim Pre Matric Scholarship | Download the Application Form |
| Tamil Nadu Pre Matric Scholarship | |
| Telangana Pre Matric Scholarship | |
| Tripura Pre Matric Scholarship | Not offered |
| Uttar Pradesh Pre Matric Scholarship | |
| Uttarakhand Pre Matric Scholarship | |
| West Bengal Pre Matric Scholarship | Download the Application Form |

Union Territory wise Pre Matric Scholarship in India 2015
| | |
| --- | --- |
| UT Wise Pre Matric Scholarship | Where and How to Apply |
| Andaman and Nicobar Pre Matric Scholarship | |
| Chandigarh Pre Matric Scholarship | Download Application Form |
| Dadra and Nagar Haveli Pre Matric Scholarship | |
| Daman and Diu Pre Matric Scholarship | Candidates have to apply via National Scholarship portal |
| Delhi Pre Matric Scholarship | |
| Lakshadweep Pre Matric Scholarship | |
| Puducherry Pre Matric Scholarship | Download the Application Form |