NSTSE Results 2017 for level 1 is declared on 10 March 2017 by Unified Council NSTSE level 1 exam was conducted on 24 January and 5 February 2017 and students can check their result online by entering their e-mail id, mobile number and eight digit hall ticket number. NSTSE has already released the NSTSE Answer Key (Class 1 to 12) along with the solutions. The candidates who will be selected in Level 1 will be eligible to appear in Level 2. All the students who have appeared in the NSTSE Exam will get the participation certificate. NSTSE Results 2017 Result is declared.
Latest Update: NSTSE Result declared. Check your result by entering the details in the window.
NSTSE Exam Date - Level 1
24 January and 5 February 2017
NSTSE Result

Declared

!
10 March 2017 (Declared)
NSTSE Level 2 Exam
March/April 2017

Register for ACST 2017 - Aakash Admission cum Scholarship Test
JEE Mains Admit Card 2017 - Register for free SMS Alerts
NSTSE Answer Keys & Solutions - Check Here
List of Olympiads - You can Participate
NSTSE 2017 is conducted in pen & paper based mode in 14 countries including India, Saudi Arabia, Indonesia, Qatar, UAE, Yemen, Oman, Russia, Kuwait, Bahrain, Libya, Nepal, Tanzania and Iran for students of Class 1-12.
NSTSE Result Date is 10 March 2017
NSTSE Results 2017 - Check Here

Students who have participated in NSTSE 2017 can check their NSTSE results by entering their credentials in the below-given window or at www.unifiedcouncil.com. To check NSTSE Results, the candidate will require his/her E-mail Id, Mobile Number & 8 digit Hall Ticket number below.
Unable to check NSTSE Result


Some of the students were not able to download the NSTSE result even after entering the required details. The students are advised to enter theRegistered Email ID and Mobile Number only then you will be able to download your result.
If the email/mobile entered by the student does not match the registered id and phone number, then the candidates will not be able to download the NSTSE Score Card. After entering the right details, the students can download NSTSE Admit Card, and the NSTSE Scorecard will look like this.

NSTSE Result Here Declared
How to check NSTSE 2017 Result
Students have to check their NSTSE 2017 Result here by entering their information in the above-given window.
Participants are required to enter their registered E-mail ID and ten digits mobile number provided at the time of filling the NSTSE Application Form.
They are also required to enter their 8-digit Hall ticket number mentioned on the Admit card and then click on 'search'.
The NSTSE Result will be clearly displayed on the screen.
The candidate is required to download the NSTSE Results from the website. The result will NOT be sent via post or e-mail.
Students are required to keep the downloaded results with them for future reference.
GET NSTSE Result on SMS for Free
Students can find the list of NSTSE 2017 Toppers and top 100 winners on the official website of www.unifiedcouncil.com. NSTSE Result to be declared is for NSTSE Stage1, and there will also be an NSTSE Stage 2 exam.
ALL INDIA Achievers 1 to 100 Ranks: Those who got ALL INDIA RANK 1-100 will be declared as ALL INDIA achievers.
STATE Toppers - State wise list will be declared after excluding the top 100 ranks across the country. If a student gets state 1st rank and All India Rank below 100, then he/she is regarded as National Achiever. Students with All India Rank above 100 are considered for State Achievers.
CITY TOPPERS will be declared after the top 100 ranks across the country & State wise achievers. The city wise toppers are available only for the following cities. City-wise toppers are declared excluding top 100 All India Ranks & State Toppers

Bangalore, Bareilly, Bhubaneswar + Cuttack, Mohali + Panchkula, Chennai, Faridabad, Gurgaon, Hyderabad, Indore, Jalandhar, Jaipur, Kolkata, Kanpur, Kota, Lucknow, Mumbai, Nagpur, Nashik, Noida+Ghaziabad, Pune, Varanasi, Yamunanagar+ Karnal+Ambala+Kurukshetra, Vadodara and Vishakhapatnam.

School Topper in your school.
Class Topper of your class in your school.
NSTSE 2017 Prizes / Awards
The Topper of NSTSE 2017 will receive a cash prize of Rs. 2 lacs. The topper would be the one who has scored the highest marks in NSTSE amongst all the classes. He/she would be the one who has scored NSTSE 2017 Rank 1 amongst lacs of participants.
Top 3 Rankers of NSTSE 2017 from each class will get a Tablet PC + Momento + Medal.
Reward for the Winners
A student of any class who achieves 100% marks is awarded prize money of Rs. 2, 00,000. If none of the students achieves the same, then the student who achieves the highest percentage of marks among all the classes is awarded Rs. 1,00,000. If there is more than one student who achieves the same, the prize money is distributed equally. Each topper gets either this prize or the regular prize.
NSTSE Rank 2017

NSTSE Ranks are only declared for the students who are not selected for Level 2 of the exam. The students who are selected for round 2 of the exam will get their ranks when NSTSE Level 2 result is declared.
NSTSE Level 2 Exam
NSTSE level 2 exam will be held for the Top-500 students (Class 2-12) across the nation, and Top-20 students from each state from each class will be conducted in the nearest selected State Head Quarters/Main Towns. Class 1 students will not have any stage 2 exam, and hence this is the final result for them.
The admit card for the NSTSE stage 2 will be sent directly to the school, but in case they do not receive the admit card, they can download directly from the website.The date for NSTSE level 2 exam is not declared as of now by Unified Council.
The Syllabus & the exam pattern for the 2nd level is same as it was for the 1st Level.
NSTSE Result for Level 2


The student who gets less than 30% marks in NSTSE level 2 exam will not get any rank, and it will be displayed as "--"
When more than one student gets an equal top score, priority for awarding ranks will be according to marks acquired in the following specified order of subjects: Mathematics (Biology for PCB group), physics, chemistry, biology and General Question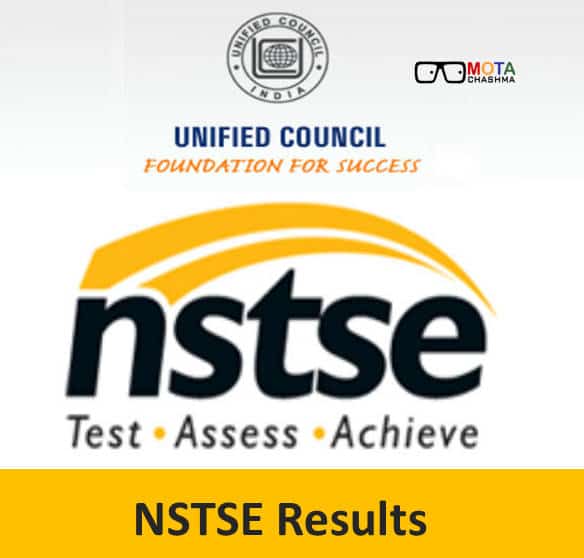 The questions asked in NSTSE are in objective type format, and each question carries one mark. There is no negative marking. Questions are based on Science and Mathematics to test the knowledge of the students about their curriculum.
Approximately 4,50,000 students participated in NSTSE conducted last year, and 4,20,000 students participated in 2013.
Why do students of the same class with similar total marks have different National Ranks?
When more than one student gets an equal total score, priority for awarding ranks will be according to marks acquired in the following order of subjects: Mathematics (Biology for PCB group), Physics, Chemistry, Biology and General Questions.
I appeared for NSTSE. Will I get the certificate?
Unified Council will send the Participation Certificate for all students and Student's Performance Report (if the student has opted).
Share Your NSTSE Rank with Us
Fill the form below and share your NSTSE Rank.

In case of any Query related to NSTSE Results 2017
If the student or parent has any doubt relating to NSTSE 2017, then they can contact Unified Council.
Phone: 040-2454 5862 / 24557708
Fax : 040-2454 2215
E-Mail: exam@unifiedcouncil.com