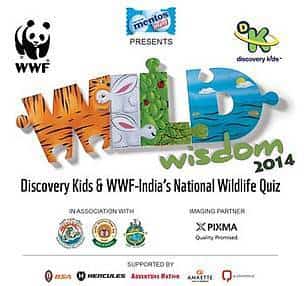 Wild Wisdom Online Quiz Contest 2019 for Senior School Students
About Wild Wisdom Online Quiz Contest
Wild Wisdom Quiz Contest was initiated in 2008 and is the only National Wildlife Quiz Contest in the country. Wild Wisdom Quiz started with an objective to raise awareness about flora and fauna among Indian Students and to inculcate a sense of pride amongst Indian students about India's rich cultural heritage. Wild Wisdom Quiz Contest 2019 is the 12th edition of the competition, organised by the WWF India in association with the Ministry of Environment & Forests and the Central Board of Secondary Education (CBSE). CBSE will consider this quiz as a part of its CCE Activity.
Wild Wisdom Quiz 2019 will be conducted in as many as 15 cities of India including more than 15,000 schools. School Students up to class 12 can take part in this contest depending upon the segregation of categories named as, Junior School (classes 3-5) quiz, Middle School (classes 6-8) quiz and Senior/High School quiz (classes 9-12). First, two categories i.e. Junior School and Middle School Quizzes are where participation is possible only through schools and High School quiz is an online contest in which students can take part individually.
Wild Wisdom Quiz 2019 Theme: Exploring our planet
Wild Wisdom Quiz 2019 Dates
| | |
| --- | --- |
| Events | Dates |
| Last Date of Registration | 15 September 2019 |
| Online Quiz date of Phase 1 | 11 October 2019 |
| Online Quiz date of Phase 2 | 14 October 2019 |
| Online Quiz date of Phase 3 | 15 October 2019 |
With the current trajectory of environmental challenges, it is necessary for all of us to know what is happening and bring to light answers that will help us decide and act now while we still have time. Here are a few clues below to get you thinking:
Newly discovered species
Unique and rare species
Extinction
News alerts regarding the natural world
Famous environmentalists
Biodiversity of Indian Subcontinent, South East Asia, and the Middle East
Ecosystems
Environmental changes
Conservation status- IUCN red list
Read more about Wild Wisdom Quiz for Junior & Middle School Students
Subscribe for Regular Updates of Wild Wisdom Online Quiz Contest
Wild Wisdom Online Quiz Contest Eligibility Criteria
Gender
Both
Region
All India
Class/ Age
Class 9-12
Details

Senior/High School Category: Students of Classes 9-12

Not Eligible

Children of WWF- India's Employees cannot participate
Participants of the School Level Elimination Round of the wild Wisdom Quiz being conducted in their respective schools cannot participate in the online Quiz Contest.
Wild Wisdom Online Quiz Contest Reward
The National Level top 3 Winners will get an exciting opportunity to visit a national park.
Consolation Prizes for participating students
Wild Wisdom Wristbands & stickers
Certificate of Participation
Note: Goody bags for the eligible candidates will be sent to their respective postal addresses within 4 to 6 week after the announcement of the result.
Wild Wisdom Online Quiz Contest Application form and Process
Candidates can fill the Wild Wisdom Quiz Contest 2019 application form through online mode only. Participation in the online quiz contest is possible only through registration by the school in which the candidate is studying. Candidates should visit the official website of Wild Wisdom Quiz to fill the application form or click on the following link:
Click here to Apply Online
Application Fee: Rs. 100
Payment of Application Fee=
School registration for Senior school Online quiz is open for schools across the globe. The registrations have to be done in bulk (30 or more students). The teacher-in-charge registers the school online and completes the payment through NEFT/Demand Draft. The details of the demand draft and NEFT are mentioned below:
Demand Draft Details
DD in favour of "World Wide Fund for Nature -India", payable at New Delhi
Please mention the school name and address on the reverse of the DD.
DDs for Primary and Middle school can be made together, but DD for Senior school has to be made separately.
Details for NEFT Transfers
Bank Account Name - World Wide Fund for Nature -India
Account Number - 522-1-197685-3
Bank Name - Standard Chartered Bank
Bank Address - Narain Manzil, 23 Barakhamba Road, New Delhi - 110001
Bank IFSC Code - SCBL0036020
Please mention WWQ followed by your school's name in the payment reference while making the NEFT transfer.
Note: A student should register only once for the Wild Wisdom Online Quiz Contest 2019, multiple registrations for the same student will lead to disqualification.
Wild Wisdom Online Quiz Contest Selection Process
On successful registration for the Online Quiz Contest, the students have to undergo through the three levels of Quiz Contest. i.e. Level 1, Level 2 and Level 3. Reaching out the subsequent level is possible only after qualifying the previous one and there will be a fixed time duration for participating in each level. All the winners in each level will be informed through a notification sent on their e-mail id. Total 12 Winners will be chosen on the basis of a maximum number of correct answers and In the case of a tie, winners will be chosen performing a lucky draw.
WWF Quiz Contest Pattern for Online Quiz
| | | | |
| --- | --- | --- | --- |
| Particulars | Level 1 | Level 2 | Level 3 |
| No. of Questions | 30 questions to be answered in 15 minutes | 40 questions to be answered in 20 minutes | 60 questions to be answered in 30 minutes |
| Dates of Quiz Contest | 11 October 2019 | 14 October 2019 | 15 October 2019 |
| Qualifying Criteria for moving to the next level/ winning | Participants have to answer at least 12 questions correctly. | Participants have to answer at least 24 questions correctly | Winner will be chosen on the basis of Maximum correct answers |
Wild Wisdom Online Quiz Contest Contact Details
WWF India,
172 B, Lodhi Estate,
New Delhi- 110003
Phone:011 41504790
Mobile: 9717073958
E-mail: wildwisdom@wwfindia.net