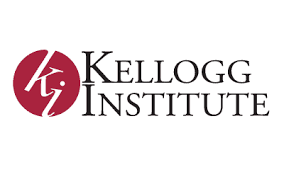 Kellogg Visiting Fellowships for International Studies 2016
About Kellogg Visiting Fellowships
Kellogg Visiting Fellowships are being offered since 1983 by Kellogg Institute for International Studies to promote interdisciplinary international research in a supportive community of scholars. Visiting Fellowships are offered to scholars and practitioners who conduct international research on democracy or human development.
This widely respected residential program offers fellows some time to pursue scholarly inquiry, advance their personal research, and collaborate with other scholars and practitioners from across the US and around the globe.
Fellowship Terms: Fellowships are offered for the academic year (August to May) or the fall (August to December) or spring semesters (January to May).
In exceptional cases, two-year postdoctoral visiting fellowships may be offered to one or two applicants per year.
Subscribe for Regular Updates of Kellogg Visiting Fellowships
Kellogg Visiting Fellowships Eligibility Criteria
Gender
Both
Region
Global
Class/ Age
Ph. D or equivalent degree in social science discipline or in history
Details

Nationality: All Nationalities are eligible to participate

Scholars and practitioners who conduct international research on democracy and/or human development

Candidates should typically fall in either of the three groups mentioned below:

Promising junior and midcareer scholars (typically postdocs and assistant or associate professors)
Distinguished senior scholars with an established record of scholarly excellence
Accomplished policy makers, journalists, and other practitioners whose knowledge and experience can link policy and scholarship

Academic qualifications

: PhD or equivalent degree in a social science discipline or in history

In rare of the rare case, the Institute will support applicants with a PhD or its equivalent in other disciplines.
Even the eminent scholars and practitioners who do not hold a PhD degree are eligible.
Advanced ABD graduate students may apply, but awards are contingent on their having completed the PhD before beginning the fellowship..

Eligibility Considerations (for non-US Citizens/Residents)

Advanced English language proficiency is required.
Foreign nationals must have a valid passport and be able to obtain a J-1 Visa
Kellogg Visiting Fellowships Reward
The facilities at the Hesburgh Center are ideal for scholarly research. Visiting fellows will be provided with:
Spacious offices
On-site information technology support
Personal library services through a branch of the University's library
Use of a variety of campus facilities.
Visiting Fellowships include:
Stipend
Travel expenses
Medical insurance benefits
Partial housing subsidy for the Hesburgh Center Residences or other on-campus housing
Expectations from the Fellows
Residency
Presentation
Participation
Publication
Working papers
Kellogg Visiting Fellowships Application form and Process
To apply for a Kellogg Institute visiting fellowship, candidates have to visit the official site.
Once reached, you will be required to register by creating an account.
Last date to apply for the fellowship is 1 October 2016
Submission: The complete application process is Online. Hence, you have to submit the application form along with following enclosures Online.
Enclosures to be submitted along with the Application form
Cover letter addressing your interest in the fellowship and specifying your preferred term of stay
Curriculum vitae
A research project statement (6–10 double-spaced pages)
Names and email addresses for three letters of recommendation.
Kellogg Visiting Fellowships Selection Process
Fellowships are awarded on a competitive basis. A committee composed of Kellogg Institute Faculty Fellows evaluates the applications by adopting the following selection criteria:
What is the problem being addressed? What is its interest and importance within and beyond the researcher's field?
How does the study relate to the research themes of the Kellogg Institute?
What is the quality of the research design, including basic hypotheses, research methodology, and the kinds of data or evidence the researcher is considering?
Is the importance and originality of this project clear to someone outside the applicant's discipline?
What is the individual's scholarly record and potential?
How much would the researcher be able to complete during his/her time at the Institute?
Kellogg Visiting Fellowships Address
130 Hesburgh Ctr, Notre Dame, IN 46556, United States
Kellogg Visiting Fellowships Contact Details
Denise Wright
Program Coordinator, Visiting Fellow & Graduate Student Programs
574/631-8523
dwright1@nd.edu