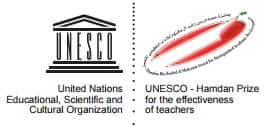 UNESCO Hamdan bin Rashid Al Maktoum Prize
Last date to apply
Extended to 24 November 2017
About UNESCO Hamdan bin Rashid Al Maktoum Prize
The UNESCO Hamdan bin Rashid Al Maktoum Prize for Outstanding Practice and Performance in Enhancing the Effectiveness of Teachers begun in the year 2008. The UNESCO Hamdan Prize was started to support the improvement of teaching and learning quality in achieving the Education for All goals. The deadline for submitting nominations for the UNESCO Hamdan bin Rashid Al Maktoum 2017-2018 Prize is 24 November 2017
About the Program in Brief
The Program is conducted in every two years. The Prize amounts to $300,000, which is equally divided between three winners and is offered by H.E. Sheikh Hamdan Bin Rashid Al-Maktoum of the United Arab Emirates.
Candidates have to apply through a Nominating Body who will send their application to UNESCO.
The application received will be reviewed by the screening panel and the Final selection will be done by the International Jury who will meet in Dubai
Subscribe for Regular Updates of UNESCO Hamdan bin Rashid Al Maktoum Prize
UNESCO Hamdan bin Rashid Al Maktoum Prize Eligibility Criteria
Gender
Both Male and Female
Region
Global
Class/ Age
For Teachers
Details
To be eligible for the UNESCO-Hamdan bin Rashid Al-Maktoum Prize the person can be:

Individuals representing institutions or organisations.
Individuals representing International or national governmental or non-governmental organisations.
Individuals representing educational or research institutions
Individuals representing local/national/regional communities

Not Eligible to Participate

Individual Participation is not permitted
UNESCO Hamdan bin Rashid Al Maktoum Prize Reward
Prize Amount: The selected candidates will receive a Prize amount of $300 000, which is equally divided between the three winners.
The Prize is offered by H.H. Sheikh Hamdan Bin Rashid Al-Maktoum of the United Arab Emirates.
Prize Distribution: Selected candidates will be awarded for the 5th time at a ceremony which will be conducted on the occasion of World Teachers' Day at UNESCO Headquarters in Paris on 5 October 2018.
UNESCO Hamdan bin Rashid Al Maktoum Prize Application form and Process
What is a Nominating Body?
Nominating body constitutes the governments of Member States, in consultation with their National Commissions and non-governmental organisations (NGOs) who are in an official partnership with UNESCO.
Nominating Body has the right to nominate and recommend up to 5 candidates for the Prize.
Application Process

Click here to download Nomination form
Candidate can request a nominating body to send their application to UNESCO.
The nominating body may take over the process of nominating a candidate and send their application to UNESCO.
Kindly Note: Candidates can be nominated only by one nominating body Only.
Guidelines
Language: Candidates have to write their Applications either In English or French Only. No other language will be accepted.
No consideration: In no circumstances, unsolicited applications and Self Nominations will be taken into consideration.
Things the Application must contain
Duly filled in Nomination Form by the Nominating Body as per the prescribed format.
Duly filled in Application Form filled in by the candidate as per the prescribed Appropriate Form
The application must be accompanied by the supporting materials written either in English/French only.
Submission of Application Form

All the duly filled in postmarked Application Form has to be sent via email to the Secretariat of the Prize by 24 November 2017 (midnight, Paris time)
UNESCO Hamdan bin Rashid Al Maktoum Prize Selection Process
All the applications received, will be reviewed by the screening panel for whether they aim at improving the performance and effectiveness of teachers across the world.
The screening panel will eliminate the Non-eligible candidates and will forward the selected Applications to the International Jury of the Prize.
The International Jury will meet in Dubai to select the Final Winners.
International jury: The team constitutes five distinguished professionals who have been selected on the basis of their high-level of knowledge and experience in teacher-related issues
Prizes will be distributed during an official ceremony organised at UNESCO Headquarters in Paris on the occasion of World Teachers' Day.
UNESCO Hamdan bin Rashid Al Maktoum Prize Contact Details