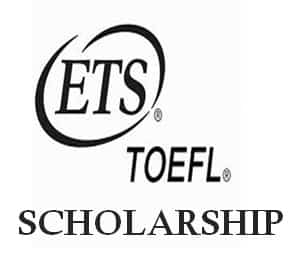 TOEFL Scholarship Program 2016 for Indian students
About TOEFL Scholarship
TOEFL Scholarship 2016 by ETS has been introduced to support an array of scholarships, educational initiatives and community programs in countries across the globe.At present, TOEFL scholarships are being awarded in countries like Australia, Mainland China, India, Japan, Korea, and Taiwan.
TOEFL scholarships provide educational assistance to students for pursuing their undergraduate or graduate degree in the TOEFL Participating Institutes all across the world.
The list of previous years' TOEFL Scholarship winners from India is given at the end of the page and the applicants can get a fair idea about the scope of study through TOEFL Scholarship from this.
TOEFL Scholarship India
TOEFL Scholarship Program is being held in India annually since 2011.
TOEFL scholarship program is open to Indian residents only who have started their undergraduate or graduate degree program between June 2016 and May 2017 at listed college or university.
The competition comprises two stages:

Initial Application
Semifinalists round.
Based on the initial applications, 100 semifinalists will be selected.
TOEFL Scholarship Important Dates
| | |
| --- | --- |
| Last date to apply | June 21, 2016 |
| Scholarship Semifinalist Round | July 14, 2016 |
Subscribe for Regular Updates of TOEFL Scholarship
TOEFL Scholarship Eligibility Criteria
Gender
Both
Region
India, Australia, Mainland China, Japan, Korea and Taiwan.
Class/ Age
18 years or above
Details

Eligibility for Indian students

Nationality: The applicant must be a resident of India.
Level of Study: The applicant should be enroled in an undergraduate or graduate degree program between June 2016 and May 2017 at a college or university listed in the TOEFL Destinations Directory >> List of participating college/university of TOEFL Program 2016
Scores: They should hold a grade point average of 80 or higher on a 100-point scale or a 3.0 grade-point average or higher on a 4-point scale.
Language: Candidates must have proficiency in English with a valid TOEFL score

Not Eligible

Transfer students are not eligible to apply for TOEFL Scholarship program in India
TOEFL Scholarship Reward
Number of Rewards: Under the TOEFL Scholarships, ETS will award 10 scholarships.
Value of Rewards: The value of each award will be US$7,000 each i.e. $ 70,000 in total to exceptional students in India who have proven their academic excellence.
Note: Scholarship funds will be disbursed to winners' universities in early 2016. Funds can be applied to academic expenses only and will be disbursed after the student has arrived on campus.
TOEFL Scholarship Application form and Process
TOEFL Scholarship Program Application Process can only be applied Online. There is no Offline method of filling the application form.
Click Here to Apply Online
Candidates must use the code "TIndia" for online application.The shortlisted candidates have to submit the following information by June 21, 2016.

A 600-word essay
An original transcript from your current school.

A high school/secondary school transcript if applying for undergraduate study
A college/university transcript if applying for graduate study.

Scholarship winners also must provide a PDF of the official acceptance letter from the college/university they plan to attend. This college/university must be listed in the TOEFL® Destination Search.
TOEFL Scholarship Selection Process
TOEFL Scholarship comprises two stages i.e. Initial Stage and Semifinalists Round.
The initial stage- In this stage, the applicants will be shortlisted based on eligibility criteria and details provided online during the submission of application form. 100 entries would be shortlisted as semi-finalists and would be notified.

Out of these 100 semi-finalists, 10 candidates would be selected TOEFL Scholarship Program based on the following attributes.
TOEFL Scholarship Winners
2015 Winners
2014 Winners

Aditya Khandelwal

Pursuing a bachelor's degree in computer engineering from Stanford University

Aniruddh Ramrakhyani

Pursuing a master's degree in electrical engineering from Georgia Institute of Technology

Azalea Irani

Pursuing a bachelor's degree in engineering and design from Stanford University

Grishma Jena

Pursuing a master's degree in computer and information sciences from University of Pennsylvania

Poorvi Bellur

Pursuing a bachelor's degree in history from Columbia University

Santhoshkrishnachaitanya Chelikavada

Pursuing a bachelor's degree in electrical engineering from New York University

Shashank Narayana Gowdan

Pursuing a master's degree in mechanical engineering from the University of California, Los Angeles

Soumya Mishra

Pursuing a master's degree in international development from University of Oxford

Tanuja Mishra

Pursuing a master's degree in photography from Harvard University Graduate School of Design

Vidhya Balaji

Pursuing a master's degree in electrical engineering from the University of Washington, Seattle

Anoop Rajappan

Pursuing a master's degree in mechanical engineering from Massachusetts Institute of Technology

Bevin Mathew

Pursuing a master's degree in industrial engineering and design from Georgia Institute of Technology

Damini Agarwal

Pursuing a bachelor's degree in biomedical engineering from Johns Hopkins University

Ishan Arora

Pursuing a master's degree in chemical engineering from Massachusetts Institute of Technology

Padmapriya Duraisamy

Pursuing a master's degree in electrical engineering from Stanford University

Pragya Chawla

Pursuing a bachelor's degree in astronomy from Leiden University

Sanya Sareen

Pursuing a bachelor's degree in psychology from Columbia University

Shirish Dhar

Pursuing a bachelor's degree in information management sciences and systems from Carnegie Mellon University

Shreya Ramachandran

Pursuing a bachelor's degree in bioengineering from California Institute of Technology

Vijita Kamath

Pursuing a bachelor's degree in English from Brown University
TOEFL Scholarship Contact Details
E-Mail:toeflscholarship@ets.org