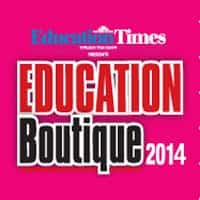 Elevation 2014 | Design Characters for TEB 2014 | Education Times- Animation
About Times Education Boutique
Education Boutique is calling for all those animation students to free their imagination and show their talent.
Its an exclusive opportunity to design two characters that will be the face of Times Education Boutique (TEB) and participants are to make a 90 seconds short animation video.
The theme of the video is "Student Life" which unveils a pool of ideas for the participants!
The entry we deem the best will earn its creator a credit on our site, in the media and at the TEB 2014 show in 19+ cities Pan India. Release your creativity, shine and get the prizes. It is time to find that LEVEL UP! It is time for ELEVATION!
Times Education Boutique will be conducted in 19 cities.
Ahmedabad, Bengaluru, Indore, Patna, Surat, Kota, Kolkata, Nagpur, Pune, Chennai, Lucknow, Noida, Mumbai, Jaipur, Hyderabad, Ranchi, Baroda, Delhi, Chandigarh
Subscribe for Regular Updates of Times Education Boutique
Times Education Boutique Eligibility Criteria
Gender
Both
Region
Students from all over India can participate
Class/ Age
Between 16 & 35 years
Details

Participant must be between 16 & 35 years
Students who are taking courses in Animation, IT or the applicable streams
Individuals or Team are eligibile to participate.
For Participation one team can have upto 5 team members
Times Education Boutique Reward
The Winner would get an exclusive opportunity to get creator rights on the website!
Winner: Rs. 75, 000
1st Runner Up: Rs. 50, 000
2nd Runner Up: Rs. 25, 000
Teams may also be eligible for scholarships.
Times Education Boutique Application form and Process
Participants can follow the link to register for the competition- >> Register for the competition
After registering on the website, participants should send in their entries by March 25, 2014 using We Transfer (www.wetransfer.org)
What does the Participant need to do?
The task is to think of 2 characters that will be the Face of TEB 2014 and make a 60-second (minimum) to 90-second (maximum) animated movie.
Your Animation Movie has to be focused on "Elevating" TEB.
TEB logo has to be incorporated appropriately and visible at least once in the entire duration of the animation
The designing aspect shown will completely be at the student's imagination and discretion.
Entries up to 2GB are accepted.
The mailing address is- elevation2014.animation@gmail.com
Times Education Boutique Selection Process
Winners will be judged by a panel of experts
Announcement of the results will be on April 10, 2014 on the website.
Times Education Boutique Address
Times Education Boutique 2014 Secretariat 530, Laxmi plaza, Laxmi Industrial Estate, 5th floor, New link Road, Andheri West, Mumbai 400-053, India.
Times Education Boutique Contact Details
Phone: 91-22-6681 4900
Fax: +91-22-26367676
E-mail: Info@timeseducation.org