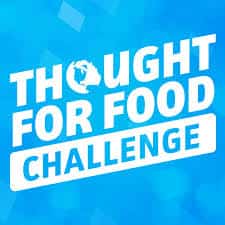 Thought for Food challenge 2016
About Thought for Food challenge
Thought for Food challenge 2016 invites the world's best and brightest university students to form teams and develop breakthrough projects that address the global challenge of feeding 9 billion people by 2050. The winners will get a chance to participate in the Thought for Food Challenge Global Summit in to be held at Europe.
Thought for Food Challenge 2016 winners will receive upto $25,000 in cash prizes.
Thought for Food Challenge 2016 important Dates


| | |
| --- | --- |
| Events | Dates |
| Last Date to apply | October 31, 2016 |
| Submission of the Pitch | January 8, 2017 |
What is TFF


TFF is a movement dedicated to tackling the global challenge of feeding 9 billion people through bold, breakthrough solutions.
Subscribe for Regular Updates of Thought for Food challenge
Thought for Food challenge Eligibility Criteria
Gender
Both
Region
Global
Class/ Age
Open to All
Details

Nationality: People of all Nationalities are eligible to participate
Age: People of any age group who are enrolled in a degree-seeking program at an accredited university
Academic Qualification: Candidates must be student of undergraduate, graduate, masters or PhD programs at any recognized University across the world.
Non Profit Making organizations can also participate
Thought for Food challenge Reward
Finalists
10 Finalist teams will receive economy class travel and accommodation to attend the TFF Bootcamp and Global Summit in early 2017.
Winners
The selected team will receive $10,000 USD for their project
The Runner Up team will receive $75,00 USD for their project
Life-Changing Experiences
Mentors: Access to TFF Design Lab and professional mentors from various fields
Travel + Bootcamp: 10 finalist will receive a trip to a destination where they will take part in a custom program to acquire skills and tools that will propel their projects to the next level.
TFF Summit: Finalists will represent their university at the TFF Summit and pitch their ideas to a top-caliber judging panel.
Thought for Food challenge Application form and Process
Steps involved in the Thought for Food Challenge
Step 1: Sign Up
Step 2: Form your team
Step 3: Work on Round 1
Step 4: Submit your pitch
Step 5: Ten Finalist Team will be announced
Step 6: Work on Round 2
Step 7: TFF Bootcamp
Step 8: Final Pitch
Step 9: Enjoy lasting benefits
Details about the TEAMS
There is no limit to how many teams can sign up from each university.
Teams should be composed of 3-5 members
Work on Round 1
For Round 1, teams will be required to submit their idea in both text and video format by the pitch October 1, 2016, at 12:00 AM Pacific Standard Time.
The videos must be uploaded to either YouTube or Vimeo and abide by the pitch criteria in order to be considered.
Submission of Entries


All entries must be submitted through the online TFF platform using the "submit your pitch" form on or before January 8, 2017.
Thought for Food challenge Selection Process
Candidates will be selected on the basis of the following criteria:
Innovation: How innovative is the solution, really?
Implementation: Can the idea be implemented and scaled?
Uniqueness: Does the solution stand out from everything else out there?
Team Spirit: Does your team demonstrate passion, curiosity and commitment to get it done?
ROUND 1 JUDGES
Alex Budak
Cezary Pietrzak
Gabriel Wilmoth
Christoph Auer-Welsbach
Jessica Weddle
Steve Dauphin
Dr. Joseph King
Sara Farley
John Cumbers
Adam Little
What will happen in Round 2?
10 Finalist teams will be chosen at the end of Round 1 October 31, 2016, to move on to Round 2.
If the team gets shortlisted for Round 2, then your team will have to participate in an online training program in order to help you learn how to implement your idea and create a profitable business.
Round 2 also includes the TFF Bootcamp and Global Summit.

A minimum of 3 team members have to compulsorily attend both the Bootcamp and the TFF Summit in early 2017

At the TFF Summit, one Grand Prize winning team and One Runner-up team will be chosen
Thought for Food challenge Contact Details
Contact: info@tffchallenge.com