About Teenovators 2015
Teenovators 2015 is a National Level innovation challenge for teenagers (Class 9-12) which was started by Manipal University in 2011. It is being conducted in association with INK.
Teenovators is conducted across 8 selected cities and students from close to 400 schools will participate in the competition.The schools can participate only through an invitation and will get 6 months to complete their project. The people who have strong passion and vision for creative and innovative solutions are the perfect participants for the Teenovators Innovation Challenge.
Innovation Examples from the previous challenges
Reach Home Faster – Students from Air Force School, Hebbal proposed using mobile phone radio waves to identify traffic hot spots, which the commuters could avoid and thus reach home faster.
Ultimate Power Car – (Second Prize winner, 2014)-With the demand for fuel increasing by the day and the supply diminishing even faster, the students from Saraswathi Vidyalaya High School, Mumbai proposed a car that could run on salt.
Eco-friendly pump -(First prize winner, 2014)-Demand for electricity in irrigation is a bane of the farming sector in India. Sri Gayathri Junior College, Hyderabad think a water pump that can function on magnets is the answer.
Smart traffic Management -(1st runner up, 2014)-VKR Acharya School, Udupi build a model using the GPS in cars to devise a system of sensors and lights that will deliver a smart traffic management solution.
There will be three stages of the Innovation Challenge

Quarterfinal - 24 teams will be selected out of the 400 teams
Semi Finals- 8 teams will be selected for finals and will get mentorship from industry experts and will attend finals in Manipal.
Finals

Students of class 9-12 participate in the competition and work on a project under the guidance provided by the mentor, assigned to each team to help them through conceptualization, planning and execution of the project.
After the completion on all the three levels, the winning team will be rewarded with prizes worth Rs.5 lakh.
Schedule of Tenovators 2015
| | |
| --- | --- |
| Event | Date |
| Innovation Challenge | August 05, 2015 |
| Preliminary challenge | September 25, 2015 |
| Inter-city challenge | November 18, 2015 |
| Mentorship | November 18, 2015 to January 6, 2015 |
| National Level Challenge | January 09, 2016 |
Subscribe for Regular Updates of Teenovators 2015
Teenovators 2015 Eligibility Criteria
Gender
Both
Region
Bangalore, Chandigarh, Delhi, Kolkata, Chennai, Hyderabad, Mumbai, Pune
Class/ Age
Class 9 -12
Details

Age: The applicant should belong to the age group of 13-19 years to be a part of Teenovators.
Academic Status: In order to participate in Teenovators 2015, the participants need to be a student of class 9-12.
Participation: Teenovators 2015 will accept team participation from schools of selected cities.

Each team will have 5 students and 1 faculty members.
Teenovators 2015 Reward
Teenovators 2015 Rewards
In Teenovators 2015, awards worth Rs.10 lakh are to be won. Out of the participating teams top 5 teams will be rewarded with the prizes. The details of the prize are as follow:
First Prize: The Team winning the first prize will get a cash reward of Rs.5,00,000.
Second Prize: Team getting the second prize will be eligible for cash prize of Rs.3,00,000.
Third Prize: Third Prize winner will get a cash prize of Rs.1,00,000.
Consolation Prizes: 2 consolation prizes will be offered and each of them will be of Rs.50,000.
Teenovators 2015 Application form and Process
Teenovators 2015 Application Process
The application process of Teenovators 2015 is to sent by the means of schools. The schools from the 8 cities are required to fill in their School enrollment form.
The Applications are

through Invitations only

.
After that the Teenovator team will get in touch with the school and assist them in the application process.
Teenovators 2015 Selection Process
Teenovators 2015 Selection Process
Total 400schools will participate in Teenovators 2015 and they will have to go through Preliminary, Inter City & National Challenge to emerge as a winner. The details of the selection process are as follow:
Preliminary Challenge: In Preliminary Challenge, each student will go through Teenovators Quotient Test (TQT), which will be organized in all the 400 schools. TQT will act as a qualifier for the further rounds.

Each team of 5 members will submit a project proposal on the idea they will work within first 2 weeks of the school signing off for this project.

Intercity Challenge: Out of the 400 schools participating, 100 shortlisted candidate will move on to the next level. At this stage, equal number of schools from each city will be selected and they will have to submit poster about their project.

24 teams will also participate in INK Live conference in Mumbai on October 16-18, 2015.

National Challenge: Based on the 100 posters submitted, top 8 teams will be selected and these teams will work to prepare a prototype of their project. The final Projects will be presented at Manipal University, Manipal.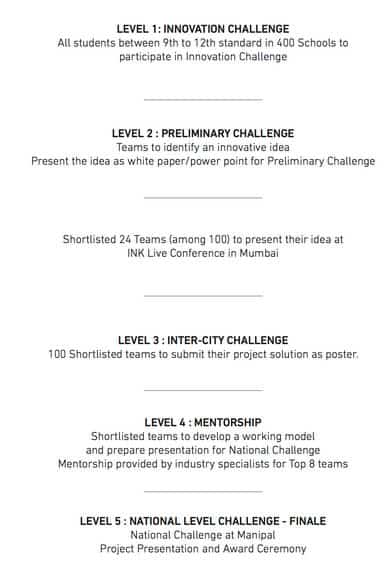 Teenovators 2015 Contact Details
Phone:080 412 63 679
Email: teenovators@inktalks.com