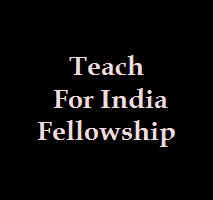 Teach For India Fellowship 2018
Last date to apply
Deadline 3: 10 December 2017
Deadline 4: 4 February 2018
About Teach For India Fellowship
Teach for India Fellowship is a 2-year program which provides an opportunity for young people to develop leadership qualities and simultaneously transform the lives of the children under their care. At present Teach for India program is working in 7 cities- Mumbai, Pune, Delhi, Hyderabad, Chennai, Ahmedabad & Bengaluru and these cities are the places where selected Fellows will be placed. Get details on Teach for India Fellowship application process, selection process
Teach for India Fellows will be placed in low-income schools in the selected cities and will be assigned to teach class 2-8
Currently, it has 1100 fellows who are from diverse backgrounds like IITs, IIMs, St.Stephen's College, St. Xavier's College, Accenture, McKinskey, Mahindra & Mahindra, IBM etc.
Fellows will be provided with the necessary support to carry out their function properly like 5 weeks residential training to equip them with the necessary skills and a mentor to guide them throughout the program.
Teach For India Fellowship Dates 2018
| | | |
| --- | --- | --- |
| Particulars | Deadline | Result |
| Round 1 | 3 September 2017 | 14 September 2017 |
| Round 2 | 29 October 2017 | 9 November 2017 |
| Round 3 | 10 December 2017 | 21 December 2017 |
| Round 4 | 4 February 2018 | 15 February 2018 |
Subscribe for Regular Updates of Teach For India Fellowship
Teach For India Fellowship Eligibility Criteria
Gender
Both
Region
Indian Nationals & Indian Origin residing all over the globe
Class/ Age
Undergraduate students/Professionals
Details

Age Limit: No age limit

Nationality: an Indian citizen or a foreign national of Indian origin

Other Requirments

The candidates applying for the Teach for India Fellowship need to fulfil the eligibility criteria. The eligibility criteria are given below:

Graduates & Professionals of diverse field can apply for Teach for India Fellowship.
Students having Undergraduate Degree from an accredited college or university by the last week of May 2018, can apply for the Teach For India Fellowship 2018-20
All coursework required for the undergraduate degree/equivalent should be completed by last week of May as degree transcripts (graduate/postgraduate certificates) will be reviewed before an admission decision can be taken.

Indian Nationals & Indian Origin residing all over the globe can apply for Teach for India Fellowship.
Applicants should be fluent in English as they will be placed in English Medium Schools and have to teach and attend training sessions conducted in English.
Teach For India Fellowship Reward
The Fellowship Program gives you an opportunity to become a part of the solution and a change agent in the society. Teach for India currently has approximately 1250 Fellows, teaching across seven cities.
Salary: Selected Fellows will receive a salary of Rs. 17,500 per month.
Housing Allowance: In case the fellows are placed in cities other than their hometown, they will receive a housing allowance ranging from Rs.5,500 to 10,000 depending on the city.
Allowance for School Supplies will also be given.
Other Benefits of Teach For India Fellowship
Leadership Qualities:

The Program will help the fellow in developing leadership qualities, and they will be imparted with the knowledge to manage people and resources.

Other Skills:

Fellows will develop organising capabilities, communication and problem-solving skills in an unstructured environment, and these skills & qualities will help them throughout their careers.
Teach For India Fellowship Application form and Process
The candidates seeking for the Teach for India Scholarship can apply through online mode only. There is no provision for the offline application process. Therefore, the offline application won't be accepted. The link to apply for the Teach for India through online mode is given below.

Click Here to Apply Online
For reference, students can visit Teach for India website, watching short videos on the website, speaking with staff, Fellows or Alumni or reading related articles.
Indian Nationals or person of Indian Origin (PIOs) can apply for the Teach of India Fellowship.
Applicants in case of being an Indian origin residing outside the geographical limits of India have to get the OCI card. For the further details on OCI card, candidates can go to the Ministry of Home Affairs.
Steps to apply for Teach for India Fellowship


There is no application fee for Teach for India Fellowship, and each applicant will be allowed to submit only one application for the Fellowship. There are four application deadlines for Teach for India Fellowship 2018.
Some highlights about Teach for India Program

Fellows will be considered as full-time staff members of the respective schools and have to work stipulated school hours six days a week for the entire fellowship duration.
Duration:

Fellows will teach class 2-8 and will teach all major subjects like English, Mathematics, History & Science.

Training:

Fellows are exposed to curriculum, lesson planning, and classroom facilitation and student assessments among other modules, sessions, and keys to successful teaching.

Mentor:

Each Fellow will have a mentor in the form of a Program Manager whose primary responsibility is to guide Fellows to become effective teachers and leaders.

Extra:

Throughout the program, fellows have to attend conferences, training sessions, leadership forums and online resources
In the 2nd Year, Fellows will be given an assignment called 'Be The Change' wherein they have to ideate, plan and execute a project imparting benefits to the classroom, school or the society as a whole.
Application Submission

The candidates are advised to fill the application form correctly by following the steps given above and to fill the required details in every section of the form. Candidates are also advised to check the details of the application form before the final submission because once the application gets processed then the candidates will not be able to do any changes.
Teach For India Fellowship Selection Process
Candidates for the Teach For India Fellowship 2018 will be selected through the multi-stage process. The selection for the Teach for India is done in three stages which are mentioned below in detail. Candidates will get the first response from Teach For India end within two weeks of the deadline that they had applied for.
Teach for India Fellowship Selection Process 2018


STAGE 1: Stage 1 is the application form and the online test, at this stage the application, academic achievements, professional experience (if any), other interests, experiences and essay submitted with the application form will be reviewed.
STAGE 2: Stage 2 is a telephonic round which will be held after reviewing the online application, some candidates can directly be called to the Assessment Centre for full day evaluation but for the candidates for whom enough information is not available to make a decision, they will be having a round of telephonic Interview before proceeding to the next stage.
STAGE 3: Shortlisted candidates after qualifying online test and based on the review procedure will be called to the Assessment Centre. It will be a full day evaluation where applicants have to participate in a group discussion, a sample teaching activity, a written critical thinking test and then followed by an individual interview

After the final selection, all the academic and employment details provided by the candidates will be checked.
For doing this a referee- either someone who has directly managed the selected candidate or his/her college professor who can vouch the shortlisted candidate for performance and suitability for the role will be contacted.
Teach For India Fellowship Contact Details
Teach For India
c/o The Akanksha Foundation
Voltas House 'C', T. B. Kadam Marg, Chinchpokli, Mumbai - 400 033, India
Tel: +91 22 6518 2238
Email- apply@teachforindia.org