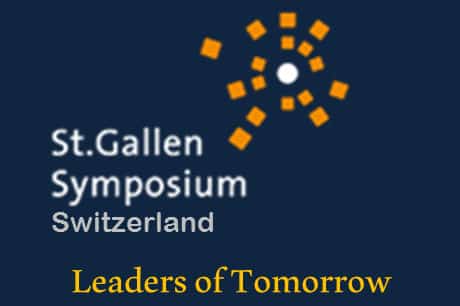 St Gallen Symposium Essay Writing Competition 2017
About St. Gallen Symposium Essay Writing Competition
St. Gallen Symposium Essay Writing Competition 2017 is organised by the university of St. Gallen, Switzerland. St Gallen Symposium Essay Writing Competition is inviting college students (UG & PG) to write a professional, creative and thought-provoking essay on the topic of "Breaking the status quo – what's YOUR disruptive idea?". The participants should be bold and unconventional while presenting their views on the topic. Candidates should present their alternative guidelines to the concept of growth. The essay should be written in The English Language.


St Gallen Symposium Essay Competition Important Dates



Event
Date
Deadline for Submission of Essay
1 February 2017
List of selection of Top 100 Essays-
Result announcement by e-mail
Mid March 2017
47th St. Gallen Symposium
3–5 May 2017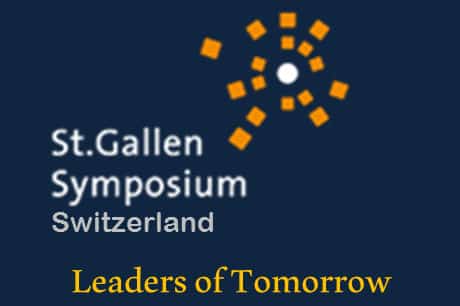 Subscribe for Regular Updates of St. Gallen Symposium Essay Writing Competition
St. Gallen Symposium Essay Writing Competition Eligibility Criteria
Gender
Both
Region
Gobal
Class/ Age
College Students
Details

Enrolled in a graduate or postgraduate program (master level or higher) in any field of study at a regular university.
Born in 1987 or later.
Students pursuing bachelor's degree are not eligible to participate.
St. Gallen Symposium Essay Writing Competition Reward
The jury selects the three award winners based on both the quality of the essay and the performance on stage. The award is endowed with a total prize money of CHF 20,000 shared by the 3 winners.
The Top 6 finalists have to travel to Switzerland for the 47th St. Gallen Symposium.

Expenses for travel, board and lodging will be covered by the organisers, travel service provided.

There would be small and intimate gatherings with world leaders, exclusively for the Leaders of Tomorrow.
Get Media Coverage.
Become a member of a truly unique and strong global community.
St. Gallen Symposium Essay Writing Competition Application form and Process
Candidates can apply for this essay writing competition through online mode only. Interested candidates should visit the official website of St Gallen University or click the following link:

Click here to Apply
The student has to write the essay on the given topic that is What are alternatives to economic growth by giving their thoughts. The essay should not be handwritten. The candidate should not write their anywhere in between the essay.
| | |
| --- | --- |
| Word Count | Maximum 2100 words |
| Language | English |
| Deadline | 1 February 2017, 11:59 p.m. last time zone (UTC-12) |
| Individuality | Individual work expected, no group work allowed. The essay must be written exclusively for this contest |
| Citation | All sources must be cited and referred to the respective part of the essay |

Be bold, creative and ambitious to surprise global leaders with your unique idea - an idea that shall inspire and provoke the minds of hundreds of global current and future leaders!


St. Gallen Symposium Essay Submission: After the essay is complete the participants have to upload their essays online. For uploading the essay, the participant has to the first login.
Document required to upload along with essay
Copy of passport or other identification (in English for non-Roman languages)
Confirmation of matriculation/enrollment from your university which proves your enrollment in a graduate/postgraduate level program as of 1 February 2017
St. Gallen Symposium Essay Writing Competition Selection Process
Stage 1: Essay Submission: Submission of an Essay on the given topic. The essay will be evaluated according to specific criteria by an independent jury composed of professors, corporate executives and entrepreneurs. They will select the best 100 essays out of all the entries received.
These 100 people will qualify as Leaders of Tomorrow and will be invited by the International Students' Committee (ISC) to the next St. Gallen Symposium.
Stage 2: Qualify as a semi-finalist- You qualify as a semi-finalist to compete for the prestigious award 2017 if your essay makes it in the top 20.
Stage 3: Video Pitch - These 20 semi-finalists have to make a 3 minutes video pitch explaining the essence of their essay. Then the essay and the video both will be evaluated together and the jury selects 6 finalists
Stage 4: On Stage- In this stage, the 6 finalists will compete against each other for the St. Gallen's Symposium award on the symposium's big stage.
St. Gallen Symposium Essay Writing Competition Address
St. Gallen Symposium,
Dufourstrasse 83, P.O. Box 1045,
9001 St. Gallen, Switzerland
St. Gallen Symposium Essay Writing Competition Contact Details
Phone: +41 71 227 20 20
Fax: +41 71 227 20 30
E-mail: award@symposium.org (For any type of query)