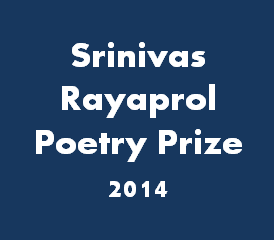 Srinivas Rayaprol Poetry Prize 2017
About Srinivas Rayaprol Poetry Prize
Srinivas Rayaprol Poetry Prize 2017 has been launched by The Srinivas Rayaprol Literary Trust in association with the Department of English, University of Hyderabad. Srinivas Rayaprol Literary Trust was founded in the year 2000 and then, onwards is offering recognition to the talented names engaged in English writing. As initiated in the memory of Srinivas Rayaprol (a.k.a. R.S. Marthandam), a legendary personality of the early Indian English Poetry, this is the 9th time that this contest is being organized. This contest aims at providing recognition to the excellent & emerging talents in English Literature. Interested candidates can apply for Srinivas Rayaprol Poetry Prize by 2 September 2017.
Subscribe for Regular Updates of Srinivas Rayaprol Poetry Prize
Srinivas Rayaprol Poetry Prize Eligibility Criteria
| | |
| --- | --- |
| Gender | Both |
| Region | All India |
| Class/ Age | 20-40 years |
| Details | Indian citizens between 20-40 years of age are eligible for the Srinivas Rayaprol Poetry Prize 2017 |
Srinivas Rayaprol Poetry Prize Reward
The winner will receive a prize money of Rs. 15,000.
Also, a citation will be presented for the winning entry at a literary event in Hyderabad in the upcoming month of October 2017.
Srinivas Rayaprol Poetry Prize Application form and Process
Candidates can send their duly written entries for Srinivas Rayaprol Poetry Prize 2017 by emails as well as via post.
Email Id: rayaproltrust@gmail.com
Mailing Address: Dr. Aparna Rayaprol, Department of Sociology
Convener, Srinivas Rayaprol Poetry Prize
University of Hyderabad
Hyderabad, Telangana 500046
Guidelines for Poem Submission for Srinivas Rayaprol Poetry Prize 2017
The participant has to submit three different and unpublished poems (Each & every poetry must be different and it must not be published anywhere)
Along with the entry, supporting documents for the age proof of the applicant must be sent, such as the scanned copy of passport, driver's license, pan card or any other valid id.
Complete contact information must be sent from the mailer in which phone number and email address should be mentioned.
Note: Applicants are requested to avoid writing names on the entries to be submitted to the jury members so that they could be able to qualify for the contest
Srinivas Rayaprol Poetry Prize Selection Process
Winners will be chosen by the honorary jury members including poets and literary personalities, responsible for evaluating the received poem entries. The winning entry will get above-mentioned prizes.
Srinivas Rayaprol Poetry Prize Address
Dr. Aparna Rayaprol, Department of Sociology
Convener, Srinivas Rayaprol Poetry Prize
Director, Study in India Program
University of Hyderabad, Hyderabad 500046
Srinivas Rayaprol Poetry Prize Contact Details
E-mail:rayaproltrust@gmail.com