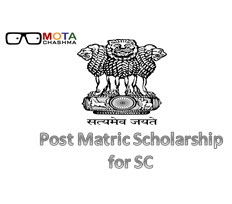 SC Post Matric Scholarship 2018 for Delhi -Last Date Extended!
Last date to apply
Extended to 10 April 2018
About SC Post Matric Scholarship for Delhi
SC Post Matric Scholarship 2018 for Delhi students is given by Department of the welfare of SC/ST/ OBC under the government of the National capital territory of Delhi. Only online applications are invited for this scholarship scheme from the students belongs to SC category studying in Delhi or outside of Delhi but within India. The last date for receipt of SC Post Matric Scholarship for Delhi applications is has been extended to 10 April 2018.
The candidates who are pursuing post matric or post-secondary courses in recognised institutions are eligible to apply for this Scholarship.
Financial assistance will be provided under this scholarship scheme to the students to pursue higher, technical/vocational courses in Delhi or outside of Delhi.
The selected students under this scheme will be rewarded as Monthly maintenance allowance, Tuition fee of the Institution where Student is studying in, Annual allowance, Study tour Allowance and fee for the research scholar.
Renewal of Post Matric Scholarship for SC
Candidates can also apply for the renewal of the scholarship. The date to apply for renewal of the scholarship has not been announced yet. Once provided the scholarship can be renewed from year to year based on the candidate's academic performance. If the scholar pursuing any of the Group 1 courses fails in the initial first year the scholarship will be renewed. However, any further failure will result in non-renewal of scholarship until he/she secures promotion to the next higher class.
Subscribe for Regular Updates of SC Post Matric Scholarship for Delhi
SC Post Matric Scholarship for Delhi Eligibility Criteria
Gender
Both
Region
Delhi
Class/ Age
Students of class 10 and above
Details
Eligibility
Non-Eligibility


The Scholarship holder must not hold any other scholarship stipend.
SC Post Matric Scholarship for Delhi Reward
The students who got selected for this scholarship will be entitled to the maintenance allowance as given in the table below. Apart from the maintenance allowance, the scholarship covers other values too which is given below.
Group

Price of monthly maintenance Allowance

Hostlers

Day scholars

Group 1

Rs. 1200
Rs.550

Group 2

Rs. 820
Rs.530

Group 3

Rs. 570
Rs.300

Group 4

Rs.380
Rs.230
SC Post Matric Scholarship for Delhi - Other Benefits
Maintenance allowance
Reimbursement of compulsory non-refundable fees
Study tour charges
Study tour charges
Thesis typing/ printing charges for research scholars
Book allowance for students pursuing correspondence courses
Book bank facility for specified courses and
Additional allowance for students with for the complete duration of the course.
SC Post Matric Scholarship for Delhi Application form and Process
The online application has been started. The eligible candidates can fill the application form by following the link given below on this page. It is to be noticed by the candidates that the process of filling and submitting the application form is entirely online.
The candidates cannot fill the form through offline mode as there is no such procedure. The last date to apply for the SC Post Matric Scholarship 2018 for Delhi is 10 April 2018. The link to fill the form is given below:
Click Here to Apply Online
Submission of Application
The candidates while filling the application form should ensure that the details filled by them are correct in all aspect. The enclosing of documents is important. The filled in application form has to be submitted through online only. The candidates after submission of the application form are suggested to keep the printout of the application form with them for future reference.
Documents to be uploaded along with the SC Post Matric Scholarship Application Form

Mark sheet of the previous examination passed.
Proof of permanent residence.
Original fee receipt.
Bona fide certificate/institute verification certificate.
Aadhaar card.
Caste certificate.
Declaration for by the student.
Fee structure.
Hostel fee receipt/ hostel certificate by the warden.
A self-declaration in which, showing family income will be filed by the applicant.
Bank Account seeded with Aadhar Card
SC Post Matric Scholarship for Delhi Selection Process
On the basis of the course being undertaken by the student, it will be defined that from which group student belongs to
Group

Courses

Group 1

Degree and Post Graduate level courses in Medicine (Allopathic, Indian and other recognized systems of medicines), Engineering, Technology, Planning, Architecture, Design, Fashion Technology, Agriculture, Veterinary & Allied Sciences, Management, Business Finance /Administration, Computer Science/ Applications.
Post Graduate Diploma courses in various branches of management & medicine.
Commercial Pilot License (including helicopter pilot and multiengine rating) course.
C.A./I.C.W.A./C.S./I.C.F.A. etc.
M. Phil., Ph.D. and Post-Doctoral Programmes, Group I, Group II and Group III courses
L.L.M.

Group 2

Post Graduate courses not covered under Group I e.g. MA/M Sc./M.Com/M Ed./M. Pharmaceutical etc.
Professional Courses leading to Degree, Diploma, Certificate in areas like Pharmacy (B Pharmaceutical), Nursing(B Nursing), LLB, BFS, other Para-medical branches like rehabilitation, diagnostics etc., Mass Communication, Hotel Management & Catering, Travel/Tourism/Hospitality Management, Interior Decoration, Nutrition & Dietetics, Commercial Art, Financial Services (e.g. Banking, Insurance, Taxation etc.) for which entrance qualification is minimum Sr. Secondary (10+2).

Group 3

All other courses leading to a graduate degree not covered under Group I & II e.g. BA/B Sc./B Com etc.

Group 4

All post-matriculation level non-degree courses for which entrance qualification is High School (Class X), e.g. senior secondary certificate (class XI and XII); both general and vocational stream, ITI courses, 3-year diploma courses in Polytechnics, etc.
SC Post Matric Scholarship for Delhi Contact Details
Department for the Welfare of SC/ST/OBC
B- block, 2nd floor, Vikash Bhawan,
IP Estate, New Delhi- 110002
E-mail- ddsctde@hub.nic.in
Telephone- 011-23378278