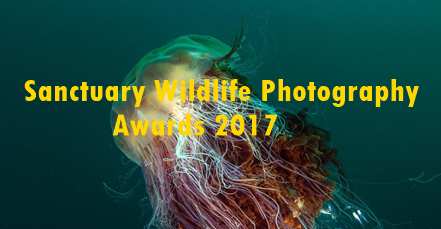 Sanctuary Wildlife Photography Awards 2017
Last date to apply
31 August 2017 (Midnight)
About Sanctuary Wildlife Photography Awards
The Sanctuary Wildlife Photography Awards 2017 has been launched by Sanctuary Asia which is one of the leading environmental news magazines to give the India's best wildlife photographers a golden chance to showcase their talent. A vast pool of stunning photographs, which reinforces the urgent need to conserve India's wildlife is received every year by the conducting body. Under Sanctuary Wildlife Photography Awards 2017, Photographer of the Year will receive Rs. 1,50,000 as an award.
The theme of the Photography Contest: Images were taken in the wild that best depict Sanctuary's descriptor: 'Call of the Wild' and are suitable for the categories mentioned below are eligible.
Conservation Photography
Creatures Great and Small
Art in Nature
Nature in Urbania
Subscribe for Regular Updates of Sanctuary Wildlife Photography Awards
Sanctuary Wildlife Photography Awards Eligibility Criteria
Gender
Any
Region
India, Nepal, Pakistan, Bhutan, Sri Lanka, Myanmar, Bangladesh, Afghanistan
Class/ Age
Open to all
Details

Candidates must be the sole author and owner of the copyright for all photos entered.
By participating in the contest the candidate certifies that the entries do not infringe on the copyright, trademark or intellectual property rights of any other person or organisation.
Sanctuary Wildlife Photography Awards Reward
| | |
| --- | --- |
| Prize | Amount |
| Photographer of the Year | Rs. 1,50,000 |
| Category Winners | Rs. 75,000 |
Sanctuary Wildlife Photography Awards Application form and Process
To participate in the photography contest, candidates have to fill up the Application Form by following the link given below.
Click Here to Apply
Submission of Images
Candidates can submit the photographs via mail on the Email ID:

images@sanctuaryasia.com

Candidates can also submit the photograph Online at www.sanctuaryasia.com
If the file is collectively larger than 25 MB, then it may be sent via online submission www.sanctuaryasia.com or by CD/DVD.
NOTE: Candidates have to clearly mention the name, postal and email address and telephone number. The image file name should include "photographer's name_species name_location'.
Specifications of the Image

General Specifications
The image should preferably be in digital format only i.e. jpeg/raw
Scans of negatives, transparencies or photographic prints will also be accepted
It is not mandatory that the photograph has been taken with a Digital Camera
Only on special request will prints of size 8"x10" or larger will be accepted.
All photographs must be accompanied by detailed captions indicating clearly the equipment used, location, season, brief description of the subject and how the image was taken
Photographs that have previously won an award in the Sanctuary Asia Photography Contest or any other national or international photography contest are not eligible
Compatibility and Format
Images must be submitted as Windows PC-compatible JPEG/JPG at highest compression quality
Files must be ideally full-size without borders, watermarks or signatures.
Size
Pixels: 1800/240 pixels
Maximum File Size: 10 MB
Once shortlisted, entries may have to be resubmitted at 3200 pixels/300 dpi
Manipulation
Images may be cropped by 20 per cent before submission, and limited digital manipulation is permissible.
HDR and Panorama
High dynamic range images (HDR), stitched panoramas are acceptable, only if the elements in the image are not subjected to any addition or removal.
Color Space
Images should ideally be colour profiled or have been corrected using accurately calibrated monitors and utilising Adobe RGB (1998) colour space.
Sanctuary Wildlife Photography Awards Selection Process
All the entries received will go through a judging process, which has been intended to choose the very best.
Winners will be chosen by a panel of judges, appointed by Sanctuary Asia, whose decision will be final and abiding.
If any of the entries received is not up to the expectations of the judges then the organisers have the right to refrain the award.
TEAM OF JUDGES
Bittu Sahgal - Editor, Sanctuary Asia
Steve Winter- One of the world's finest wildlife photojournalists
Ganesh H. Shanker - fine-art nature photographer
Kalyan Varma - conservation photographer and film–maker
Dr Anish Andheria - conservation photographer and President, Wildlife Conservation Trust
Nayan Khanolkar- scientist and conservation photographer
Dr Parvish Pandya – Head, Science, Natural History and Photography, Sanctuary Asia
Lakshmy Raman – Executive Editor, Sanctuary Asia
Sanctuary Wildlife Photography Awards Contact Details
602, Maker Chambers V,
Nariman Point,
Mumbai - 400021
Phone: +91 22 22044217 / 18
Fax: +91 022 23016848 extn. 29
Email: admin@sanctuaryasia.com, images@sanctuaryasia.com