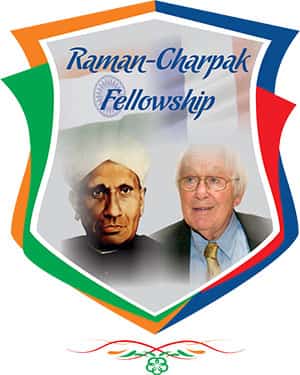 Raman Charpak Fellowship 2017 for Study in France
About Raman Charpak Fellowship
Raman Charpak Fellowship 2017 is in honour of two Nobel Laureates in Physics, Prof C.V. Raman, Indian Nobel Laureate, 1930 and Prof Georges Charpak, French Nobel Laureate, 1992. It is a doctoral exchange programme and is designed to exchange students for the period of from 2 months to 6 months between India and France. Raman Charpak Fellowship 2017 is a joint initiative by France and India and is there facilitate the exchange of doctoral students between the two countries, in order to broaden the scope and depth of future engagements in science, technology and innovation.T
he Raman Charpak fellowship provides experience and exposure to students in the field of science and technology. The students will be given an opportunity to carry out part of their research work in a University / Research Institute based in France or India respectively.
Research Fields under the Raman Charpak Fellowship

Criteria for Application: The students applying for the program must have pre-determined project proposal that has been discussed and given a nod from India and French authorities
Atmospheric and Earth Sciences
Chemical Sciences
Engineering Sciences
Life and Medical Sciences
Material Sciences
Mathematical and Computational Sciences
Physical Sciences
Environmental Sciences
Raman Charpak Fellowship 2017 Important Dates
| | |
| --- | --- |
| Events | Dates |
| Application Begins | 1 April 2017 |
| Application Closes | 31 May 2017 |
| Declaration of Result | End of August 2017 |
| Fellowship begins | October 2017 Onwards |
Country of Study: France (For Indian Students)
Type of Fellowship: Fully Paid
Duration of Fellowship: Two months to six months
Subscribe for Regular Updates of Raman Charpak Fellowship
Raman Charpak Fellowship Eligibility Criteria
Gender
Both
Region
India and France
Class/ Age
Maximum 30 years as on 1 April 2017.
Details

The candidate must have a Master degree in Science, Technology or Medicine from a recognised university/Institute.
There should have a consent from the University of the Applicant for a Foreign Fellowship Program.
The candidate has to provide Letter of Recommendation and Agreement from the proposed host supervisor of the Fellowship Lab.
The candidate will not be considered for selection if the proposed duration of the research is less than 2 months
Raman Charpak Fellowship Reward
Indian students would get a fellowship support of Euro 1,500 per months for daily expenses, local travel, accommodation charges plus social security charges.
Economy class Return airfare between India and France.
Insurance coverage (health and travel).
Visa and registration costs covered.
Additional support of 500 Euro for participating in seminar and workshop.
Air and train ticket for travel in the country of study.
A travel itinerary for a visit will be valid only after the declaration of results and an awarded fellow must start his/her fellowship latest by 31st March 2017.
Extension of the Fellowship Programme
A request made by a fellow for reducing or increasing the duration of the fellowship may be accepted on following two conditions:
An increase/decrease of maximum 30 days from the proposed duration.
The fellow has to provide a justification for such request along with the recommendation letters from their PhD & host supervisors. Hence, it is advised that candidates must carefully submit their proposed duration in their application form after consulting their PhD and host supervisors.
Raman Charpak Fellowship Application form and Process
Raman Charpak Fellowship application process has started on 1 Aprill 2017 and will end on 31 May 2017. The candidates can apply for the Raman Charpak Fellowship through online mode only; the process should be carried out in the following way.
Application Form: The candidates will have to apply and register online, application process started on 1 April 2017,
>> Click Here to apply (Application Closed)
Documents to be submitted with the Application Form
The candidates have to submit five pages long research proposal.The format of the research project should be in this format >> Format for Research Proposal (will be updated when available)

There should be a title and research work plan and the benefits that the candidates will receive once they are in the new country.

A CV of two pages with recent photograph on it, the CV should summarise the achievements, research, and publication of 5 important projects. >> Format of CV (will be updated when available)
A Letter of Recommendation (LOR) from a PhD supervisor from their research lab.
A synopsis of PhD report or projects.
An experience letter of the research.
A scanned copy of passport (Both Front and back side)
A recent photograph.
NOC from Head of Institution
Scanned copy of Master degree certificate
Scanned copy of PhD registration letter
Raman Charpak Fellowship 2017 Application Submission

The candidates have to submit their application online only; there is no provision of submission through the post. The applications will not be accepted offline.
Conducted by
Department of Science and Technology (DST), Government of India &
the Service for Science and
Technology (SST), French Embassy in India, Ministry of Foreign Affairs & International Development, Government of France
Raman Charpak Fellowship Contact Details
Dr Mukesh Kumar Director
Indo-French Centre for the Promotion of Advanced Research CEFIPRA
Core 5B, Ground Floor, India Habitat Centre Lodhi Road, New Delhi 110 003 (India)
Director: (+91-11) 2460 2432 (direct)
Office Tel. No. +91 11 24682251, +91 11 24682252
E-mail: ramancharpak@cefipra.org (For any queries on the fellowship programme)