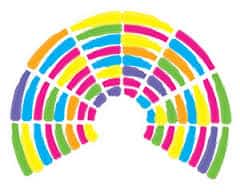 World Forum for Democracy 2017 by Council of Europe
About World Forum for Democracy
World Forum for Democracy 2017 is a unique platform for political decision-makers and activists to debate solutions to key challenges for democracies worldwide and it invites applications from candidates supported by youth organisation or network or informal group working on democracy. The fifth edition of the World Forum for Democracy 2017 will be conducted on 8-10 November 2017 in Strasbourg, France.
World Forum for Democracy for the year 2017 is dedicated to the theme "role of political parties and media in the context of raising populism".
The Forum highlights and encourages democracy innovations on a systemic level in order to strengthen the foundations of democratic societies by identifying and analysing experimental initiatives and practices. The Forum thus contributes to the evolution of democracy towards more participatory and inclusive structures and institutions.
The initiatives and ideas to be presented at the forum will be discussed in labs and roughly cover the four following key categories:
Given the complexity of political agendas and the vacuum of convincing answers, how to express protest or accede to power without populism?
How to nourish political culture which embraces a long-term perspective and resists populism? Are there social structures that can replace political parties in building social capital and providing frameworks for grassroots political debate participation and decision making? Is there a danger of such social structures (e.g. faith groups) becoming more politicised?
Should stronger intra-party democracy be encouraged or would internal leadership debate only lead to more personification of politics and weaker parties? - How to make sure that online media and communities foster pluralism and deliberation rather than extremism and polarisation? - Can we support the emerging online media with user-based rather than advertisement based business models which have a strong ethos of pluralism and user participation? - Should there be changes in the voting systems (issue-based voting in addition to or instead of party-based voting, limitations of mandates, non-partisan legislatures, popular recall etc.)?
Should we support further decentralisation of governance in order to bring power closer to the people and counter populism?
World Forum for Democracy 2017 Schedule

The following schedule is given below on the basis of last year schedule.
8 November 2017

9.00-10.00

Time for Facts
10:00-13:00
Panel discussion
13:30-14:30
Lunch Break
14:30-15:30
Opening session
15:30-17:00
Panel discussion
17:00-18:00
Keynote address & discussion
18.30-18.30
Random Sample Voting
9 November 2017
09:00-10:30
Lightning Talks

10.30-11.00

Break

11.00-13.00

Lab series 1

13.00-14.30
Lunch Break
14:30-16:00

Labs series 2

16:00-16:30
Break
16.30-18.00
Storytelling

Participants' assembly

10 November 2017

09.00-10.00

Panel discussion
10:00-12:30
Closing session and Democracy Innovation Awards
Subscribe for Regular Updates of World Forum for Democracy
World Forum for Democracy Eligibility Criteria
Gender
Any
Region
Global
Class/ Age
Aged between 16 to 30 years
Details

Candidates are required to the resident of one of the 50 signatory States of the European Cultural Convention of the Council of Europe.

Candidate should be able to communicate and work in English.
Candidates actively involved in civil society Democracy initiatives.
Candidate motivated to contribute to developing new ideas on youth and democracy.
Candidates supported by a youth organisation or network or informal group working on democracy.
Candidates ready to share own challenges faced in accessing freedom of expression and dealing with control and violence.
Candidates ready to adopt a solution-oriented approach by bringing in new ideas and visions of democracy.
Candidates ready to dream democracy.
Candidates available to participate fully in the World Forum for Democracy and the preparation process beforehand.
World Forum for Democracy Reward
In order to best prepare for the World Forum, selected participants will gather in Strasbourg two days before the start of the World Forum to get to know each other, develop their ideas, plan their actions and work together with the guidance of an international team of trainers. Therefore, all selected participants should arrive on 8 November 2017.
During the World Forum for Democracy
In order to be recognisable as "Youth Ambassadors", the 75 participants will be asked to wear the commonly designed T-Shirt or accessories
Participants will be given particular roles in the labs according to their interests and competency.
World Forum for Democracy Application form and Process
To participate int the World Forum for Democracy 2017, the participants have to apply the application form only through online mode which is available on the official website of World Forum for Democracy. All the candidates have to apply in two parts:
Part 1: The participants have to fill in the Application Form available Online. The participants have to provide the personal details, educational details and contact details in the application form.
Part 2: The participant has to attach the link of a short 1-minute video made by him/her posted on YouTube.
Submission of the Application Form


The application form must be submitted only through online mode on the official website of World Forum for Democracy till 11 July 2017, along with a support letter from their NGO/sending organisation. The participants have not to send any other documents via post.
World Forum for Democracy Selection Process
The organising team will select 75 participants on the basis of the Applications received and fulfilling the eligibility criteria prescribed above.
The selection will also take into account balance between genders, geographical regions, different types of experiences, organisations, institutions, and projects.
Candidates will be informed if their application has been accepted or rejected and if they have been put on the waiting list by September 2017.
Process for Selection
Once selected, candidates will be informed about the 20 labs which will take place and will be invited to choose their preferred labs.
Candidates have to study about the initiatives or labs and make contact with the organisers of the labs in order to receive further information about their structures.
Afterwards, the participants will select the laboratories they are interested in.
A small online space will be created for participants to get to know each other, share ideas and experiences beforehand and consult documents related to the World Forum.
World Forum for Democracy Contact Details
Council of Europe,
Strasbourg (France).