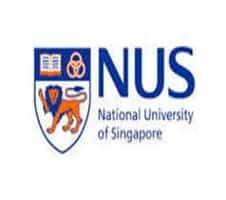 NGS Scholarship 2018 for admission in National University of Singapore
About NGS Scholarship
NGS Scholarship 2018 is awarded by the National University of Singapore to students with an exceptional aptitude for innovation and who wants to pursue a high-caliber PhD research. It is a full-time program and the candidates must indicate the research area (s) that they are interested in. The students who have completed the bachelor degree and above are eligible for the NGS scholarship 2018 to pursue PhD Research
There are two PhD Programs
Joint NUS-Karolinska Institute PhD:

Specifically for students with research interests in biomedicine and bioengineering » especially suitable for those whose research will reap maximum benefits from the collaborative research between NUS and KI


NGS'

PhD

Programme:

This PhD programme will be funded by NGS Scholarship OR A*STAR Graduate Scholarship.
Research Areas in NSG Scholarship:
Bio-Engineering
Biological Sciences
Bioprocess and Biochemical Engineering
Chemical and Biomolecular Engineering
Chemical and Bio-Molecular Engineering
Computer Science
NGS Scholarship 2018 Dates
| | |
| --- | --- |
| Events | Dates |
| NGS Scholarship Application Begin | 30 March 2018 |
| NGS Scholarship Application Ends | 15 May 2018 |
| Commencement of Scholarship | January 2019 |
Only graduates with a passion for research are eligible to apply and those candidates who have been selected for NGS Scholarship will get tuition fee subsidy for 4 years. NGS Scholarship can only be applied Online. The application process has been started from 30 March 2018 and will end on 15 May 2018.
Type of Scholarship: Fully Paid Scholarship
Course Level: PhD.
Subjects: Science, Engineering, Computing, and related aspects of Medicine.
Duration of Scholarship: Four Years
Country for Study: Singapore
Commencement of the Scholarship: January 2019
Subscribe for Regular Updates of NGS Scholarship
NGS Scholarship Eligibility Criteria
Gender
Male & Female
Region
Global
Class/ Age
Graduates
Details

Graduates who want to pursue a PhD from NUS and has a passion for cross-disciplinary research in science, engineering, computing, and related aspects of medicine.

Graduates with at least 2nd Upper Honors, or equivalent qualifications.
GRE is compulsory for all including NUS and NTU Masters students and graduates. Note that GATE is NOT acceptable.
GRE is only waived for NUS and NTU Bachelor degree holders and final-year undergraduates.
TOEFL/IELTS (either can be used) is compulsory for candidates whose native tongue or medium of undergraduate instruction is not in English).
NGS Scholarship Reward
Monthly Stipend: Monthly stipend for 4 years of the Ph.D. studies, or up-to-date of graduation, whichever is earlier to the tune of
Tuition Fee: Full tuition fee subsidy for 4 years

S$3,500: Singaporean Citizen, plus Central Provident Fund (CPF) contributions at a rate pegged to the prevailing employer's contribution rate set by CPF

S$3,200: Singaporean Permanent Residents

S$3,000: International Students
Other Allowances included Computer, book and conference allowances.
It is to be noted that to claim all the allowances and benefits, the candidate must commit to complete the Ph.D., they cannot exit with MSc.
Renewal of Scholarship
Academic performance of CAP ≥ 3.8 at the end of every semester.

The candidate must fulfill the Competence Assessment Program by scoring above or equal to 3.8 for getting the scholarship renewed.
NGS Scholarship Application form and Process
The application process for NGS Scholarship will be conducted through online mode. The online application process has begun on 30 March 2018 and candidates who willing to get NGS Scholarship are required to fill the application form on or before the due date i.e. 15 May 2018. Candidates can click on the following link to fill the application form.
Click Here to Apply Online
Application Fee: S$50 per application (non-refundable)
Instructions to Fill the NGS Scholarship Application Form
Fill in the personal particulars, in a case of overseas applicants, they can skip "Pass Type", "Pass Expiry Date", and "Pass Number".
Contact details: Candidates must ensure that they have provided two contact numbers and mailing contact address
Faculty: Candidates must ensure that they select NUS Grad Sch for Integrative Science and Engineering in order that they are processed under NGS.
Source of Finance: NGS Application Scheme
Educational Qualification:

Academic Qualifications
Languages
Other Information
Test Details
GRE is compulsory for international applicants and optional for graduates from local institutions, e.g. NUS or NTU.
TOEFL/IELTS is compulsory for applicants whose native tongue or medium of undergraduate instruction is not in English.
Achievements - if any
Questionnaire
Referee Associations
Payment

The candidate must compile all the document into a single PDF file and email to ngsbox4@nus.edu.sg in a cap file size of not more than 10 MB.
Submission of Application Form
All supporting documents, together with a printed copy of the application form are to be submitted by post to the following address. Candidates must indicate NGS Scholarship on the top of the envelope.
NUS Graduate School for Integrative Sciences & Engineering (NGS)
Centre For Life Sciences (CeLS)
28 Medical Drive, #05-01
Singapore 117456
E-mail Submission: The candidates also have sent a PDF compilation of their application to be emailed to ngsbox4@nus.edu.sg
Documents required to be attached with the application form
Two Academic Referee Reports
Statement of Purpose of at least two pages on A4-size paper
Research Proposal of at least two pages on A4-size paper
A copy of Masters/ Bachelors Degree Transcript and Certificates with English Translation
Copy of Publication
Personal CV
Document of funds specifying self-financing, in case, the applicant has not been able to get the scholarship.
For Singaporean Citizens, the copy of NRIC or Citizenship certificate/ re-entry permit. Singaporean
NGS Scholarship Selection Process
Result: The outcome should be known within 3 months from the closing date of the application process.
Shortlisting of the Candidates: Shortlisted applicants will be notified by email or phone. Rejected applicants will be notified via email.
Interview: The Shortlisted applicants are usually required to attend one interview. The usual periods of the interview for the Aug intake will be in Dec/Jan; Jan intake will be in Jun/Jul.
NGS Scholarship Contact Details
NUS Graduate School for Integrative Sciences & Engineering (NGS)
Centre For Life Sciences (CeLS)
28 Medical Drive, #05-01
Singapore 117456
Tel: (+65) 6516 1480, 6464 1148
E-mail Id: ngsack@nus.edu.sg