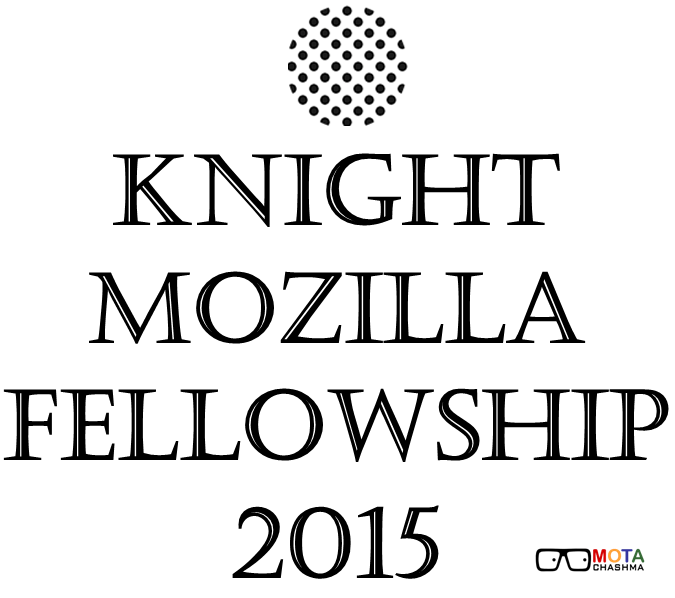 Knight-Mozilla Fellowship 2015
About Knight-Mozilla Fellowships
The Knight-Mozilla Fellowships is looking for 7 fellows who can work with News Organisations located throughout the world.
Fellows have to spend 10 months working with newsroom colleagues, experimenting on collaborative projects and sharing their work.
The Knight-Mozilla Fellowships is a golden chance for people who love to code and who want to influence the future of journalism on the web. The fellows are present as news breaks, write code for the day's headlines, wrangle thorny datasets, and get to take a step back to build better newsroom tools and practices.
Fellowships are paid positions, and emphasize open-source development that strengthens specific newsrooms and the larger journalism-code community and projects are focused on data, mapping, research, and impact analysis
The fellowship hosts for 2016 are:

Los Angeles Times Data Desk- Los Angeles, CA
NPR, Vox Media- Washington, DC
Frontline, Boston, MA
Correct!v- Berlin, Germany
The Coral Project - New York, NY
Vox Media - Austin, TX; New York, NY; or Washington, DC
Subscribe for Regular Updates of Knight-Mozilla Fellowships
Knight-Mozilla Fellowships Eligibility Criteria
Gender
Both
Region
Global
Class/ Age
Working Professionals
Details

Being an international program, it welcome participants from around the world.
Perfect English is not a requirement
If you have applied to the fellowship before, but did not get selected, then also you are eligible to apply
If you have experience with code and an interest in journalism you are eligible
The Fellowship is open to developer, technologist, civic hacker, or data cruncher
Knight-Mozilla Fellowships Reward
Knight-Mozilla Fellowship Reward
The standard fellowship offers a stipend of $60,000, paid in 10 monthly installments.
To help balance cost of living, the fellows are also provided supplements for childcare and health insurance. It helps them pay for research, equipment and books.
In case the fellow relocates for a fellowship, housing supplement and moving expenses are aksi provided.
The fellowship also covers the costs of required travel for fellowship activities.
Knight-Mozilla Fellowships Application form and Process
Knight-Mozilla Fellowship Application Process
Candidates have to fill the Application For available Online at the official website.
Step by step process of filling the Application form
Step 1: Fill in the personal Details
Step 2: Fill in the details about your work
Step 3: Answer the Questions in 100 words
Step 4: Three things you have built. In this the candidate has to enter the URL's of the project with which they were associated.
Step 5: Miscellaneous Information
SUBMIT
Knight-Mozilla Fellowships Selection Process
Knight-Mozilla Fellowship Selection Process
Due to seven fellowship slots available this year, the process will remain highly competitive.
Each application received will be thoroughly reviewed to know the each applicant in a better way,
No matter you are selected or not, the team will remain in touch with the highly skilled applicants who do not become fellows.
The skills of the fellow will be surely matched to the needs of the news organization. It's a very individualized matching process.