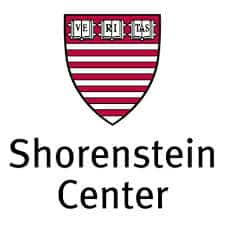 Joan Shorenstein Fellowship 2017 at Harvard Kennedy School
About Joan Shorenstein Fellowship
Joan Shorenstein Fellowship Program at Harvard Kennedy School is for the ones who wish to do an Advance research in the field of media, politics and public policy, Facilitate a dialogue among journalists, scholars, policymakers and students and Provide an opportunity for reflection, & create a vibrant and long-lasting community of scholars and practitioners. The main aim of the Joan Shorenstein Fellowship Program at Harvard Kennedy School is to write and publish a paper on a media/politics topic. As it is a very highly selective program only a very small percentage of applicants are accepted for the fellowship.
Every year Center hosts eight one-semester residential fellowships. Since 1986, the Fellowship Program has brought more than 250 accomplished journalists, scholars and politicians from around the world to the Center. The last date of applying for Fall 2017 and Spring 2018 semesters is 1 February 2017.
Subscribe for Regular Updates of Joan Shorenstein Fellowship
Joan Shorenstein Fellowship Eligibility Criteria
Gender
Both
Region
Global
Class/ Age
Journalist, Politician, scholar and Policy Maker
Details

Nationality: People of Nationalities are eligible to participate
Journalist: Reporter, editor, a producer with a minimum of five years experience at a news organisation.
Politician: Someone who has campaigned and been elected to a national or high-level state office.
Scholar: Tenured or tenure-track professor in political science, political communication, journalism, international political communication with a strong record of book and journal publications. The candidate must have been employed by a college, university or research institution for seven years or more.
Policymaker: High-level official in a cabinet office or adviser to a candidate for national office. Minimum 10 years' experience in the equivalent role.
Candidates must be available to be in residence, full-time, for one semester September to December or February to May in Cambridge, MA.
Candidates who have not participated in another fellowship within the two years prior to their preferred semester at Harvard are eligible.
Candidates must be fluent in English – listening, reading, writing and speaking. Non-native English speakers must provide TOEFL or IELTS score.
Joan Shorenstein Fellowship Reward
All the selected candidates will receive a Stipend of $30,000 for one semester.
Travel and living expenses will not be borne by the Shorenstein Center.
Office space, computer and telephone will be provided to the selected candidates.
Joan Shorenstein Fellowship Application form and Process
Candidates are required to fill the Application form available online at the official website of Harvard Kennedy School at shorensteincenter.org. To fill the application form online, first, the applicants have to select any one from the 3 options which are Thereafter the applicants have to enter the following details:
Name
Gender
Date of birth
Citizenship
Email
Address
Details about recent 3 job
Professional references
Click here to apply for Joan Shorenstein Fellowship 2017
Joan Shorenstein Fellowship Enclosures to be uploaded
1500 words research proposal
Contact information of 3 references
CV/Resume
Short essay (50-100 words) on why you want to be a Joan Shorenstein Fellow
Joan Shorenstein Fellowship Application Submission


The candidates desired to avail the facility of fellowship can apply only through online mode. The applicants are required to fill the Application form available online at the official website of Harvard Kennedy School. For more information, the candidates can contact on the email address given below:
susan_ocitti@hks.harvard.edu
Joan Shorenstein Fellowship Address
Shorenstein Center on Media, Politics, and Public Policy
John F. Kennedy School of Government, Harvard University
79 JFK Street, second floor, Taubman Building
Cambridge, MA 02138
Joan Shorenstein Fellowship Contact Details
Phone: 617-495-8714
Email: susan_ocitti@hks.harvard.edu
.