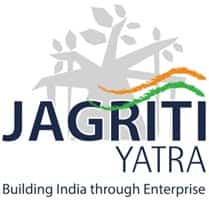 Jagriti Yatra 2017 - 15 days Entrepreneurial Journey
About Jagriti Yatra
Jagriti Yatra 2017 is 15 days Train Journey which is being organized by Jagriti Sewa Sansthan since 1997, initially, it was known as Azad Bharat Rail Yatra but later it was renamed as Jagriti Yatra in 2008. The idea behind Jagriti Yatra 2017 is to identify youth over 20 years of age, who have the potential to lead change and bring about change in society by being an Entrepreneur.
The Yatra seeks to inspire individuals who have the potential and motivation to become an entrepreneur.
The aim of Jagriti is to inspire young Indian to be Job Creators, not Job Seeker by motivating them and providing required exposure required.
This Journey would be a 15 Days tour with 425 Participants and 75 facilitators and in all 12 destinations.
The last date to apply for Jagriti Yatra is January 8, 2016
Jagriti Yatra Route
Application Form: Participants interested in the journey have an option to fill either the online or the offline application form for Jagriti Yatra.
Jagriti Yatra Cost: There is no application fee and the total tour cost is Rs. 59,000.
Jagriti Yatra 2017 Dates
| | |
| --- | --- |
| Event | Date |
| Registrations close for Jagriti Yatra 2017 | 22 October 2017 |
| Registration open for Jagriti Yatra 2018 (next year) | 16 October 2017 |
| Confirmed list of Yatris onboard | December 2017 |
| Yatra commences | 24 December 2017 |
| Yatra Ends | 08 January 2018 |
Subscribe for Regular Updates of Jagriti Yatra
Jagriti Yatra Eligibility Criteria
| | |
| --- | --- |
| Gender | Both |
| Region | Global |
| Class/ Age | At least 20 years |
| Details | |
Jagriti Yatra Reward
Journey: The candidates selected for Jagriti Yatra will become a part of 15 days long Train Journey, passing through 12 destinations covering a distance of 8000 kilometres and visiting 15-20 role models before the end of the journey.
Total 450 individuals will be a part of the Journey out of which 40 will be international candidates.
Scholarship: The candidates, who are not in a position to support themselves financially, will be provided with full or partial scholarships from the sponsors.

Either Partial or Full Scholarship will be offered to 300 candidates which form 66% of the total participants.
Jagriti Yatra Application form and Process
The applications for the Jagriti Yatra 2017 can be made only through online mode and the last date to apply is 22 October 2017. The details of the application process are:
Click here to Apply Online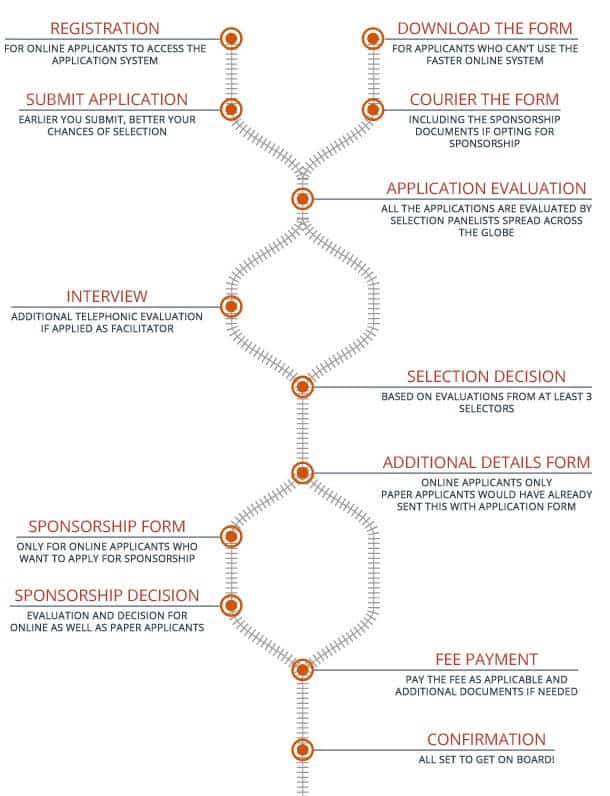 Details of the application process: The applications will be accepted for participants as well as facilitators. Depending upon the choices made by applicants, 375 candidates will be selected as the participants while 75 candidates will be selected as facilitators.

Section 1-Personal Details: Once the candidates have completed the registration process, they are required to fill the first section with their personal details such as Nationality, contact details, references etc.
Section 2- Enterprise Involvement: In this section of the application, candidates are required to answer some questions such as their role model in life, Challenge faced and Learning, Future Plans and Entrepreneurship initiatives.
Section 3- General Aptitude: This section requires the answer to 3 questions related to :

Next big challenge for your locality/community.
Motivation to come on the Yatra
Achievements.

Submission: Those candidates who filled the online application form are required to complete the submission online while those candidates who filled the offline application form can send the form to the address mentioned below by post and mention 'Registration Form' on the subject:
Jagriti Sewa Sansthan
B 5, Green Acres Housing Society,
Off Din Quarry Road, Panjarpole,
Deonar, Mumbai 400 088
| | | | |
| --- | --- | --- | --- |
| Yatri Type | Registration Fee | Yatra Fee | Total Fee |
| Sponsorship Level 1 | Rs. 5,000 | Rs. 54,000 | Rs. 59,000 |
| Sponsorship Level 2 | Rs. 5,000 | Rs. 27,000 | Rs. 32,000 |
| Sponsorship Level 3 | Rs. 5,000 | - | Rs. 5,000 |
| International Yatri | - | - | 1500 USD / 900 GBP |
Jagriti Yatra Selection Process
The selection of the candidates will be done on monthly basis, a list of the candidates will be published on the website and each month names of 40-50 candidates will be added to the list.
The selection of the candidates will be done on the basis of the answers given by them in the application form.
The answers will be evaluated subjectively for raw entrepreneurial potential within a candidate by a selection panel of more than 30 experts spread across the globe.
Jagriti Yatra focus on the following 7 areas:
Agriculture
Education
Energy
Healthcare
Manufacturing
Water & Sanitation
Arts & Culture & Sports
List of selected candidates as of 15 October 2017
Jagriti Yatra Contact Details
Jagriti Sewa Sansthan
B 5, Green Acres Housing Society,
Off Din Quarry Road, Panjarpole,
Deonar, Mumbai 400 088
Telephone: 022 64535354 / 022 25550936
Email: selection@jagritiyatra.com