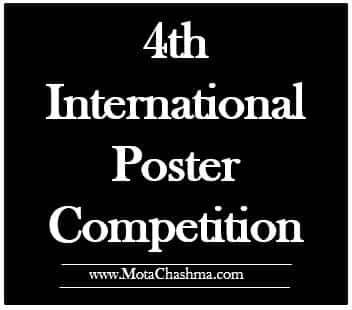 5th International Poster Competition 2018
About 5th International Poster Competition
5th International Poster Competition is an endeavor to spread awareness about the Climate Change Care - Act. This competition is organized by Segunda llamada Greenpeace Mexico and Universidad Autonoma Metropolitana. The candidates willing to participate in the competition need to make a grayscale poster based on the theme i.e. Climate Change Care – Act. There is no participation fee for the 5th International Poster Competition and the winners will be featured on the Poster Itinerant Exhibition and will also be featured in the catalog.
Latest Update: Candidates are informed that the last date of Poster Submission is extended by 20 March 2018 to 20 April 2018.
5th International Poster Competition Dates
Event
Date
5th International Poster Competition begin
1 February 2018
Last Date of Poster Submission

20 March 2018

20 April 2018

Result Announcement
20 August 2018
Theme of Poster: Climate Change Care – Act
Subscribe for Regular Updates of 5th International Poster Competition
5th International Poster Competition Eligibility Criteria
Gender
Both
Region
Global
Class/ Age
Professional & Students in Design, Visual Communication & Related careers
Details

Participation: The participation is open for professional as well as students related to Design, Visual communication and related careers.
Language: The poster should be either in English or Spanish.
Originality: Posters must be original works created specifically for this competition.

Not Eligible to Participate

The Awards are not open for relatives and family members of Judges, and Individuals involved with or employed with the organizers, official partners or sponsors.
5th International Poster Competition Reward
The Winners of the 5th International Poster Competition will be selected by an international jury consisting of renowned names of the industry. Each shortlisted entries will be judged by 3 International Jury teams.
Total 40 entries will be selected for display at Poster Itinerant Exhibition.
These Entries will also be published in digital as well as the printed catalog.
The decision regarding the 3 winners and honorary mentions will be taken by the Jury.
5th International Poster Competition Application form and Process
The interested candidates are required to submit their entries online, in order to participate in the International Poster Competition.
Number of Entries: Each participant can submit up to 3 entries (Single or Conforming series).
Theme: Climate Change Care – Act
Specifications of the Poster:

Size: 60x90cm (3545 x 5313px – 150 ppi)
Orientation: Vertical format only.
Style: Black ink or grayscale (NO RGB / CMYK).
Format: JPG,
Size: Maximum 5MB.
Submission of the Entries
The Entries are to be uploaded using the official portal available for the same purpose. The details of the things required to complete the submission are as follow:
Click here to Upload Poster
Low-Resolution Poster

Size: 600x900px
Resolution: 72ppi
Format: JPG
Style: Grayscale (NO RGB / CMYK)

Brief Justification: A brief Justification related to the poster in not more than 100 characters without name or alias.
Contact Information And Sustainable Action Proposal: Full name, age, address, zip code, country, telephone number, e-mail address and a proposal of action which the participant commits to undertake in their daily life as a response to climate change.
5th International Poster Competition Selection Process
The 3 jury teams will assess submissions to select 50 winning posters and Top 10 Awards. The selection of the winners and the judging criteria applicable for the Poster Competition are as follow:
Judging Criteria: The entries submitted will be judged on the basis of

Concept originality
Graphics Quality
Message conveyance clarity

Result: Results will be published on 20 August 2018, on the Segunda llamada website and Facebook page.
5th International Poster Competition Contact Details
Email: info@segundallamada.com