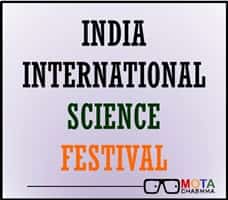 India International Science Festival (IISF) Abstract Submission
About IISF 2015 abstract Submission
India International Science Festival is being organized by Ministry of Science & Technology along with Ministry of Earth Sciences, Government of India.
Authors are being invited to submit abstracts from their Research Papers, which will be presented in India International Science Festival after selection.
The Abstract needs to be related to any of the following sub themes:

Indigenous Knowledge
Innovative Agricultural Practices & Livestock Management
Integrated Health care
Diagnostic Aids
Vector Control & Mitigation
Remote Sensing Applications
Smart Design & Advanced Manufacturing
Technologies in the line with 'Make in India'
Green Energy
Waste to wealth Technologies, Water & Ocean Resources, Environmental Management and Climate Change.

An author can submit up to 2 abstracts and they needs to be of maximum 300 words without any table or sketch in it.
All authors must register for the India International Science Festival (IISF) 2015 and should provide a declaration that all authors/ co-authors related to the research paper will be registering for IISF 2015.
If selected, the presentation of the Research Paper at India International Science Festival will be in the form of PowerPoint Presentation.
The submission of abstracts from research papers can be done online.
Click here to submit your abstract.
The important dates related to the Abstract submission are:

Last date to submit abstract: October 15, 2015.
Confirmation of abstract acceptance: November 15, 2015.
Last date to submit full paper: November 30, 2015.
Subscribe for Regular Updates of IISF 2015 abstract Submission
IISF 2015 abstract Submission Eligibility Criteria
| | |
| --- | --- |
| Gender | Both |
| Region | India |
| Class/ Age | Research Students |
| Details | Nationality: The author submitting the abstract should be from India. |