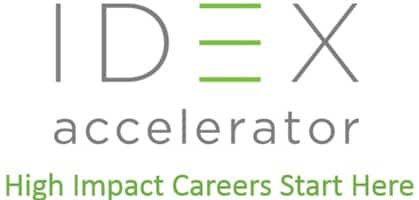 IDEX Global Fellowship Programme 2020
About IDEX Global Fellowship 2020
IDEX Global Fellowship Programme 2020 applications are now open and aspiring social leaders from anywhere in the world can apply to be a part of the six months program on social enterprise.
This year the IDEX Global Fellowship Programme will be held in Bangalore, India. IDEX Global Fellowship Programme is conducted twice a year and presently applications are being invited for January 2020. It is a start-up boot camp for entrepreneurs where the fellows stay in a given place in India and work with local social enterprises.
The 6-month program is designed for Aspiring Social Leaders, by the means of this program, they go through intrapreneurial leadership training across India. The applicants need to have a Bachelor's or Master's Degree before applying for the IDEX Global Fellowship Programme 2020.
Candidates are required to pay a tuition fee of USD 2,950 for the complete IDEX Fellowship program, it will cover the expenses of the tuition fee, housing etc.
IDEX Global Fellowship 2020 Dates
| | |
| --- | --- |
| Events | Dates |
| IDEX Application Starts | 1 August 2019 |
| IDEX Application Ends | 30 September 2019 |
| Phone Interviews | 12 August - 15 October 2019 |
| Decision Notification | 16 August -25 October 2019 |
| Confirm Acceptance | 21 August - 1 November 2019 |
| Tuition Payment | 21 August - 20 December 2019 |
| Apply for Business VISA | 7 October - 15 November 2019 |
| Placement Matching | 1 November 2019 - 31 December 2019 |
| Virtual Orientation | 9-29 December 2019 |
| IDEX Fellowship Field Orientation | 6-9 January 2020 |
| Enterprise Placement+ Capacity Building | 13 January - 25 June 2020 |
| Fellowship Wrap-up | 26 June 2020 |
Subscribe for Regular Updates of IDEX Global Fellowship 2020
IDEX Global Fellowship 2020 Eligibility Criteria
Gender
Both
Region
Global
Class/ Age
Between 21-35 years
IDEX Global Fellowship 2020 Reward
The Scholarships are provided by IDEX Scholarship fund and the information related to the scholarship is as follow:
Tuition Fees: 2950USD
Stipends and Housing: Stipend Amount Rs 8500. IDEX estimates that fellows living expenses, while in India, will average $250- $350 USD per month based on the city placement.
The awards will be given to the candidates on the basis of merit and to the candidates depicting commitment and dedication in working in the field of social enterprise sector after competition of the fellowship program.
IDEX Global Fellowship 2020 Application form and Process
The IDEX Global Fellowship program need to be made online, interested candidates are required to register using their email id in order to complete their registration process:
Mode of Application: The applications are to be made online using the specifically designed application portal for the same purpose. The candidates also have to pay a One-time non-refundable application fee of USD 25
Click Here to Apply Online
Tuition Fee: The Candidates are required to pay a Tuition fee of USD 2,950 the tuition fee will cover all the educational expenses of the program. The amount of tuition fee needs to be paid before the Program Orientation.

Visa cost, Living Expenses, Airfare and travel expenses are not covered in the tuition fee.
Submission of IDEX Global Fellowship Application
In order to complete the submission of the application form, the candidates are required to complete their online application and make the payment of the Tuition fee amount.
IDEX Global Fellowship 2020 Selection Process
The Selection process will have 2 stages, shortlisting by the means of application form and Telephonic Interviews. The following points will be kept in mind while selecting the right candidates:
Commitment to and enthusiasm for the mission of IDEX.
Respect for our values of IDEX, which are humility, generosity, leadership, accountability, patience and respect
Ability to thrive when there is ambiguity, remain cool-headed when there are curve balls, and withstand the tests of a rapidly changing environment with resilience and resolve
Committed to contribute to the IDEX community and learn from others.
IDEX Global Fellowship 2020 Contact Details
50 Peachtree St NW, Ste. 705
Atlanta, GA 30303
Email: hello@idexfellows.com