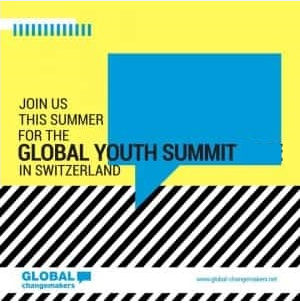 Global Changemakers Youth Summit 2018
About Global Changemaker Youth Summit
Global ChangemakersYouth Summit 2018 is a life-changing week of training sessions, networking and workshops. GCM Youth Summit will invite 60 strongest candidates to attend the summit and bring a positive change in their communities.
In order to apply the candidate has to fill in an online application as well as send a two-minute video describing their efforts to bring about a positive change in the communities and about their ambitions. The candidates must be between 18 to 23 years old. Scroll down to check the complete information.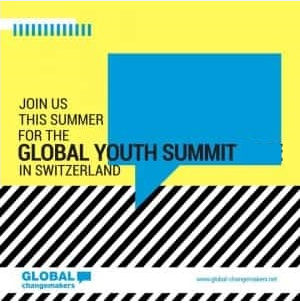 Global Changemakers Youth Summit 2018
| | |
| --- | --- |
| Events | Dates |
| Last Date to Apply | 4 March 2018 |
| Global Summit to be held on | 12-18 August 2018 |
Subscribe for Regular Updates of Global Changemaker Youth Summit
Global Changemaker Youth Summit Eligibility Criteria
| | |
| --- | --- |
| Gender | Both |
| Region | Global |
| Class/ Age | 18-23 Years of age |
Global Changemaker Youth Summit Reward
The selected participants can avail boarding flight from their home country's airport and lodging costs will be covered for the duration of the summit.
Additional personal expenses, as well as visas, to enter Switzerland (for those who require one) will not be covered.
Global Changemaker Youth Summit Application form and Process
Participants must fill in the Online application form and also submit a 2 minutes video describing their efforts to bring about a positive change in their communities and about their ambitions.
The online application has been started and the last date to apply is 4 March 2018.
Click here to Apply Online
The Application fee of GCM Youth Summit is 35 USD.
Applicant must have a PayPal account or credit card ready for the payment of the fees. The Unique Transaction ID number provided by PayPal should be pasted on the online Application form.
The Application will only be completed once the Applicant has uploaded their videos, fees and application form they will get a notification from the GCM Team up to three business days.
Few Video instructions are given below
What should the video cover: In their video, applicants should very briefly introduce themselves and then address the following questions:

Please tell us something about your activism, community work, entrepreneurial activity or volunteering. What do you do?
What aspects of it do you find most gratifying/rewarding? · What aspects do you find most difficult? · Why do you do it? · How do you think this will change things in your community? · What is your motivation to attend this specific Global Changemakers event? What do you want to achieve as a Changemaker?

Duration of the video: The video must not be longer than two minutes. Videos longer than those two minutes (+/- five seconds) will not be considered. Therefore, it is important that the answers to the questions above are to the point.

The resolution should be no higher than 640×480.

Editing and well-produced Video: If applicants wish to edit their videos from more than one take, or if they want to add captions, photos or other materials, they are welcome to do so. However, a well delivered, single-take video of the applicant speaking directly to the camera is just as likely to impress. Applicants should remember that they are not addressing a camera, though, but a team of real people who are looking for potential Changemakers.

Applicants must note that the sound on the video needs to be clear and audible – if applicants wish to record their videos outside, they may want to use a microphone or, at least, make sure that there isn't too much noise that makes it difficult to understand them.

Tips to 'perform' in front of the camera

Participants are suggested to make their video by installing various video editing software,e.g., Windows Movie Maker or iMovie, rather than stopping the recording every time they are making.

Technical Problems in Uploading the video

The participant should check the resources of the YouTube, if still, they are unable to upload, they must contact the GCM website. All the technical problems of the video will be entertained only before the deadline, i.e, 4 March 2018.
It is to be to be noted that technical support is only provided on business days.

Sharing and posting the video with the Global Changemakers Team

Participants must send their video toinfo@global-changemakers.net. GCM team will not accept any Email attachment. The longer videos will be automatically filtered.
The applicant can also share and make their videos public. Once they fill in their application form, they will be asked to provide their video's direct link. This link will look as follows: https://www.youtube.com/watch?v=xxxxxxxxxxx (the eleven digits at the end are different for every video.) the videos that are set to private cannot be view by everyone.
Global Changemaker Youth Summit Contact Details
info@global-changemakers.net