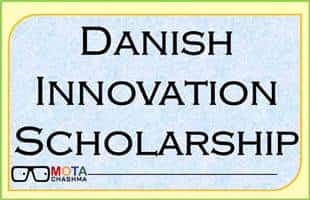 Danish Innovation Scholarship
About Danish Innovation Scholarship
The Innovation Fund Denmark offers Danish Innovation Scholarship for academically brilliant candidates.
Eligibility: The Graduate candidates who want to go for postgraduate studies in Denmark should apply for the scholarship.
Benefits: Danish Innovation Scholarship offers complete waiver in Tuition fee and monthly stipend to cover living expenses of the candidates. The scholarship will be offered for a period of 22 months.
Application: The applications will be available 2 months prior to the application deadline and the application form can be obtained by contacting the respective Institute/University.
Type of Scholarship: Partially Paid Scholarship
Course level: Master's Level
Subjects: Natural, Environmental & Health Sciences, Engineering, Technology & Innovation.
Duration of Scholarship: 22 months
Country for Study: Denmark
Course Commence: August or September 2016
Subscribe for Regular Updates of Danish Innovation Scholarship
Danish Innovation Scholarship Eligibility Criteria
Gender
Both
Region
Global
Class/ Age
Graduates
Details

Nationality: Thecitizens from Brazil, India, China, South Korea, USA and Japan are eligible to apply for the scholarship.
Academic Qualification: The students must have an Undergraduate degree with excellent academic record in any of the following areas:

Natural, Environmental & Health Sciences
Engineering, Technology & Innovation.
Danish Innovation Scholarship Reward
Danish Innovation Scholarship Rewards
The candidates selected for the scholarship will be eligible to relaxation in tuition fee and other benefits, the details of the Scholarship are:
Tuition fee: The tuition fee of the selected candidates will be waived off.
Monthly Stipend: Candidates will be provided with a suitable allowance to help them with their living cost in Denmark.
Duration: The scholarship will be offered for a period of 22 months.
Total value of Scholarship: Theapproximate total value of each scholarship offered under Danish Innovation Scholarship is 45000 Euro (Approx. INR 32 lakh)
Danish Innovation Scholarship Application form and Process
Danish Innovation Scholarship Application Process
The application form for Danish Innovation Scholarship can be obtained by contacting the individual institutes and students are required to send a motivational essay along with their Scholarship application.
Motivational Essay: The essay attached with the scholarship should give the following details:

The purpose and motivation for the choice of institution and programme.
Interest in areas relating to the thematic cluster/academic partnership within which the scholarship is being made available.
How this interest is connected to your choice of study programme?
Willingness to go for research in the particular area.
On the basis of some set of thematic clusters and academic partnerships, the participating institutes have been divided into 4 groups named as Blue INNOSHIP, NEXT, Future Cropping and VIP. The details about each group are:

Danish Innovation Scholarship Selection Process
Danish Innovation Scholarship Selection Process
The selection of the candidates will be done entirely on the basis of the academic scores and language proficiency.
The financial needs of the candidate will not be considered while selecting the candidates for the scholarship.
Danish Innovation Scholarship Contact Details
Blue INNOship Cluster:
Louise Svanholm- lmag@adm.dtu.dk, Vanita Singh- vasin@adm.dtu.dk
Niels Gorm Rytter- i9nr@m-tech.aau.dk, Gang Chen- gc@m-tech.aau.dk.
NEXT Cluster:
Contact respective University.
Future Cropping Cluster:
Ulla Gjørling- ug@au.dk, Christine Østerskov Kastrup- ckastrup@plen.ku.dk.
VIP Cluster:
Else-Marie Baun- elmb@science.ku.dk, Phone: +45 3532 4260, Mobile: +45 3533 2059