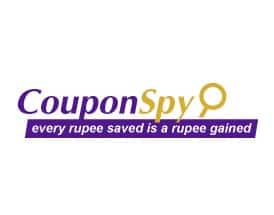 CouponSpy Scholarship 2013
Last date to apply
November 30, 2013 by Midnight
About Coupon Spy Scholarship
CouponSpy.in is looking for a new logo for their website in the form of a mascot or symbol to represent the brand, and is hosting a competition to find one.
CouponSpy's Facebook fans will determine the winner.
Subscribe for Regular Updates of Coupon Spy Scholarship
Coupon Spy Scholarship Eligibility Criteria
Gender
Both
Region
All India
Class/ Age
Class 10-12, Students of any college and university in India who are going to pursue their studies within the next academic year, regardless of which institution they will be attending.
Details

The person should be an Indian Resident.
The student should obtain his or her parents' or legal guardians'(in case of a minor) prior permission to participate.
Coupon Spy Scholarship Reward
Acceptance of the first prize is subject to permission from a parent or legal guardian (if you are a minor). The Winner will receive a scholarship to the value of Rs 1,00,000
The prize will be awarded via PayPal or bank transfer
Coupon Spy Scholarship Application form and Process
Step 1: Draw a logo that is in line with the guidelines of Couponspy
Any medium is accepted i.e. pencil, crayon, computer design software.
Your entry must be no bigger than 300 x 600 pixels.
The logo must not feature our name "CouponSpy" and instead should be a image representing the brand.
All images have to be original and the logo may not be made up of other pre-existing images.
The use of the Indian National Flag & other national symbols are not permitted under Indian law.
Step 2: Email your submission(s) to scholarship2013@couponspy.in with the following details:
Your full name
Your age
Your residential address
Your email address
Your telephone number
Your school or university
Entrants may submit a maximum of 2 entries but both entries must be sent in the same email

Step 3: See your work get voted on Facebook!!!
Coupon Spy Scholarship Selection Process
On the basis of facebook votes.