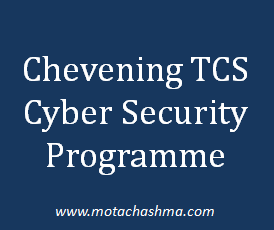 Chevening TCS Cyber Security Programme 2017
Last date to apply
September 30, 2016 by 23:59 GMT
About Chevening TCS Cyber Security Programme
Tata Consultancy Services, a reputed consulting and business organization in partnership with the Foreign and Commonwealth Office (FCO) of the U.K. Government has introduced a scholarship on Cyber Policy.
Chevening-TCS Cyber Security Programme is open to professionals in diverse fields from India and scholars will get an opportunity to enhance their ability to contribute to public policy on cyber security.
The scholarship is a kind of world's first cyber security and public policy education programme and will begin from March 2017 and on successfully completing the program the person will be awarded Post Graduate Certificate in Cyber Defence and Information Assurance.

The course offered includes technical specifications to be taught along with topics such as internet governance, national security, and crime prevention as well as the economics of online commerce & freedom of expression.

The course classes will be held at Cranfield University (campus at the Defence Academy of the United Kingdom at Shrivenham).
The total duration of the scholarship programme is of 12 weeks.
Accommodation along with airfare will be provided by the organizing body.
Subscribe for Regular Updates of Chevening TCS Cyber Security Programme
Chevening TCS Cyber Security Programme Eligibility Criteria
Gender
Any
Region
For Indian Nationals
Class/ Age
Indian students with a 1st or 2nd class honour degree or relevant professional degree.
Details

Educational Qualification

Applicants with an excellent academic background in Science, engineering or technology.
Students with 1st or 2nd class honour degree or any other equivalent professional degree are eligible.
Candidates with lesser qualification may be considered if they have appropriate work experience.

Work Experience

The candidate should have minimum 7 years' work experience at the time of submission of application.
Work experience in cyber security/ Cyber Policy either as a policy formulator, commentator or in academics.

It is mandatory for applicants to attain an IELTS score of 6.5 in case not having English as their native language.

Who can apply to this course?

The course is suitable for Government, Corporate and critical
information infrastructure staff who are one or more of the following:

Policy and planning staff interested in a computer network and security operations and its social impact.
Managers who need to understand information risk and respond to cyber threats.
Technologists who wish to understand the operational, social and business context.
Personnel interested in social media and associated concepts such as cyber mobilisation and e-inclusion.
Those charged with accreditation and assessment of security measures.
Chevening TCS Cyber Security Programme Reward
Maximum six people will get the scholarship to undertake the 12 weeks Chevening-TCS Cyber Security Programme at Cranfield University, UK.
The winning scholars will receive the fellowship which will include allowance of 12 week PgCert Course at the Cranfield University along with;

Full programme fees
Living expenses for the duration of the scholarship
Return airfare from India to UK
Reimbursement of UK Student Visitor Visa fee

On successful completion of the course, scholars will receive the Post Graduate Certificate in Cyber Defence and Information Assurance (CDIA), awarded by Cranfield University.
Chevening TCS Cyber Security Programme Application form and Process
Only online application will be accepted for the Chevening-TCS Cyber Security Programme. Applicants have to follow the link given below to apply for Chevening-TCS Cyber Security fellowship programme.
Create an account
It's possible to proceed further only after meeting the eligibility criteria and after that, an account creation will be required provided with the name of the applicant, email address, and chosen password.
(Account can be created by using the Facebook or LinkedIn)
Application Form
After creating an account applicants have to go through the different sections of the application form respectively and have to complete all the sections before submitting the application form.
Application form can be saved and it's possible to log in after for the completion.
Note
Students can submit only one application each year and the organizing body will accept the first application made by the end of the students.
Chevening TCS Cyber Security Programme Selection Process
The selection would be made evaluating all the required parameters in the procedure by the expert panel.
Chevening TCS Cyber Security Programme Address
Course Administration and Student Support,
Cranfield University, Shrivenham,
Swindon, SN6 8LA, UK
Chevening TCS Cyber Security Programme Contact Details
Email: courses.shrivenham@cranfield.ac.uk
Telephone:+44 (0)1793785810