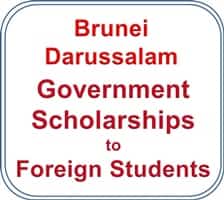 Brunei Darussalam Government Scholarships to Foreign Students 2017-18
About Brunei Darussalam Government Scholarship
Brunei Darussalam Government Scholarships to Foreign Students 2017-18 is being offered by the government of Brunei Darussalam who invites applications from residents of foreign countries. The Scholarships is open for Undergraduate, Masters as well as a Doctoral level of studies.Brunei Darussalam Government Scholarships to Foreign Students will be for the entire duration of the selected academic program and will cover all the expenses on fees, return flight ticket and outpatient medical facilities at Government Hospitals.
Eligible Institutes: Under Brunei Darussalam Government Scholarship, students can opt to study in any of the following institutes:
Universiti Brunei Darussalam (UBD)
Universiti Islam Sultan Sharif Ali (UNISSA)
Institut Teknologi Brunei (ITB)
Politeknik Brunei
Application: The applications can be obtained from the official website or from nearest Brunei Darussalam mission. The submission of the application form along with required documents has to be sent before January 10 March 2017.
Type of Scholarship: Full Paid Scholarship
Course level: UG, Master's or Doctoral Level
Duration of Scholarship: Equal to the duration of course undertaken
Country for Study: Brunei Darussalam
Course Commence: July-August 2017
Subscribe for Regular Updates of Brunei Darussalam Government Scholarship
Brunei Darussalam Government Scholarship Eligibility Criteria
Gender
Both
Region
Global
Class/ Age
18 years & above
Details

Nationality: Citizens of Commonwealth countries can make application for Brunei Darussalam Government Scholarships.
Age: The candidate needs to be between 18-25 years for Undergraduate courses while for Postgraduate courses the age of the candidate needs to be less than 35 years on 31 July 2017.
Education Qualification: The education qualification depends upon the level of study selected and the institute in which admission is being sought.

Not eligible for the Scholarships

Foreigners already residing in Brunei Darussalam are not eligible for the scholarship.
Brunei Darussalam Government Scholarship Reward
Complete expenses on the study will be covered under the scholarship. The details related to the duration of scholarship and other available to the selected students are:
Duration of the scholarship: The scholarship will be offered for the complete duration of the course opted by the applicant. The duration of various courses are as follow:

Undergraduate program with Honours: 4 years
Master's Degree: 1-2 years
Doctoral Degree at UNISSA: 3 years
Diploma of Health Sciences at Politeknik Brunei: 3 years

Fee: The selected students are not required to pay tuition fee or any other compulsory fee as determined by the institution.
Air Fare: One economy class return ticket will be provided to the students from the Government of Brunei Darussalam.
Accommodation: The selected candidates will be offered accommodation in their respective residential colleges and in case the student doesn't want to use the facility, no additional allowance will be offered to the candidate.
Allowance: Candidates will receive the following allowances during the scholarship:

Monthly Allowance: BND 500 (Approx. INR 23,000)
Annual Book Allowance: BND 600 (Approx. INR 28,000)
Monthly Food Allowance: BND 150 (Approx. INR 7,000)
Baggage Allowance: The candidates will receive baggage allowance of BND 500 (Approx. INR 23,000) during their return travel.

Medical facility: OUTPATIENT medical and dental treatment are complimentary for students at Brunei Government Hospitals, just some administrative charges are to be paid.
Brunei Darussalam Government Scholarship Application form and Process
Brunei Darussalam Government Scholarships to Foreign Students application form for the Brunei Darussalam Government Scholarship can be obtained by candidates either online or from Brunei Darussalam Foreign Missions, Representatives of Brunei Darussalam or from the following address:
Technical Assistance Division
Ministry of Foreign Affairs & Trade
Bandar Seri Begawan BD 2710
Brunei Darussalam
Tel: 00673-2261177, ext. 387/386/380/383
Fax: 00673-2230903
OR
Click here to download the Application form
Online application: Only the students making application for Universiti Brunei Darussalam are also required to complete the online application process. To fill the online application form, the candidates have to provide their personal details, educational details and contact details.
Click here to start the online application process
Brunei Government Scholarships application Submission

Brunei Darussalam Government Scholarships to Foreign Students application can be filled through both medium online and offline. 3 copies of the completed application form along with supporting documents printed one side on A4 paper has to be submitted to Technical Assistant Division or the Brunei Mission in applicant's country of Origin.
Brunei Darussalam Government Scholarship Selection Process
The selection of the candidates for the award of the scholarship will be done on the basis of their academic merit and personal interview. In case no suitable candidate is found, no scholarship will be given.
Brunei Darussalam Government Scholarship Contact Details
Technical Assistance Division
Ministry of Foreign Affairs & Trade
Bandar Seri Begawan BD 2710
Brunei Darussalam
Tel: 00673-2261177, ext. 387/386/380/383
Fax: 00673-2230903