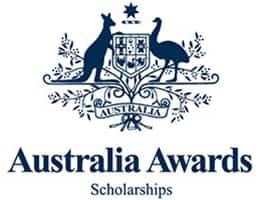 Australia Awards Master's Scholarships 2016 - Study in Australia
About Australia Awards Scholarships 2016 - Study in Australia
Australian Award Scholarships are offered by Australian Government, Department of Foreign Affairs and Trade as per the development needs of Australia's partner countries.
India being Australia's partner is welcomed to be a part of the scholarship program.
Field of Study: Australian Award Scholarships are offered for specific areas as per the development requirements of the partner countries.

For 2016, courses related to Water Resources Management will be given priority

Scholarship: The candidate selected for the scholarship will be awarded with the complete tuition fee of the course, round trip air fare, establishment allowance of approx. INR 2.2 lakh and living allowance of approx. 14 lakh INR.
Application: The online application process will start on February 01, 2016 and will conclude on April 30, 2015.
The candidate selected for the scholarship should return to India for at least 2 years after completing the course.

Candidates not satisfying this condition will have to repay a debt for the total accumulated cost of their award.

Type of Scholarship: Fully Paid Scholarship
Course level: Master's level
Subjects: Water Resources Management
Duration of Scholarship: For complete educational course.
Country for Study: Australia
Subscribe for Regular Updates of Australia Awards Scholarships 2016 - Study in Australia
Australia Awards Scholarships 2016 - Study in Australia Eligibility Criteria
Gender
Both
Region
All India
Class/ Age
Graduates
Details

Nationality: The scholarship is available to citizens of India.
Academic Qualification: The applicant should possess a relevant Bachelor's Degree.
Employment Status: The candidate should be a full time employee.
Work Experience: The candidates should have at least 2 years of full time work experience in water resource management.
Australia Awards Scholarships 2016 - Study in Australia Reward
Australia Awards Scholarships 2016 Rewards
The scholarship will be offered for the complete duration of the program for which the candidates has been selected. The candidates selected for the scholarship will be eligible for the following benefits:
Tuition Fee: The complete tuition fee of the selected candidates will be paid for the selected candidates.
Air Fare: The expenses of economy class return ticket will be provided to the candidate.
Establishment allowance: To cover the expenses of accommodation, text books and study materials candidates will be provided with one time allowance of 5000 Australian Dollar (Approx. INR 2.2 lakh).
Contribution to Living Expenses (CLE): The candidates will be paid CLE on fortnight basis and the total annual amount of CLE is 30,000 Australian Dollar (Approx. INR 14 lakhs).
Introductory Academic Program (IAP): The students will get 4-6 weeks introductory program in which they will be given information about life and study in Australia.
Overseas Student Health Cover (OSHC): The will be provided with OSHC, which will cover student's basic medical costs over the period of study in Australia.
Other Benefits: Other benefits available to the students are Pre-course English (PCE) fees and Supplementary Academic Support.
Australia Awards Scholarships 2016 - Study in Australia Application form and Process
Australia Awards Scholarships Application Process
The Application for the scholarship will be accepted till April 30, 2015. The application process is online and the details related to the application process are:
Application Form: The candidates will have to fill the online application form. The application process will start from February 01, 2015. >> Click here to apply online.
Documents required: Candidates should keep in mind that all documents to be uploaded should be in English only and in case documents are not in English, certified translated copies must be provided. To complete the application process the following documents should be uploaded:

Certified Documents: The certified copies of the following documents are required:

Passport (ordinary and valid)
Identification documents (either one of PAN Card/Voter Card/Special Identification Card/Driving License)
Birth certificate
Degree certificates (Bachelors / Post Graduate level)
Academic transcripts, Semester wise transcripts as well as consolidated, clearly showing the GPA.
IELTS,TOEFL or PTE test results (valid at 1 January 2016)
Certificates of special achievements or merit (related to the study program)

Non Certified Documents: These documents can be uploaded directly without any certification:

Academic Referee Reports (with seal: one for Masters by Coursework applicants; two reports for Masters by Research applicants)
Employment Referee report with seal
Employer nomination letter from their organisation/agency
Applicants for Master's by Research should submit:

Evidence (e.g. Letter or email communication) of in-principle support from a potential supervisor.
Research proposal (include a proposed methodology, timeline and a brief literature review)

Curriculum Vitae
Passport size photo

Participating Institutes: The list of institutes participating in the scholarship program can be viewed by following the link.
Eligible courses: For 2016 the scholarship will be offered to students enrolled in studies of 'Water Resources Management, in particular in relation to regional or river-basin scale water resource management issues in South Asia.'

Interested students should search two preferred courses and should ensure that they are eligible for the selected program as per the institution's English Language and other academic criteria.
Australia Awards Scholarships 2016 - Study in Australia Selection Process
Australia Awards Scholarships 2016 Selection Process
The selection of the candidates will be on the basis of the following selection criteria:
Academic competence with respect to the preferred course.
Professional and personal leadership attributes depicted by the candidate.
Potential outcome, including contribution to development outcomes in your home country.
Australia Awards Scholarships 2016 - Study in Australia Address
Australia Awards - India Address:
Building 26, Room 204
Phendey Lam, Thimphu 11001
Bhutan
Australia Awards Scholarships 2016 - Study in Australia Contact Details
Telephone: +975-2-331845
Fax: +975-2-334793
Mobile: +975-17117224/17620984
Email: inquiries@australiaawardsindia.org